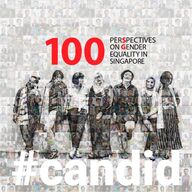 Return to flip book view
Candid - 100 Perspectives on Gender Equality in Singapore
Page 1
ON GENDER EQUALITY IN SINGAPOREPERSPECTIVES#candid
Page 2
candidiiCopyright & CreditsCreative concept: Carolina RodriguezCover art: Carolina RodriguezCover photo: ShutterstockLayout: Carina Johansson Editorial team: Felicia Edward Jessica Fayers Lisa Ferraton Anna Landgren Carolina Rodriguez Editor: Sorelle HenricusPhotography: MuhammadHazandEvaMarieRönnquistDisclaimerThe opinions expressed in this publication are those of the authors. Theydonotpurporttoreectofcialopinionsorviewsofthecontributor'sorganizations, SwedCham or its members unless stated otherwise. Candid100PerspectivesonGenderEqualityinSingapore© SwedCham Singapore, 2021All rights reserved
Page 3
100 Perspectives on Gender EqualityiiiForeword viCandid: 100 Perspectives on Gender Equality viiiChanging the Narrative 1Breaking Stereotypes 51Unconscious Bias 91Championing Careers 117Celebrating Women 149Born Feminists 187Walking the Talk 215Contributors 232Acknowledgements 236Contents
Page 4
Page 5
100 Perspectives on Gender EqualityvAs our society advances, so must our mindsets. It's not something easily done overnight but we must keep on pushing. Our policies and programmes will nudge behaviour, gradually change attitudes and enable us to make lasting progress.""LEE HSIEN LOONGPrime Minister of Singapore Closing Session of the Conversations on Singapore Women's Development held virtually on 18 September 2021
Page 6
candidviForewordSingapore's Ministry of Social and FamilyDevelopment has declared 2021 to be the 'Year of Celebrating Singapore's Women'.Announcing this in January, Minister Masagos Zulkii reminded us that women's contributionsare integral to the Singapore success story and so this year recognises their progress and potential across the whole society. At the Swedish Chamber of Commerce in Singapore we could not agree more. Gender equality is high on the agendaforall of our member companies, most of whom havebeenoperatinginSingaporefordecades.Weunderstand and value the essential contribution women have made within our organisations and to the nation as a whole.Gender equality is a long-standing priority forSweden as a country. The Swedish Government establishedaworld's-rstfeministforeignpolicyin 2014. This is driven by the fact that sustainable peace, security and development can never be achieved if half the world's population isunderrepresented. SwedCham Singapore fully agrees with this simple truth.There is overwhelming evidence that gender equalityboostseconomicgrowth.Yetwearestillfar from reaching the Sustainable Development Goals set by the United Nations to ensure full economic participation by women — and equalopportunities for leadership at all levels. Also, the ghtforgenderequityisoftendrivenbywomen,for women. To truly transform our societies this mission needs to include men to a much larger extent;somethingthatSingapore'sPrimeMinisterLee often points out.SwedCham decided to reach out and see if we couldnd100meninSingaporewhowerewillingtostandupforgenderequality.Onehundreddifferentperspectives on why this topic is important, not only to them but also to the society where they liveandwork.Wehavebeenimpressedandelatedby the overwhelming response we received. The result is this book. Here you will nd personalstories and direct accounts of how businesses large and small tackle gender issues to become more equal and provide better opportunities forwomen. There are some candid insights into the progress made and the challenges that remain. We thank the Swedish companies who madethis initiative possible through their generous sponsorship as well as the Swedish Embassy in Singapore and Business Sweden for their continuoussupport.Wealsoextendourgratitude
Page 7
100 Perspectives on Gender Equalityviito everyone who contributed with stories and experiences for this book. All your stories are amazing!Wehopethatthisbook,andthedigitalcampaignwhich follows, will be a conversation starter between everyone in Singapore on the topic of gender and equality. This book also supportsSingapore'sgenderreviewinitiativethatwillresultin a White Paper in 2022. We want to inspiremore people to join the conversation and show that Singapore already has a broad and dynamic base that supports the cause for gender equity.OnlybyworkingtogethercanwemovetheneedleinSingapore evenfurther towardsamore equal,sustainable and prosperous society.Finally, from my own experience, I can say that the genderequalityperspectivehasalwaysbeenveryclearinourfamily.I'vehadtheprivilegetofollowour three daughters' journey from school andstudy, into the professional world. I am certain that thevalueofequalityinoursocietyandworkplacescannot be overstated. The companies and other organisations that are the most successful will be the ones that understand this and actively work to make it happen.LARS RÖNNQUISTPresident of the Swedish Chamber of Commerce Singapore Head of Saab SingaporePhoto credit: Gabriella Soutine
Page 8
candidviiiCandid: 100 Perspectives on Gender Equality"Human rights are not a pie" — this is one of the simplest ways to explain what lies at the heart of the gender equality debate: the fact that givingwomen, or any group that is not fully empowered, the rights they deserve does not mean taking rights from men or other groups that are in power. So, this is not women vs men, this is about all of us starting an honest conversation around equality,inclusion and how we can build a fairer and more equalsocietywhereallindividualscanthrive.Withover100perspectivesonwomenandgenderequality, this project provides a critical mass ofinsight into how our perceptions around women and gender balance are changing. Societies are constantly evolving and as Singapore prepares to put the spotlight on this issue next year, we thought a snapshot of what people — and men in particular — are thinking, would make a meaningful contribution. The motivation for surveying men was twofold. The rst, was to attempt to shift the perceptionthatWomen'sRightsareonly a"women'sissue."Women'sRightsareinfactHuman Rights.Whilethe effort should be led by women, it is important to open the forum to allies from the opposite gender. So, this book takes the pulse of men living in Singapore by inviting men to candidly share their views on the topic. The second, was to normalise conversationsaroundthetopicofgenderequalityamongst peers, to encourage men to reject fearing expressing how they feel, and empowering everyone, regardless of gender, to contribute to theefforttowardamoreequitableworld.WHATDIDWEDISCOVER?Singapore is a country of strong women Beyond cultural tradition, there is a true sense that women in Singapore have agency and opportunity. Despitedatathatshowsgenderinequalitypersistsin the country, there is a widespread perception that women in Singapore are and should be active contributors to the economic life of the country. WithSingaporeranking54outof156countriesintheWorldEconomicForum's2021GlobalGenderGap, there is clearly a need to align popular perceptions with reality. LISA FERRATON General Manager, Swedish Chamber of Commerce SingaporeCAROLINA RODRIGUEZDirector, Dilucidar & Chair, Sustainability Committee, Swedish Chamber of Commerce Singapore
Page 9
100 Perspectives on Gender Equalityix candid /ˈkandid/ adjective 1. truthful and straightforward; frank. "his responses were remarkably candid" Similar: frank outspoken bluntforthright open honest truthful candid /ˈkandid/ adjective 1. truthful and straightforward; frank. "his responses were remarkably candid" Similar: frank outspoken bluntforthright open honest truthfulPeople are embracing changing gender roles at homeThis goes from stay home dads to sharing unpaid careworkfortheelderly.Withanexpandingageingpopulation, there is a generation of Singaporean families that will spearhead a big shift in who and how we share the responsibility of taking care of the elderly. This may increase the appetite for exibleworkingarrangementsandalsosetanewexample for the generation to come. Change is not that scary — it's actually empowering and something to be proud ofOur breaking stereotypes stories put the spotlight on trailblazing men and women who are changing perceptions all around them. Portraits of successful women operating in what used to be perceived as typical male-dominated sectorsand, more importantly, the examples of men taking parental leave, supporting their partners'careers by becoming a trailing spouse are uniquelyinspiring.The narrative is already changingWith over 100 perspectives collected here, wesee that the narrative around feminism is indeed changing. There is clearly an emerging group of pioneering men who call themselves proud feminists and see no problem in advocating for equality.In the business world, we see that many of the emerging characteristics linked to successful leadership — like empathy and vulnerability — are linked to women and there is an increased awareness of the tangible contribution women bring to corporate leadership.
Page 10
xcandidBusinesses know they need to make changesThebusinesscommunityhasauniqueroletoplay.They already know that diversity and inclusion are good for the business and many are spearheading new efforts to create more vibrant andequalworkplaces.The sheer volume of voices in this book is a testament that this is indeed a relevant and timelytopicthatconcernsallofsociety.Wewerehumbled by the enthusiastic and positive response we got from so many men from across the fabric of Singaporean society. At the same time, it'sworth noting that there is still more to be done. Although by and large, we received an outpouring of support, there were also some that did not believe they could contribute to this conversation. Thisillustratesthepointintimewendourselves,where a new generation is embracing a change that is ultimately about creating a more equalsociety not just for women, but for all. Driving conversations that promote human rights, inclusion, and diversity is key. This, coupled with innovation, leadership, and entrepreneurship — the driving forces of business — is the foundation of creating a more prosperous and sustainable future. Coming together around concrete actionsContributing to such a vital conversation without examining concrete actions and solutions would be a missed opportunity. It's great to see thatSwedCham members are leading by example with jointeffortsthatwillindeedmakeadifference.Wehopetoseetherippleeffectsofbenetssuchasmoreexibleworkingenvironmentsandparentalleave that will undoubtedly contribute towards a moreequalsociety.
Page 11
1100 Perspectives on Gender Equality1Changing the Narrative
Page 12
2candid2JENNIE BORGSTRÖM Cluster President Alfa Laval South East Asia & Oceania, Regional Managing Director, SEAChanging the Narrative in a Male-Dominated Work EnvironmentI had a strong interest in technical solutions and was very engaged in protecting the environment and wildlife as a child growing up in Sweden. Studying chemical engineering was a career choice where I could combine both of my passions. My dream was to contribute in some small way to improving global environmental conditions and make a difference to the planet. Engineering was a male-oriented education in Sweden 25 yearsago and regrettably it remains the same today. Already at Lund Technical Institute, I got used to being surrounded by mostly male students and teachers.When I started out at Alfa Laval as a youngchemical engineer, gender was not an issue for me and not really a topic on the company'sradar. I have always felt like part of the team and was never treated any differently than my male colleagues, even if the company is an engineering heavymale-dominatedbusiness.AlfaLavalwasaperfecttformeandaspartofthecompanyfor20 years, I have been engaged with our customers to develop sustainable solutions in the areas of energy efciency, better water treatment, andreduced emissions.The gender narrative has obviously changed in two decades and diversity and gender balance are anaturalpriorityforAlfaLavaltoday.Diversiedorganisations improve business performance by creating an atmosphere where employees thrive and this attracts the best talents, both male and female. Decisions you make within a diverse and inclusive organisation will be more thought through with better risk assessment so that you don'tmissimportantopportunitiesandissues.Photo: Contributor
Page 13
3100 Perspectives on Gender Equality3TAKING ACTIONWhat makes a real difference to the diversityendeavour is true engagement and clear direction from the very top and gender balance is a priority of the CEO of Alfa Laval. Settinggoals to achieve better gender balance within all parts of the organisation is a rst step and, likefor all targets, attaching tangible actions is what generates results.OurgenderdiversitygoalatAlfaLavalistohavewomenmakingup35%ofourtotalworkforceandtaking25%ofleadingpositionsby2025.Onekeyinitiative is to have Diversity & Inclusion (D&I) as part of our business principles and not as an HR responsibility. Running D&I workshops starting at group management level and subsequentlythroughout the organisation is further strengthening our Scandinavian company culture.Alfa Laval in South East Asia is already close to our corporate targets and I am aiming even higher. Bringing the diversity agenda to the SEA region, I have focused a lot on the recruitment processduringmy1.5yearsinthisrole.Muchstillneeds to be done in the advertising, search, and interviewprocessestoreachtrulygender-neutralrecruitmentideals.Wearecoachingourmanagerson unconscious bias for all to be aware of the language and assumptions built into the vetting and job interview process. One simple practicethatIamsurewillproveagame-changerissimplyto always include at least one woman in interviews for all positions. Male and female applicants tend to be different and many female candidates would oftenbeequaltotopmalecandidateswhengivena chance to demonstrate their competence.NAVIGATINGCHANGEHow an organisation looks at change is extremely important when driving diversity. Women maythinktheyneedtochangeandtrytotintomale-dominated teams. I strongly believe a male-dominated team needs to change to make a new female team member feel included and it is not the woman who must adapt. Male leaders must step up as inspiration for their team demonstrating the importance of inclusion. I look forward to more organisations joining us on this journey.
Page 14
candid4Demystifying Feminism — a Diplomat's PerspectiveIn Sweden, feminism is not really a controversial term. It is understood simply as shorthand for gender equality andequal opportunities for menand women. However, when the Swedish government announced its "Feminist Foreign Policy" it did raise some eyebrows even in Sweden, and certainly in more traditional cultures abroad where the term feminism has sometimes been portrayed negatively by those who see it as an attack on family values. In fact, feminism is simply an extension of the basic premise that all humans arebornequal,asreectedininternationalhumanrights documents. AsstatedinSweden'sownnationalgenderequalitypolicy, "Women and men must have the samepowertoshapesocietyandtheirownlives."Whata feminist foreign policy means is that Sweden also promotes equal rights, representation, andresources for women across the world as well as policies that underpin it. TheCOVID-19pandemichashighlightedboththeinvaluable role that women play in the economy and the vulnerable position of women in the job market and in the family context. What doesit mean for us Swedish diplomats in practice?It means that we strive to highlight gender equalityinevents,workactivelywithcivilsocietyorganisations and that we promote gender equalityandthewomen,peaceandsecurity(WPS)framework in multilateral institutions. I am pleased that as Ambassador to Singapore, I have seen a greater interest in some of our childcare and parental leave policies, which we also believe are enablers of Sweden'sposition as the most gender-equal country in the world.As a father of four, I can testify to the fact that no father ever regrets taking paternity leave.NICLAS KVARNSTRÖM Sweden's Ambassador to Singapore 2018-2021 & Head of Department for Asia and the Pacic, Swedish Ministry for Foreign Affairs Photo: Contributor
Page 15
5Feminism is simply an extension of the basic premise that all humans are born equal, as reected in international human rights documents.""Photo:JohnT-Unsplash
Page 16
candid6ANDREW KWANSingapore's Ambassador to Sweden & Head, Commonwealth Capital GroupTowards a Fragrant EquilibriumEquality: Gender equality is about sharedholdings in life. Half the world population was, is and will continue to be constituted by females andmalesinvirtuallyequalproportion,foragesto come. Apart from this natural balance in numbers, wewouldalldowelltoextendthisqualitatively,atwork, home and play. Equity:But Equalityalone isnotoften Equitable.Beyondthestridestakentowardequalityoverthepast decades in Singapore, principles of equitythat are gender-blind must also be made moremanifest, with respect to opportunity, recognition and outcomes. At the workplace, a culture that focuses on ability and availability when appointing best-suitedcandidatesforjobopenings,coupledwith a performance-based reward system, willleave less room for potential gender-baseddisparities. Equilibrium:Whatwould,couldandshouldsuccesslooklikewithrespecttogenderequality?Perhapsnot a William Morris dened utopian world, butmorelikely,afragrantequilibriumthatpermeateswhen individuals are suitably recognised for their talents, energy, creativity, industry and the values they bring to the table. And not one where limits are placed based on gender, race or religion. Equestrians: Equestrian events are the onlyOlympicdisciplineswherebothmenandwomencompete against each other on equal terms. Tobe sure, this is on account that neither gender holds an unfair physical advantage in this arena. But in instances where such differences do matter,amixed-genderapproachmightbeworthconsidering. At the inaugural Youth OlympicGamesinSingaporein2010,mixed-gendereventswere introduced and have since found their way into the Olympic programme.1 Perhaps we can draw inspiration and design more of our work teams with balance and diversity, for good!1 'Mixed-gender events a sign of innovation at the YouthOlympicGames',19Sep2018,www.olympics.com
Page 17
100 Perspectives on Gender Equality7Source:TheStraitsTimes©SPHMediaLimited.Permissionrequiredforreproduction
Page 18
candid8PIYUSH GUPTAChief Executive Ofcer DBS GroupA Seat at the TableInclusive leadership is about trying to achieve diversity of thought, which I am convinced is a powerful lever for performance at both the organisational and individual levels. Gender diversity is an important facet of the conversation. Women bring something differentand valuable to the table, by virtue of having different lived experiences, overcoming different challenges, or simply having grown up in a different way.Thechallengeistwo-fold.First,howdowebringmore women into the corporate fold, keeping in mind sticky societal expectations of the role of women which are harder to demolish. Here, corporates and governments have an opportunity, even responsibility, to lead by introducing policies that encourage more women to participate at all levels of the organisation. Permanent hybrid workingmodelsandexibleworkingarrangementssuchasjob-sharingschemeshaveworkedwellforour employees at DBS.Second, how do we ensure that women have a place at the highest levels of the organisation to meaningfully shape organisational strategy and purpose. Organisations need to be much moreintentional in building more diverse leadership teams, especially at the board level, which still tend to lean quite heavily on informal networks.Quantitative targets may be a useful short-termcatalyst, especially in encouraging more diverse teams at the management and board levels.At the end of the day, the fundamentals of leadership are immutable. As leaders, we are responsible for thinking about people, shaping the right strategic agenda, and most importantly, the right culture, including a leadership team and ethos that is diverse and inclusive.
Page 19
100 Perspectives on Gender Equality9Organisations need to be much more intentional in building more diverse leadership teams, especially at the board level, which still tend to lean quite heavily on informal networks.""Photo: Contributor
Page 20
candid10MUHAMMAD ZAHID ZIN Founder, Muslim Youth ForumEmbracing ChangeI am deeply encouraged by progress on gender equalityand I believethat Singapore,as amulti-religiousand multi-racialcountry, can bea goodmodel. There are many things we can do, starting with opening up more doors for this discussion. I believe that having a layered understanding of how women work in a society and discussing this issue in a fair and intellectual way will not only drive us towards a positive outcome but also open opportunities for the next generation. As the founder of the Muslim Youth Forum, the largest movement of its type in Singapore, we have a series of relevant discussions — from how religion is relevant to millennials, to how we want to empower people in the community in order to buildafairandequalsocietyasweadapttotheworld's current situation. We also have manydiscussionsonwomen'sequality.Weinfacthadtherstdiscussiononthelegitimacyofafemalepresidency in the eye of Muslim law. There are many issues that need to be addressed and alignedbutit'saworkinprogressandIamhappyabout that because progress is good and progress ischange.It'suptoustokeepthingsmovinganddriving change. Inclusivity and gender equality are important topics that we cover in our talks. We look atthese issues and discuss for example how to get women involved and how to not be patriarchal even when this can be seen as a core element of the family unit in the Muslim community. I have been criticised for being too progressive but I am part of a generation that wants to embrace a cause. And for me, as a religious leader, I want to see that relevant conversations are held calmly and diligently in a way to drive gradual, organic and sustainable change. Changecannotbehitandrun.Wecan'tjusthaveone female president in the history of Singapore. There will need to be more female presidents in order to really see change.  We also need tohave more voices of women in power, let people push boundaries and look at things differently — especially in the long term. As someone who works closely with the young generation, I can see the change up close. In the last10-15years,IhaveseengirlsthatImetwhentheywere10-12yearsoldgrowup.Theyarenowin their 20s, taking on important roles in society and in the economy. Some have become doctors,
Page 21
1111100 Perspectives on Gender EqualityPhoto:MuhammadHaz
Page 22
12candid12others live in other countries and they call me from all around the world. They have spread their wings. I am encouraged by this but I see that we still need to give girls more support, on all fronts. So for example, if a girl wants to travel and explore the world, study and chase her dreams, this should not warrant a religious consultation. I understand that families want to protect their girls but I think we need to create more understanding around giving girls and women the support they need to explore and live to their full potential. The world is changing and we need to trust the younger generation, that is more progressive and inclusive. Being stagnant is not the way forward. I believe in movement, embracing change and that if we all contribute to this 'workinprogress',wecanalldrivechange together. Photo:BryanLow-Unsplash
Page 23
13100 Perspectives on Gender EqualityThe world is changing and we need to trust the younger generation, that is more progressive and inclusive. Being stagnant is not the way forward. I believe in movement, embracing change and that if we all contribute to this 'work in progress', we can all drive change together." "
Page 24
candid14MAGNUS EKBOMGroup Chief Strategy Ofcer, Lazada Changing the Dialogue of the Gender DebateIt's easyto puta foot wrongwhen talkingaboutwomen's issues, especially as a Caucasianmale.Ononehandwemustrecognisethesheermagnitude of issues we face, on the other, realise that just because all of us, myself included, do make mistakes at times, doesn't mean we don'tdo good thingsmore often than not. We need anuanced debate, pragmatic solutions, and an understanding of differences in history, cultures, norms, policies and practices. This is not about bumper stickers or boilerplate statements. This is one of the handfuls of existential questionswe face. I think Sweden, Swedish people and everyonewhoisanambassadorfor'Swedishness'can and should be a leading force in driving this debate forward. 1.GENDERBALANCEISNOTABOUTEQUALREPRESENTATIONOFGENDERS.ITISABOUTEQUALACCESSTOOPPORTUNITIESThe word "Man" originated from "Mann" in OldEnglish, which means "person" or "human", regardless of gender. To me, gender balance is about ensuring all genders have access to opportunities, can make choices, and are rewarded based on merit. This requires thatsociety, businesses, and individuals recognise the differing needs of genders, and empower them accordingly with the right support system. Born and raised in Sweden, being an egalitarian is part of my DNA. Growing up, I saw my mother pursuing her public sector professional career while taking care of me and my four siblings. Like my mother, millions of Swedish women are more empowered than most in the world in terms of the ability to pursue career goals, also thanks to family-friendly policies like long paid parentalleave shared between parents, affordable public childcare and free education. Living in Southeast Asia for a decade and now married to a British woman with South Asian heritage has broadened myperspective.Whilemanywomenintheregionenjoy caring for their families, many are deterred from advancing their careers outside the home due to societal beliefs of traditional gender roles and lack of welfare policies that free them from the everyday unpaid care work. 2.GENDERBALANCEISNOTJUSTTOINCREASETHESHAREOFTHEPIEFORWOMEN.ITISTOGROWTHEPIEFORALLGenderbalanceisnotazero-sumgame.Bothmenandwomenwillbenetfromitasithelpstodrive
Page 25
15...the responsibility of achieving gender balance should [...] be on all genders.""Photo: Contributor
Page 26
candid16the growth of the overall economy. To put a number to it, the low female workforce participation rate in Asia Pacic represents a missed economicopportunityofUSD4.5trillionin20251.Looking at the digital commerce space, the 'women ande-commerceinSoutheastAsia'report2 by the International Finance Corporation (IFC) showed thatifsalesofwomen-ownedbusinessesreachedparity with men-owned businesses in 2025, thevalue of the regional e-commerce market couldincreasebyUSD280billionbetween2025–2030.Therefore, the responsibility of achieving gender balance should also be on all genders. I would argue that men, who currently still hold more power, should feel a greater responsibility for pushing this goal forward. 3.EMPOWERINGWOMENINTHETECHINDUSTRYANDTHEWIDERDIGITALCOMMERCEECOSYSTEMGender balance will not be achieved overnight. Southeast Asia had made good progress before thepandemic:womenmadeup56%ofgraduatesand 38% of the entire workforce3. Unfortunately, the pandemic has disproportionately affected women adversely in the region. A McKinsey study 1 McKinsey & Company (2021) Future of Asia: Asian Consumers 2030;McKinsey&Company(2018)The power of parity: Advancing women's equality in Asia Pacic.2 International Finance Corporation (2020) Women and e-commerce in Southeast Asia. 3 Boston Consulting Group (2020) Boosting Women in Technology in Southeast Asia.4 McKinsey & Company (2020) COVID-19 and gender equality: Countering the regressive effects. 5DianeN.Ruble,LisaJ.Taylor,LisaCyphers,FaithK.Greulich,LeahE.Lurye,PatrickE.Shrout(2007)The Role of Gender Constancy in Early Gender Development.showed that women's jobs are 1.8 times morevulnerablethanmen'sinthiscrisis4.However, the pandemic also accelerated digitalisation in the region, which presents a huge opportunity to close gender gaps. The tech industry can hire and develop more female talents by setting up structured programmes. For example,Lazadahasapolicyofagender-neutralpanel of interviewers for annual promotion cycles to give women the fair shot they deserve. The digital commerce industry also presents new opportunities to female business owners, and platforms like Lazada can help empower them to digitalise their businesses and sell online. The industry also enables women to enter sectors where they have been historically underrepresented. IFC's study found out that, inhigh-valueproductscategoriessuchasconsumerelectronics, female sellers have been registering higheraveragesalesthanmensince2019.4.LOOKINGINWARDSANDOUTWARDSTOCOMBATGENDERBIASGender balance progress usually comes in small steps over decades or generations. Research5 shows that the concept of gender starts to form at
Page 27
100 Perspectives on Gender Equality17the age of three to seven years old, indicating that trulyachievinggenderbalancerequiresaddressingtherootcause ofinequalityfroman earlystage.This means that companies need to not only look inwards to address the disparity within the organization and its broader ecosystem, but also lookoutwardstoeradicatethedeep-rootedissuethrough education.Supporting and promoting compulsory early education among girls is onlythe rst step. Theprivate sector can further step up its efforts to work together with the public sector on gender awareness education and mindset change from an early age. One way of doing so is to providethetechnicalandnancialsupportthatwillequipeducators with the right knowledge to cultivate a learning environment where children can develop to their full potential free from gender biases. INCONCLUSIONThis is a very important time as the progress on gender balance over the years is at risk of regressing due to competing priorities in a pandemic-alteredworld.Thisisalsoacriticaltimeas the unprecedented boom in digital commerce could potentially close the gender gap. Hence we all have a part to play in changing the narrative on gender, so that the economy, businesses, society andindividualscanallbenetfromafairerworld....the unprecedented boom in digital commerce could potentially close the gender gap. Hence we all have a part to play in changing the narrative on gender, so that the economy, businesses, society and individuals can all benet from a fairer world." "
Page 28
candid18Gender equality is a basic human right. The question is: "Why should one get more or lessrightsthananother?"While withholding privileges fromcertain groupsof people, such as women or minority ethnic groups, was deemed normal in the past, this doesn'tmakeitright.Historically,itwasprobablyseen as relevant or even necessary. Possibly due to the environment they were accustomed to or thetrickled-downpractisesoftheirforefathers.To add to that point, the surroundings that a person grows up in moulds their thought processes, which in turn shows up in certain behaviours, further encouraging discrimination. Gender discrimination, or the lack of human rights, is still prevalent today. However, I am very optimistic that this will drastically reduce at a much faster rate than that of our previous generations if we all work together to increase awareness. KAVIRAJ NADARAJAH Business Development Director, Aircient Jet SupportWhat Was Normal in the Past Is No Longer AcceptablePhoto: Contributor
Page 29
100 Perspectives on Gender Equality19NICK MARCHANDBusiness Development Manager, Villains Creative AgencyUnderstanding, Equality, and PeaceNo matter how we dene ourselves, we have more similarities than differences. However, we are compelled to dene everything in our world, especially ourselves. These labels can be powerful drivers of our personal growth in one moment then horrically crippling in the next. I hope that instead of focusing on our perceived differences and conict, we highlight our similarities so we can strive toward understanding, equality, and peace.
Page 30
20I started my career as an investment banker and spent nearly 20 years in the traditional nancialmarkets before making the switch to Impact Investment Exchange (IIX), a pioneer in the impact investment sector. For much of my time as an investment banker and then as an investor with a hedge fund, I took comfort in the notion that thenancialmarketsexisted—atsomelevel—toallocatecapitaltothemostefcientuses,whichshould ultimately, if indirectly, make the world a better place. However, the events that precipitated the global nancial crisis made clear that thispositive impact was neither the conscious goal of most of the actors in the market nor was it always the outcome. I decided then to go to work to try to makenanceliveuptoitspotentialbybringingtheskillsetsIhaddevelopedinthetraditionalnancialmarkets to impact investment in which investors actively seek to generate a positive outcome for society through their investments. My career provideda rst-hand education in thetype of gender discrimination that still exists in the nancial markets.It was obvious to me thatGender Equity Is Not Just for Women — It Is Essential for the Whole EconomyROBERT KRAYBILL Managing Director, Portfolio Management & Chief Investment Ofcer, Impact Investment Exchange (IIX)Photo: Contributor
Page 31
100 Perspectives on Gender Equality21the women I worked with on Wall Street werevery capable. One of them — my wife, DurreenShahnaz — went on to found IIX as the capstone to a successful career. But what was even more glaringly obvious was how few women found opportunities in the nancial sector — so muchso — that on several occasions I found myself working in ofces without a single womanprofessional colleague. This is just one example of the gender barriers that keep women from fully realizing economic opportunities — one of the key issues that we seek to address at IIX.Ofcourse,genderequityisgoodforwomen.Butit is also good for the whole economy, and in fact, the whole of society. At the simplest level, it is estimated that equal inclusion of women ineconomic systems would increase global GDP byup to US$12trillion.  Inaddition, we ndthatempowering women tends to have positive ripple effects throughout society. Research has found that women invest as much as 10 times more of their earnings than men do in their family'swell being, in areas including child health, education and nutrition. This helps children. It enables community-wide growth and economicdevelopment. And ultimately it helps men as well.Ithinkofwomen'srightsas afundamentalformof universal human rights, not as a concept only applicable to wealthy western societies. All women around the world deserve to be empowered –politically, economically and through access to education and healthcare. Not only this, all societies can benet by empowering women.These benets come in the form of greatereconomic growth, healthier and better educated children, and more peaceful societies. Besides this, gender balance is not exclusively conned to "western" societies. We see greatvariation in women empowerment within regions. Some of the countries that perform best in terms of gender equity are not "western." Andwithin every region, there tends to be signicantvariationamongcountries.AccordingtotheWorld Economic Forum's 2021 Global Gender Gap Report, within ASEAN, for instance, we ndcountries ranked as high as 17th in the world and as low as 112th in the world (out of 156countries ranked.)Whilethereisastrongpositivecorrelationbetweengender balance and the wealth of a society, I think it would be wrong to assume that gender balance comesasa consequenceof wealth.Itseems tome at least equally likely that the causal effectruns in the opposite direction.
Page 32
22candidALVIN YAPP Entrepreneur & Founder of The IntanNyonyas and Bibiks - The Spine of Our Society Peranakan women are anything but weak. They are feisty! They have always held the family together and I believe that for those of us raised by a Nyonya, we see women as the backbone of the family and by extension, the backbone of society. Peranakan culture has always celebrated womenandwasuniquelyaheadofitstime.Wheneducation for women was not even a thing in Singapore, a group of Peranakan men founded the Singapore Chinese Girls' School in 1899.Can you imagine? One of the oldest schools inthe country was an all-girl Peranakan School!Growing up, I had little opportunity to discover whatdenedmyPeranakanculture.Mycuriosityeventually led me to become a collector, from which I gained tremendous knowledge about my culture, seeding the inspiration to create The Intan to celebrate this heritage. My collection of Nyonya wares, Nyonya kebayas, and kasok maneks come with many stories of strong women and how they ran the show. I believe that growing up with the notion of strong womenhashelpedmetoenvisionwhatanequalsociety looks like and I am proud to have grown up surrounded by tough women. As a business owner, Idon'tdifferentiatebetweenmenandwomen.Idorecognize that in general, much more progress is needed,intermsofcreatingequalopportunities,ensuringequalpayandempowerment,andhavingwomen in leadership positions. The whole world needs to do better. However, the role of women and how we see them in our society is only part of the conversation. Gender roles are changing. That also means looking at how we should see men and the role they play,atworkandathome.Wehavecomeaverylong way in understanding how important it is for childrentogrowupwithparentswhoareequallypresent. Today, dads are much more involved in the early years of their children. Just as women have contributed as critical components of the labourforce,menneedtoredenetheirroleintheIf we want to build an equal society, our children need both male and female role models; they need to experience equality at home.""
Page 33
23100 Perspectives on Gender Equality23home, especially in childminding and upbringing.Ifwewanttobuildanequalsociety, our children need both male and female role models; they need to experienceequalityathome.IlikewhatSweden has done with their paternity leavebecauseitreallylevelstheeld.It'sclearthatbothmenandwomenwilltake a break from work when they have ababy.It'sasharedresponsibility,noless. Of course, it takes time to drivechange, but I think that all of us who are running our own business and creating jobs have a responsibility to stay informed, to discover ideas and solutions that embrace the changing tides. I am optimistic about our society because we have a good foundation. Moving forward, we must walk the talk and have the resolve to make a more equalsociety,areality.Photo:MuhammadHaz
Page 34
candid24PAVAN MANO PhD Student, King's College LondonTowards a Feminism for AllIt's difcult to overstate the value of a goodteacherandI'mnotabouttotry.IreckonthersttimeIproperlythoughtaboutgenderequalityandfeminism was in Michelle Lazar's class duringmy undergraduate days. Her class was powerful becauseittaughtmetothinkaboutgenderequalityin more nuanced, expansive, and ambitious terms. "Gender as a category intersects with, and is shot through by, other categories of social identity such as sexuality, ethnicity, social position and geography." She helped me see the ght forgenderequalityanddiversityasinextricablylinkedwith other ghts, on other fronts. If we beginfrom an understanding that patriarchy works by encouraging,valuing,andrewardingaveryspecicperformance of masculinity, maleness, then it'snot very difcult to understand that feminism'sprogressive potential lies in offering a way to break these logics down.So it's hardly surprising Arundhati Roy insiststhat feminism and the ght for gender equalitymust not make the mistake of forgetting the various contexts in which gender counts and is made to matter. "Viewing gender in this way, shorn of social, political, and economic context, makes it an issue of identity, a battle of props and costumes." Different communities of women are affected differently and dismantling the structures ofgenderhierarchiesrequiresunderstandingandaccounting for this. "Themaster'stoolswillneverdestroythemaster'shouse."IthinkaboutAudreLorde'sfamousmaximoften.Weallshould.It'salittletooeasyformentosay that we should get behind feminism or simply describe ourselves as feminist – but that aloneisn'tgoodenough.Because itmatterswhatkindof feminist future we help build; it matters what kind of feminist movement we ally ourselves with; and it matters what kind of feminist liberation we envision.Whatdoesthatmean?I thinkitmeansstarting by taking seriously the idea of feminism for all – with an emphasis on all. It meansunderstanding that feminism isn't merely aboutguringouthowtocreatealittlebitmorespacefor a few privileged women at the top alongside men of their own social position; it means rewriting therulesthatcreatedthiskindofinequalityinthe rstplace.Cinzia Arruzza, Tithi Bhattacharya, and Nancy Fraser are unequivocal about what a feminismfor all should look like – and we could do far
Page 35
100 Perspectives on Gender Equality25Understanding that feminism isn't merely about guring out how to create a little bit more space for a few privileged women at the top alongside men of their own social position; it means rewriting the rules that created this kind of inequality in the rst place.""worse than tolisten. "We have nointerestin breaking the glass ceiling while leaving the vast majority to clean up the shards." This is the kind of feminism that we must express solidarity with and help expand. Not afeminismthatpreaches'leaningin'whichis conditional on other women holding the rigging line. But a transformative feminism that'sabletothinkintermsofthecollectiveinstead of the individual. A feminism that seeks a broad equality for the many, not the few.2021 is the Year of Celebrating SG Women. Our task is making sure it is all women being celebrated.Photo: Contributor
Page 36
candid26VINAY DIXITRegional Business Director, Abbott LaboratoriesNot Why, but TINA*?*There Is No AlternativeFor far too long in corporate circles, the role of women has been scurrilously questioned.Whether its genesis stemmed from a lack of maturity, fear of power shift, or need for self-preservation, the idea is way past its expiry date. Regrettably, I was in that camp for quite sometime.But now, asa businessleader with80% ofwomen direct reports, I have happily changed my stripes! The realisation that my personal and business success could be enhanced by a largely female team was late in coming to me. It was during my stint at McKinsey that the idea took root when I led the incubation of McKinsey Insights China — a novel client service model leveraging the strengths that the rm had in econometric datamodelsandconsumerresearch.Thiswasthersttime that I had the distinct advantage of leading a women-dominated team, and the advantageswere abundantly clear. Amongst many in my age group, purpose and legacy dominate our thinking. But what is more important is the "how" to achieve these goals. In my mind, this will require skill sets where thepast is not at all an astute guide to the future. I believe that there are three key traits of teams and individuals that will delineate the remarkable from the pedestrian. These traits are: collaboration, solution mindset, and balance and I assert that women have an edge in exemplifying these capabilities. COLLABORATIONThe idea of individual brilliance as the only determinant of any business' success is passé.In today's VUCA (volatile, uncertain, complex,and ambiguous) environment, collaboration, both within and outside the company, more often denesthefortunesofcompanies.Womenclearlyhave an advantage in this regard. In my experience, women more often bring a collaborative spirit and an inclusive environment that engenders high achievement.SOLUTIONMINDSETIamevenmoreimpressedbytheresult-orientationamongst my women colleagues. Keeping the end goal in sight and generally being willing to multitask moreefciently,theycanmoreeffectively"close
Page 37
27the deal." Focusing on the result and ensuring thatdistractionsareminimisedhelpsthewomen-led and women-oriented teams achieve greatersuccess,quicker.BALANCEI believe that this trait will become increasingly important in the future. Businesses are being called upon to ensure the achievement of competing objectives. No longer is shareholder return the only yardstick, safeguarding the needs of all stakeholders is critically important in the transparent, social media-driven mediaenvironment of today. From an early age, women have treaded tightropes balancing the needs of many. Perhaps this has trained many women to become much more emotionally and intellectually sensitive towards achieving balanced results.Ibelievethatthequestionof"Whywomenintheworkplace,"ismoot.Wearenowclearlyinanerawhere there is no alternative. The conversation should not be around women's participation inthe workforce, but women in leadership positions. Iforoneamconvincedthathavingasignicantlylarger number of women in leadership roles will markedly improve collaboration, inclusive growth, efcientuseofresources,andabalanceddecisionmaking that helps society at large.Photo:EvaMarieRönnquist
Page 38
28KESTER TAY & KAVITHA SHEKAR Emotional Wellness Mentors, IntracrescoThe Gender Issue Is First and Foremost an Internal Battle Within OurselvesWe livein a dichotomousworld. Thisdichotomycreatesbeautybutalsoconict.Thispolarityexistswithin us too. Regardless of our biology or identity, all of us are born with traits that have traditionally been considered masculine and feminine. Traits including reasoning, strength, leadership and focus have been considered masculine while feminine traits included intuition, empathy, collaboration and creativity. In a way, our growth as individuals and as a human race is a process of nurturing both aspects within ourselves, and developing wisdom to know when to apply which aspect.Photo:MuhammadHaz
Page 39
100 Perspectives on Gender Equality29The gender issue in our external environment reects internal imbalances between our"masculine" and "feminine" sides. As children, many of us were brought up to focus more on the mind than the heart; to think rationally and avoid emotions; to be strong and not show vulnerability. The result is an over-dominant masculine anda suppressed, denied or wounded feminine in many people. Disconnected from the heart, the masculine becomes authoritarian, narcissistic, and calculative. Forced into the shadows, the feminine becomes manipulative and possessive and develops a victim mentality. This drives many gender struggles at all levels of society, including gender discrimination, hate crimes, sexual abuse, and domestic violence.The road to healing starts with ourselves. It starts with becoming aware of beliefs about gender we have been conditioned to accept. It starts with nurturing and balancing the masculine and feminine qualities within ourselves. Here, thereis a beautiful opportunity for men and women to worktogether.We,KavithaandKester,throughourstruggles as a couple, have come to appreciate the value of relationships in helping us come into greater balance. The differences and conictsbetween us brought to our awareness the qualities each of us lacked. For example, Kesterlearned from Kavitha how to be more in touch with his feelings and Kavitha learned from Kester how to be more trusting, grounded and focused. As we worked through our challenges, we grew more condent as individuals. We now enjoy a more harmonious relationship and help other partnersandfamiliesnavigateconictsandgrowtogether.We need to see the differences between menand women not as a zero-sum game but asan opportunity for co-elevation. We are eachother's companions, teachers and collaboratorsin this journey of gender balance. We can onlyachievetrueequalityasawholewhenbothmen and women are balanced within themselves, and condentabouttheiruniquestrengthsandvalues."We can only achieve real upliftment of women and society as a whole when both men and women are balanced within themselves, and condent about their unique strengths and value."
Page 40
candid30ARDI S. HARDJOE Chief Executive Ofcer, Ang Mo Kio - Thye Hua Kwan Hospital & Thye Hua Kwan Nursing HomeThe Changing Roles in Our SocietyI think with being in the healthcare industry we see a lot of nurses coming through our doors, serving the clients that we have. For a lot of people, they preferwomentendingtothem-maybeitremindsthem of their mother, someone with a kinder touch or Florence Nightingale in action. The perspective from getting care from a man or woman - the hard skills and soft skills of thenursing procedure — we do have a lot of women working in the social service sector — women are more nurturing, they have a natural calling so they dominate that space. With the ageing population, as Singaporegets older, the caretaker burden falls on the family. In general, the idea is for people to age in the community and at home. It's only when the family is not able to take care of them anymore,thatpeoplendthemselvesinanursing home. The idea is to age in place and even die at home if possible.Thecaregiverathomeisusuallyfemale-Iamnotsayingtheguysdon'tdotheirpart—theydo!Andeven as roles are changing at home, often women take on more responsibilities. They work at home, look after their loved ones, nurture their loved ones, both young and old. In certain industries, the professional lives of women are affected by the caregiving role at home.Workplacesaregettingbetteratprovidingleave to look after dependents, including older persons that need more help to carry out their daily activities. Whenwelookatallthewomentakingcareoftheelderly, the topic of the unpaid work women do comes to mind. There are discussions on how to pay non-professional caregivers as this in manyways can be cheaper than paying health-careworkers. This does make economic sense but the verdict on this is yet to be seen. AstheCEOofthe AngMoKio-ThyeHuaKwanHospital, I strive to remove gender bias from how Ilead.Whetheryouareamanorawoman,workhard, go home and nd your work-life balance.My philosophy is that the job is up for grabs and the promotion is there — whether you are a man or a woman — you just need to be professionally competent and have leadership and time-management skills. For our organisation there is noglassceiling,norequirementsforpositionstobeheldspecicallybymenorwomenandpeopleget recognised for their contributions to the organisation.
Page 41
100 Perspectives on Gender Equality31Onapersonalfront,Icomefromafamilyofstrongindependent women. My biggest hero is my mum. She has now passed on but she is the epitome of somebody who has done it all. She was a great advocateinhereld,publishinglegalbooks.Shewas a single mother, sent me to a great school, including world-classuniversities, and raisedmeto be who I am today. She would often say that leading is genderless. I also know that other women do this too, there is no excuse for women not to take on bigger roles. A few of my professional mentors were women and their leadership qualities were exceptional. Oneof them said, " I am not here to take a leadership role just because I am hungry for it. I am doing this because I want to drive change and be in a position to make things better for everyone." She is why I believe good leadership is so important as that is what is needed to drive change. ...leading is genderless""Photo:MuhammadHaz
Page 42
candid32BRYAN TAN Chief Executive Ofcer at the Centre for Fathering Limited, Dads for Life & Mums for Life SingaporeFather FiguresThe Centre for Fathering (CFF) was established in 2000 to address fatherlessness in Singapore. CFF aimed to turn the hearts of children towards their fathers by empowering more fathers to be better role models and an enduring inspiration to their children.Since2015,CFFhasalsobeenthedrivingforce behind Singapore's nationwide fatheringmovement - DADs for Life (DFL) which seeks toinspireandinvolvefatherstobegoodinuencersintheirchildren'slives…forLIFE.At a time when I struggled in my role as a husband and father, some DFL volunteers started to walk alongside me to provide support and to hold me accountable for how I stewarded those roles. Theirselessinvestmentsinmylifehelpedmetobecome a better husband and father for my family. Ibeganvolunteeringwiththemandsubsequentlyjoined the organisation as a staff member, in gratitude for saving my life, my marriage, and my relationship with my children.Over the last two decades, CFF equipped morethan50,000fathersthroughfatheringworkshops.DFL engages over 300,000 families and has a campaign reach of 5,000,000 annually. OnMother's Day in 2019, DFL partnered with somemother volunteers to launch MUMs for Life (MFL) to"celebrateamum'sidentityasdaughter,woman,wife and mother." MFL complemented the work ofDFLbecausewhenmumsliveouttheiruniqueidentity in their diverse roles and dads are actively involved in the family, children are better nurtured and the whole family is stronger.Progress means different things to different women. As husbands and fathers, we need to know these nuances to better support the women inourlives.Wemustcontinuetoafrmourwivesintheirrolesattheworkplaceandathome.Wemustraise our daughters to be condent and assuredthat they are valued rstly for who they are, andnot for what they can contribute or do. As men, we have a responsibility to protect the women at our workplace and in the community. As fathers, we must raise our sons to honour and respect women, byrole-modellinghowwehonourourmothersandrespect our wives.I hope to see a future where every child in Singapore would grow up with a father gure in their lives. I also hope for DFL to become a model for other nations, so that children around theworldwouldnotgrowupfatherless.Wemustgive our children the blueprints of what a thriving marriage and family should look like if we want to see a Singapore that is Made For Families!
Page 43
33Progress of women means different things to different women. As husbands and fathers, we need to know these nuances to better support the women in our lives." "Photo:EvaMarieRönnquist
Page 44
34candid34I am originally from Nepal but have been in Singapore for 22 years. Singapore is a fantastic placetoworkandlive. Peoplesayit'sexpensivebut you can make a life for yourself here. You can ndworkanditprovidesfairopportunitiesaslongas you mind your own business. I was not always ataxidriverbutamverysatisedwithwhatIamdoing. I live within my means, and I am a happy man. I don't have much time to hang arounddoingnothing.WhatevertimeIhaveIspenddoingcreative things, reading and writing books. I have a dream of becoming a professor and I am still chasing that dream. I want to study more and get the academic qualications that are broadlyaccepted but people learn from experience, not justformaleducation.Withagecatchingup,Iammore and more concerned with thinking about life and where society is headed.ASARU RAJBANSHI Taxi Driver & Writer We Should All Play an Equal Role in Our SocietyPhoto: Carolina Rodriguez
Page 45
100 Perspectives on Gender Equality35...even though women and men have held different roles in many societies they should be seen equally in terms of their participation in the formation and development of society. In all aspects!"When it comes to equality, I believe that even though women and men have held different roles in many societies they should be seenasequalparticipantsintheformation and development of society today. I mean this in all aspects! Whenpeopletalkabout equality,I think that women are equal tomen. In some cases, one might say that women think more clearly than men. Sometimes women even have more clarity because men have traditionally been burdened with earning the livelihood for the family. But times have changed. Both men and women should be responsible for their own upkeep and for the maintenance of the family and share life's responsibilitiesequally.Becauselifeisbeautiful.We are all individuals and partof society at the same time. We need to balance that out. Itdoesn'tmatterifyouareamanora woman, everyone should strive to be a good person in society."Photo: Carolina Rodriguez
Page 46
36candidNADIM MUZAYYIN Chief Executive Ofcer & Founder of Blue Bamboo Gender Equality Is a No-BrainerGenderequalityisimportanttomebecauseIhaveexperienced how strong female representation has had a positive impact on my emotional foundations and how that has affected my relationships. I hope that others can experience the same both personally and professionally.Born in Singapore, I grew up without my birth mother who left shortly after I was born. In 2008, I moved to Switzerland and spent roughlysix years in boarding school where I met my wife — Chandler. When I was growing up, I never realized that alack of motherly love had a negative impact on my emotions and my relationships until I was married. Every emotional foundation is built in the home and by growing up without strong female representation, communication and openness were not necessarily a priority at home. This lack translatedintomyrelationshipsanditwasdifcultfor me to communicate my feelings or open up to others. I was quite guarded. As I started tobuild my own home with my wife, we worked to build an equal and open household. I haveactively noticed how open, transparent and honest our conversations have been. Chandler has taught me so much about being open with feelings in both personal and professional relationships and has shown me the power of female representation where it was lacking in my life. I believe the most important difference between mygenerationandmyparent'sgenerationisthatwe are having more open conversations about systematic gender inequality now. Today, asmore women are educated and represented in government and business, there is more and more discussion about disparity in pay and treatment. These open conversations about gender disparity lead to more male and female advocates. I've seen women create such an impact in theworkforce and at home and strong women have played an incredibly important role in my life. Gender equality is a no-brainer – at least inmybook. Muchlike race,orreligion– whydoesgender matter when it comes to how we should be treated,paid,orheard?Genderinequalitypersiststoday and it is necessary for future leaders in business and government to make a conscious effort to bridge the gap.The biggest challenges that companies face when itcomes to gender equalityare equal pay,hiring discrimination, and female representation in
Page 47
37leadership. Hiring managers need to make a conscious effort to hire qualityfemalecandidates.Hiringcanbeatime-sensitiveissuebutIbelievetakingthetimetondtherightcandidatethataddstothediversityoftheteamisimportant.Equalpayisano-brainerandshouldbeinplacefrom day one. Business leaders have the responsibility to make sure payacrossemployeesofthesamelevel,menandwomen,areequal. The biggest challenge here is the lack of transparency. I believe every teamshouldknoweachother'spay.Itleadstomoretrustamongstthe team and more transparency in the base and bonus pay process. During my time as a National Serviceman, I also worked alongside regular ofcers or "Regulars" who chose the Singapore PoliceForce as their full-time job. Some of these regulars are women.When I was posted to the Public Transport Security Command, I reported to a female commanding ofcer (CO). She completelychanged the mood of our team vs others. She was strict but had a softerapproachtotherecruitsthanotherCO's.MoraleisusuallylowforrecruitsinNationalService–whosometimesndithardtondmotivation throughout their two years. However, under the command of our female CO, recruits felt looked after and cared for, whichultimately boosted their morale and performance. SinceIcompletedmyNationalServicein2019,Ihavebeenworkingin the venture capital industry. In my free time, I also work with Aidha.org, a non-prot that empowers female domestic workers throughnancial literacy. There, I help mentor domestic helpers as theynavigate entrepreneurship and start their businesses. In the venture industry we actively seek diverse founders and board members. In 2020, only 2.3% of venture-funded businesses were women-led.There is a huge gap in venture funding for women in Southeast Asia especially. We aim to have at least one female board member atour companies and we seek to have exceptional female founders in our portfolio.Photo:EvaMarieRönnquist
Page 48
candid38DOMINIQUE TOUCHAUDFounder, Shokunin MarketingTime's Up to Empower WomenGrowing up, I personally faced social and racial discrimination since my family moved from the Caribbean to France. I have also witnessed how much harder it was for my own sister to become who she wanted tobe when a well-minded auntasked her why she was such a burden on our parents by wanting to study at university. Gender discrimination is the barrier we lived with andprotedfromuntilrecently. Whenitwas myturn to hire a new team member, there was an untold "guidance" to prefer either "experienced mothers" or a "woman who did not want to have children" rather than a single woman in her 20s, most probably because advertising was much better handled by a bunch of single males...As the husband of a master writer and artist, the father of two strong girls and the brother of a womanwhohadtoghtharderthanIdidtogetto the same place, I know what women bring to the party and I felt it was a waste not to recognise this in the business world. I made it my mission to reverse the trend. By seizing every opportunity to bring gender diversity to my teams and to the companies I was a part of, I hope to have created a cascading effect by which one woman helps another woman without fear for her own position. I did it because I thought that it was the right thing to do. WhenIreturnedtoSingapore,Ialsoquicklyrealisedthat it was the most efcient way to manage ateam.When I recentlyattended a conferenceongamingwithanall-femalepanelitstruckmethatnone of the experts on stage felt that they had tooutsmarttheothers.Ofthewholeconference,thispanelwasthemostlledwithlearningsanditwascertainlythemostopen-minded.Inessence,promoting diversity in general and gender diversity, in particular, helps get to a better result faster.Photo: Kerry Cheah, Red Bus Photography
Page 49
100 Perspectives on Gender Equality39"Diversity and inclusion bring out the best in people, and I work on this every day — we still have a lot to do!"LUDVIG LANDGREN Vice President, Head of Digital Services, South East Asia, India & Oceania, Ericsson Photo: Contributor
Page 50
candid40KAUSHIK SEAL Market Development Manager, StormGeo Shipping Beyond Work-Life Balance: My Wife the Entrepreneur We have been in Singapore a littleover seven years now and we ndtheworkcultureprettymuch"work-life" balanced. Ofces close on time and staff are not usually expected to put in extra hours just because the Supervisor or Manager is still around. I work for a Maritime Technology company and women have not traditionally constituted much of our workforce. However, all that is changing rapidly, and we are glad to Photo: Contributor
Page 51
100 Perspectives on Gender Equality41seethatourorganizationisanequalopportunitiesemployer and we have focused in the last few years on having as many women as possible across all the business verticals to balance our talent pool.Wemanagershavemadesurethatanynewfemalerecruitisgivenadequateexposuretimeindeveloping the requisite skills and competencyneededfortheposition.Wealsomakesurethatwithin the team there is equanimity in decisionmaking and every chance is given to our female colleagues to express themselves freely. This has created a work environment that is fun to work in and ensures optimum effectiveness in our respective working groups.My wife, Seema, has dedicated herself to amplifying important social justice messages. She takes time out from running her fashion and dance choreography company, to host a chat show every Sunday on social media called "Smile with Seema" to spread the word about women's businessesand careers, alongside other equally importantsocial and just causes like animal welfare, treating elders with care, dealing with physical and mental challenges, and more. I am proud to be her partner in life and am inspired by her dedication and boundless energy. We managers have made sure that any new female recruit is given adequate exposure time in developing the requisite skills and competency needed.""
Page 52
candid42SANJAY DESAICo-Founder & Regional Director, Humana International GroupLearning Compassion and Professionalism From WomenIn my personal opinion, gender diversity and equalityisa"HumanRight"butourmale-dominatedworld is fraught with gender stereotypes that limit women'scapacitiesandpotential.For example, many men see successful women as a threat. A woman should not earn more than her husband or male peers in the workplace. Itiswrongforawomantoirt,butnottheotherway around. In my experience in talent management, men generally view leadership as an outcome of transactions, women on the other hand are often moretransformational andmotivational. Womenleaders are more democratic and participative whereas men tend to be more autocratic and directive.The general consensus is that women work veto eight times more at home than men. I would sayover90%ofmendon'thavethequintessential second job of running a home, which means morethan90%ofwomenworkasecondjob;theirprofessional life and the one at home. In my career, having worked for more than 37yearswithsomeofthebestF50globalbrandslikeUnilever, Exxon, Mobil, Apple, Dell, ThermoFisher, Aventis(Rhone-Poulenc),SCJohnson,Huntsman,and VeriFone, I have successfully helpedbusinesses grow through working with some of thebestfemalecolleaguesontheoor.Iconsidermyself lucky to have learned so much about empathy, passion, inclusion, and collaboration while working with top-class female leaders. I would like to share two anecdotes from the two domainsofwork,thehome,andtheofce.ATHOMEIn my own life, I am indebted mostly to two women. The rst gave birth, education, her thought process, and a great upbringing to me. The second one came into my life, married me,andmadeamazingsacricestoseethatweas a family do well for close to three decades. I cannot even think without any one of them, whether I would be writing this article today with so much passion and pride. My role models in the family environment.
Page 53
43ATTHEOFFICEI also happen to know a successful senior leader who was on an escalated growth path in her professional career as a Chief Human Resources Ofcer (CHRO). She then suddenly had to pulleverything back for a couple of years to take care of her parent's health issues, family healthconcernsfollowed,andthenshebeganghtingacomplex Covid situation in India in early 2020. It was a deluge of setbacks one after another. Despite all odds, even with all this family pressure she continued to do social work, consult professionals, write a couple of books, and earn a decent living. She never lost her faith in either herself or the Almighty. She is now back on her feet, having gotten two great assignments as an independent Board Director and she works with even more vigour and faith in the ecosystem. She is a model for professionals....gender diversity and equality is a "Human Right" but our male-dominated world is fraught with gender stereotypes that limit women's capacities and potential." "Photo: Contributor
Page 54
candid44Iamfortunatetobealiveatthistimeinhumankind'shistory. We have certainly made strides inimproving gender equality, among many otherrights, however, we still have so much to achieve. In the rare instance of women being in positions of powerorinuence,weseethattheydoasterlingjob without much pomp or fanfare. They often go about their work with the greater good in mind and withquiet resolve. Some excellentexamples arehow nations with women leaders are handling the pandemic crisis and steering their economies.Closer to home and my passion, I am fortunate to be in real estate brokering where both women andmenhaveanequalopportunitytobuildtheircareers.Whentherearenobarriersorobstaclesarising from gender, we see both men and women enjoying success. In an industry where the most resourceful and hardworking agents clinch the deals, it gives women a platform to compete and excelon an almost level playing eld. Hopefully,more people will see that by removing barriers and empowering women, the wider society will benettremendously. FARRAND HEYTeam Builder, Orange TeeWhat a Time to Be a Woman, But...Photo: Contributor
Page 55
100 Perspectives on Gender Equality45MATTEO CHIAMPODirector of Operations, SecondMuse SingaporeEmpowering Women in Waste ManagementI am lucky to work on a program that has gender equality and theempowerment of women and girls as a crucial impact metric, thanks to the feminist international assistance policy adopted by our lead donor.TheIncubationNetworkisamulti-country,multi-yearprogramaimedatreducingplasticpollutionowingintotheoceansfromSoutheastAsia,while improving the livelihoods of women and marginalized groups working in the waste management sector.In this region, waste management and recycling systems rely on women and girls working in the informal sector, but offer them few opportunities to secure dignied work or improve their livelihoods. They are oftenpaidlessforequalwork,theirworkismoredangerous,andtheirjobsare less secure, resulting in fewer opportunities to build assets and to consolidate power in the waste management value chain.Through our program, we support initiatives that raise awareness of genderinequalitiesandhumanrightsissuesinwastemanagementandrecycling systems, highlight practical approaches to improving gender sensitivity and responsiveness, and generate and scale innovative solutions that also empower women and girls by valuing them as key stakeholders.Every day our team goes to work delivering ways to tilt the playing eldinfavourofdisadvantagedgroups,especiallywomen,sotheycanequallyandfairlybenetfromtheproductoftheirlabour,andincreaseaccesstoandcontroloverresources.Thisisexceptionallyfullling,bothpersonally and professionally."
Page 56
46candid46IAN JOHN EVANGELISTABehaviour Therapist/Behaviour Analyst, Dynamics Group of CompaniesGender Equality Is About Inclusion Having worked with children with special needs for almost two decades, I have witnessed people of all kinds. In Singapore, you will see some adults with special needs working in the buffet section of some hotels, cooking your scrambled eggs and clearing up your tables. Regardless of whether they are "normal" or live with some sort of physical or mental challenge, people with special needs, time and again, go on to perform successfully in their jobs. Medicalresearch now tells usthat it'spossible thateven those of uswhoare considered "normal" adults might be on the autism spectrum or have a personality disorder. It seems like we all have more in common than we think. Nobody is perfect as they say.In my professional life I have also seen all kinds of people — male and female, gay and lesbian, — excelling in their professions. To treat someone differently because they are different in gender, is tantamount to treating other adults differently because of their special needs.Gender equality is important in our society to promote peace among humankind.Photo: Contributor
Page 57
100 Perspectives on Gender Equality47Photo:RodnaeProductions-Unsplash
Page 58
candid48I started my career in Atlas Copco in 1983 inGermany and for 38 years it has brought me tovarious positions and countries including ten years as Divisional President, where we lived in the US and Europe.In 2017 we movedto SingaporewhereIwasappointedasVicePresidentforAtlasCopcoinSoutheastAsia&OceaniaHolding.From my point of view, I want our daughters to have the same opportunities in their lives and careers asIhad.Thisiswhygenderequalityisimportantto me. Diversity helps us better understand our business and markets and it brings creativity and innovative solutions to all of our stakeholder'schallenges and needs. It is easier to attract and HORST WASEL Vice President, Atlas Copco, Southeast Asia & Oceania HoldingGender Diversity Should Never Be Seen as an Administrative HurdleIt is easier to attract and retain the best competence if we have a diverse workforce with a good gender balance." "Photo: Contributor
Page 59
100 Perspectives on Gender Equality49retain the best competence if we have a diverse workforce with a good gender balance. At Atlas Copco, we want to be a workplace for everyone and we know that diversity and inclusion are critical to our long-term success. We knowthat diversity and inclusion help us understand our customers' needs and strengthen employeemotivation, productivity, innovation, and results. OurGroupgoalandfocusistohave30%femaleAtlas Copco employees by 2030. The biggest challenge in our company is that the gender balance is our most signicant diversity gap.Competition for talent is everywhere in the market and we don't want to miss out on any part ofthe talent pool. Recruitment of women to blue-collar roles (specically for eld engineers) hasreceived a much higher priority over the last years and specically in our region, we have seen asignicantimprovementonthistopicin2021.Myviewisthatgenderequalityplaysastrongpartin our economic growth. Besides sustainability, investors are focusing more and more on companies that have a strong focus on gender diversity. A study by EIGE (The European Institute for Gender Equality) on the economic benetsof gender equality in the EU, further shows thatimproving gender equality has strong, positiveimpacts on GDP per capita that grow over time. Thereasonisthatgenderequalityisreducingthegender gap in education and could help reduce bottlenecks in the labour market, increase the employment and productivity levels of women, and reduce occupational segregation. Ultimately, this would foster economic growth via both higher productivity and increased labour market activity. Atlas Copco has implemented Group Goals in Peopletotacklegenderissuesdirectly.Ourcultureof collaboration and inclusion drives our success. To ensure that we achieve the goals, our Group has created our diversity and inclusion program, which is implemented throughout Atlas Copco. Gender diversity should never be seen as an administrative hurdle for a company. While wedo have a long way to go to make these practices commonplace it is our responsibility as strong leaders to set them up and support them.
Page 60
candid50Let's start by recognising that we have a bias, and the only way to counter that is to put controls and processes in place for hiring, promotions, who becomes project leaders, etc. We can match this with two brutal facts: rst, a realisation that our customer base is diverse and, second, with diverse teams, we are more likely to avoid groupthink and perform at a higher level." ENRIQUE PATRICKSONCFO & Head of Sales APAC & MEA, Electrolux"Photo: Contributor
Page 61
100 Perspectives on Gender Equality51Breaking Stereotypes
Page 62
52NEHA THAKKAR Head of Network & Partnership Development, Singapore Economic Development Board (EDB)That Is a Woman's Job - Said Who? "You have three daughters? Nosons? So sad!" People oftensaid this to my parents and, as achild,Ididn'tunderstandwhy.I was born in a small town in India, where people believed girls are a "burden" and boys are a "gift". While girls get married and leave with a huge dowry, boys look after their ageing parents. This leads to discrepancies in the way children are treated and raised. For instance, education is considered a necessity for boys but a privilege for girls.Fortunately, my parents did not subscribe to that belief. They resolved to raise us to have agency. I know of girls who were married at 14, while I was encouraged to pursue an education and discover my path to happiness. I am acutely aware of my luck.My aspirations were too big for my little town, so my parents encouraged me to expand my horizons with undergraduate studies Photo: ContributorDisclaimer: The text is written in a personal capacity and not for EDB.
Page 63
100 Perspectives on Gender Equality53in Singapore. After all, Singapore's educationsystem is respectable, the country is not far from India and, most importantly, it is safe for girls.Moving to Singapore as a teenager was eye-opening.Ifellinlovewiththecountryinstantly. I experienced dignity here. With that, Singaporewon my allegiance and loyalty, building a deep sense of duty within me to contribute to its progress. As I experienced more of life and the world, I developed a greater appreciation of where we are onequity,asacountry,andwherewecanbe.Two experiences struck me strongly. Therstwasofagroupofpeoplemeetingfortherst time, introducing themselves to each other.A woman in the group said she didn't work, shewas "just" a housewife. Another woman politely responded,"Ofcourse,youwork!Youarejustnotpaidforit.Youarenot'just'ahousewife;youareraising a child and shaping the next generation of this country."The second was a conversation I had while I was living in the US. A friend was curious about gender equalityin Singapore. I recountedthat it is fairlygood — girls get an education, women can work, theyaren'tproportionallyrepresentedinleadershippositions but that is slowly changing. She then said, "Sounds like Singapore is doing a decent job buthere'sa question.When childrenthink aboutwho cleans, cooks, or bakes the cookies at home, isitmumordad?"AsperSingapore'sLabourForceSurvey2019,ofallwomen outsidethe labour force,43% are notworking because of domestic responsibilities, as opposedtoonly0.04%ofmen.Women are traditionally expected to take onunderappreciated, unpaid tasks largely because of stereotypes that women are more nurturing and caring — a myth debunked by numerous studies. On the ip side, these stereotypes alsopressure men into believing that they must be the key breadwinners. While women are not considered a burdenin Singapore, they are burdened by gender stereotypes.WithgoodgovernanceinSingapore,we can achieve utopian success and be an example to the world. But change begins at home. Whileweempowergirlstopushboundaries,let'sencourage boys to cook, wear pink, cry if they feel like it, be allies to the girls in their lives and grow up to be proud feminists. I had luck on my side with parents who helped me questionstereotypes.Let'sremoveluckfromtheequationandsystematicallyempowerwomenandmen alike to break stereotypes and live a life true totheiruniqueindividualstrengthsandaspirationsof happiness, without the weight of expectations andtraditions.Inanutshell,afulllinglife.
Page 64
candid54DINGSON PRESBITERO BALAHADIA Visual Merchandiser, IKEAAn IKEA DadLike many people, I grew up thinking that only mothersshouldtakecareofchildren.WorkingatIKEAbroadenedmymind.Theysaythata"mother'slove is endless", but mothers also get tired. Everyone needs time to collect themselves, so being there for your wife or partner, and switching roles if needed, is something you can do. Ourpaid paternity leave gave me a new perspective and taught me that I can say, "Let me take over." Thankstothisbenet,Ifeelagreaterconnectionwith my family and our overall life at home.Wehavetwochildren,afour-year-oldboyandathree-month-olddaughter.MywifeandIbothworkfull-timeandcanthankfullytakeparentalleave—four weeks for myself and two months for my wife.In2017,Iwasamongtherstco-workerstoenjoypaid paternity leave at IKEA, which helped me a lot asarst-timedad.Thisyear,Ienjoyedthesamebenetand wasmore involvedbecause mywifeand I faced many challenges.While in labour with our daughter, my wife momentarily lost consciousness and my daughter's heartbeat stopped for eight minutes. I remember praying for them to wake up and also convincing myself that they were gone. They both eventually recovered, but I will never forget how desperate I felt. After a few weeks, our daughter was diagnosed with jaundice and had to undergo a three-daytreatment. The stress piled up and my wife fell into postpartum depression. She feared losing our child. I also noticed that our eldest felt jealous and would cry whenever he heard the baby cry. Spending time at home helped me recognise these changes in my wife and son, and allowed me to be present when they needed me the most.Coming back to work after my leave made me feel nervous.Ofcourse,therewasalottobedone,butmy manager helped me ease back into it. My team, without complaints, also supported me by taking "Being able to take paternity leave allowed me to play a part in our changing life at home."
Page 65
100 Perspectives on Gender Equality55on some of my tasks. I appreciate their generosity in helping me have this time with my family. When my fellow co-workers become dads, I willalsogladlytakeontheirtasks—that'sapromiseI will keep!Aside from loving what I do, benets like ourpaternity leave inspire me to become more committed to our company. IKEA is a family and team-oriented workplace, rmed up in the IKEAvalue of Togetherness. My wife shares the same feeling of pride and often mentions the difference my paternity leave has made for our family.Being able to take paternity leave allowed me to play a part in our changing life at home. Spending therstweekswithanewborn,beingthereformywife,seeingmychildgrow…Ihopethateveryonegets the opportunity to appreciate, be involved in, and share these priceless moments with their wife or partner.Photo:MuhammadHaz
Page 66
56candid56ZOE CHENG Services Manager, Scania Singapore A Passion for Fixing Problems As a young girl growing up in Hong Kong, I was always repairing faulty appliances in the home. I had a natural curiosity for dismantling mechanisms to understand how they worked. "If something is broken, look for Zoe" people used to say. From small household gadgets to heavy commercial vehicles, I'm now xingproblems of a much larger scale. After obtaining a Bachelor's Degree in AppliedScience, I dabbled with a few sales jobs before joining a taxi leasing company in Hong Kong. I moved on to a workshop business handling taxi repairs before Photo: Contributor
Page 67
100 Perspectives on Gender Equality57joining Scania in Hong Kong seven years ago and transferring to Singapore four years ago. This may not be considered a typical job for a woman, but I'm a hands-on person. And working behind anofcedeskjustisn'tforme.As Services Manager at Scania in Singapore, I now lead a team of service technicians at two workshops to repair and maintain heavy trucks and buses so that they run smoothly, safely and fuel-efcientlyontheroad.Myteamalsoprovidesa complete range of service solutions such as maintenance plans, driver training and coaching, andothereetservices.The automotive industry is still heavily male-dominated and I do face challenges sometimes. Some of the older male customers are not used to dealing with a woman, and I have to work much harder to gain their trust and respect. There was one customer in my previous job back in Hong Kong who really did not want to talk to me, but I wouldbetherstpersontocontacthimtoupdatehim on the status of his vehicles. I took a personal interest in it, and over time, the relationship improved.It'snoteasywiththeoldercustomers,but the younger generation taking over some of thebusinessesismoreopen-minded.WorkingatScaniahasprovidedmewiththeequalopportunities and the supportive environment I haveneededtocontinuemycareerpath.I'veneverfaced any problems with my male colleagues here. Since I started at Scania, everyone has been accepting and welcoming. It was clear from the startthatit'sintheDNAofthecorporateculturetorespect diversity.Myhusband,whoworksintheimport-exporttrade,has always been encouraging of my work and pitches in to help balance the family responsibilities withworkcommitments.Ourdaughter,however,thinks I am mad to work among so many men. But I believe, as one of a few women around, I have more opportunities to stand out on the job. In time to come, I hope to see more women joining the automotive industry, even as service technicians. If they have passion and determination they can succeed no matter what gender they are. As for encouraging my daughter to pursue a similar career,IbelieveeveryoneisuniqueandIwouldlikeher to choose what she wants to do in life. Just as I did.This may not be considered a typical job for a woman, but I'm a hands-on person and working behind an ofce desk just isn't for me." "
Page 68
58candidEvidence from a variety of sources shows that new mothers'leave from paidwork is a key driverofcareerdevelopmentinequality. Offeringpaternityleave benets to fathers, and even reservingspecic time for men only, helps massively tobreak the core belief that it is only women'sresponsibility to secure children's wellbeing in the early years. This would also help reduce the time women are away from work without forcing children into daycare earlier than parents would like.Having had the opportunity to witness different culturalapproachestothisproblem(inVenezuela,Spain, Sweden, and now Singapore), I strongly believe that organisations, companies, and employers can play a fundamental role in supporting this transformation. When childcareleave opportunities are offered to both parents, the organisation will, in turn, normalise and develop anapproachtocopewithateammember'slong-term absence.In my experience, using childcare leaves as opportunities to discover and develop talent has proven a great driver of organisation growth. Childcare leave in countries like Sweden, but even Spain is long enough to trial the performance of other employees or even external people in positions that would normally be considered a stretch for them. It is an opportunity for them to take over and prove their abilities to perform and deliver results and this places them in a launchpad for future opportunities. From a manager's perspective, the leaves areshort enough to make them a safe and controlled ANDRÉS MIÑARROVice President, Product Line Care APAC & MEA, ElectroluxPaternity Leave Helps Break the Core Belief that Parenting Is a Woman's Responsibility"Offering paternity leave benets to fathers helps massively to break the core belief that it is only women's responsibility to secure children wellbeing in the early times."Photo: Contributor
Page 69
100 Perspectives on Gender Equality59environment to bring a fresh outlook and new energy into the team.It is clear that these types of processes are a lot easier to implement and drive in larger organisations, where talent is more easily accessible. But it is probably also the larger organisation's role to lead such transformativeprocesses for the betterment of society.More importantly, as a father who had the opportunity to dedicate time to childcare during my kid's early years, the personal growthexperience, and the bonding developed during that time with your children, is in itself a big enough rewardtopushforthesebenets.Photo:CesarAbnerMartinezAguilar-Unsplash
Page 70
candid60MATS JONSSONBusiness Owner & Trailing SpouseBeing a Supportive Spouse Is a Mutual Responsibility Being a Swedish/Singaporean couple, we feel at home in both Europe and Asia. We have hadopportunities to work in a few countries on both continents and have always supported each others' career pursuits. So when my wife'semployer offered her to head up the organisation in Southeast Asia (we were in Switzerland at the time),arolethatmywifealwayswanted,Ididn'thesitate in supporting her.The difference with the move to a new country this time was that we had become parents in our late 30's/early40's.Therefore,tosupportourchildren,itwasessentialforustobemoreexiblewithourtime. If one had a job that involved travels and a long working week, the other had to be more available. I felt ready to leave my job, so the timing was good, and I was happy to take on a more domestic role. I knew my wife would have done the same for me.I have to admit that the change from over 15years of corporate life to taking on the daily responsibility of children and the household was bigger than I had imagined. But, at the same time, I have enjoyed this time. It has given me opportunities that I would never have been able to pursue otherwise. For example, I started a small business that I can operate from anywhere, and I wasalsoabletoattendapost-graduateprogramwhich I always wanted to do but never had time for before. Above all, I am grateful for seeing my girls grow up and support them every day. Close to a decade has gone by and we have moved one more time with the same company. Initially, I never thought I would stay out of corporate life for such a long time. Still, over time, I realised that juggling my business, household, school runs, and thegirls'socialactivities(mostofthetimebeingthe only father among the mums — no difference either side of the globe) suited me well.Ifullyrespectanyfamily'schoiceandwhatworksbest for them, with one or both parents working. Still, if we want to see a change with a more diverse gender mix in leadership roles, I believe more fathers need to be prepared to choose the same route as me for a period of their careers. It is vital to give our children role models and a view of the society we want to see. By providing our kids an outlook where gender biases are a non-issue, we will hopefully one day see asmany fathers as mothers doing school runs, and as many women as men having the careers they want.
Page 71
100 Perspectives on Gender Equality61"By providing our kids an outlook where gender biases are a non-issue, we will hopefully one day see as many fathers as mothers doing school runs, and as many women as men having the careers they want."Finally, someone asked me if we have had any comments or reactions from people around us on our choice. I can honestly say that they have been few and generally positive. There are some funny ones like ight check-ins in Asia with two youngchildren alone; I frequently get asked,"Whereisyourwife?"Photo: Contributor
Page 72
candid62I was born in a traditional family where men were the key focus when it came to education, food distribution, housework, and many more entitlements. I grew up fully aware of these biases surrounding me and had to look for the select opportunities I had to excel in what I was good at and prove myself. Fighting for opportunities, doing it diligently, and debating my intention and purpose became part of my early experience of life. During my foundational years in Singapore's educationsystem,Iwasluckytogetanopportunitytostudyatagirls'school.Thiswasthersttimemybeliefthatallwomencanperformwellbeyondbeingahousewifewasafrmed.Toexplicitlypushforgenderequitywasnevermyintention,but to give women a place to excel and contribute has always been my ultimate goal for a workplace. Ultimately, selecting a suitable candidate for the job is always the desired outcome. Likewise, with half of humankind being women, jobs and organisations need to be more balanced when taking the strength of women into account. IbelieveallfemaleCEOsworkhard,justlikemen,butwomenmust learn to have the courage to speak up and to put up theirhandsiftheywantthejob.Wehavetolearntoexpressand communicate our desires and ask for development plans and do regular milestone checks. I am grateful that in my 24-year career with Jebsen & Jessen, I have been blessed with a good employer, managers, colleagues, customers, and principals who collectively provided SIEW TIN LIM Chief Executive Ofcer, Jebsen & Jessen IngredientsFrom Tradition to CEOPhoto: Contributor
Page 73
100 Perspectives on Gender Equality63opportunities for my career development. A strength of Jebsen &Jessenisthat,despiteitbeinginamale-dominatedindustry,we provide a work environment that is supportive of our female employees and values them. These employees contribute greatly to the organisation! My manager recruited me when I was four months pregnant and still fully believed in my capability to perform my job. I was touched by this great faith in my contribution.The biggest challenge for women to get into the boardroom is networking. Men have to be more aware of their unconscious biases and need to create an environment that allows for diversity in views and gender. Men, women in the boardroom are your sparring partners as well! Companiescandoalottobecomemoregender-balanced. That goes from recruitment to creating a work environment where everyone thrives and gives recognition for great work. With new jobopenings, encourage everyone to apply and support the selection process with transparency and clear criteria that are fully understood by all applicants. At home, distribute household chores among husband and wife, sons and daughters. That way we will navigatetowardsafairerandmorebalancedsocietywithequalresponsibilities and opportunities.I believe all female CEOs work hard, just like men, but women must learn to have the courage to speak up and to put up their hands if they want the job.""
Page 74
candid64RUBEN PANGArtistFeminism Is for EveryoneI was raised within a family where my mother was the breadwinner, while my father would take care of the children at home and send us to school and oversee general home keeping.Most of us learn about feminism through mass media that frames feminists in an unatteringlight.Ittookmetimetolearnthatfeminismisn'tonly about women being equal to men, that itisn't anti-male, that many women have beensocialized to run with a sexist status-quo (oftento their advantage). And that within feminist movements, there are those that focus on reform — themodication of policies tobe more equal,and others who are more revolutionary, who seek to understand, deconstruct, and end patriarchal systemswhichperpetuatesexism.Whenwesighand say "it is what it is" or "that's just the waythe world is", that's one of the things feminismattempts to deconstruct; why "it" is and how it needs to be examined, and what needs to be done.Feminismisn'texclusive,butitencountersresistance because it isn't merely about genderequality(whichmostpeopleagreeonalready).Itis inevitable that one confronts the uncomfortable reality that we have often unintendedly perpetuated the suffering of others through behaviour we'vebeen socialized to accept.What we see today, as feminism has becomemore widespread, is a cynical corporate response toideologicalmovements,feminismhasbeenco-optedintolip-serviceversionswithincorporations,pop culture and etc... a type of "feminism-lite"veneer where one can pat themselves on the back while they hold onto beliefs that perpetuate the marginalization and oppression of others. Othertimes,itisuseddefensivelyinthehopesofimprovingtheirpublicimage.Ifthere'ssomethingI learned about feminism,  it's that it promotescritical thinking, it encourages you to raise questionsanditisuncomfortablewhenyoumustconfront and be held accountable for your sexist actionsorbeliefs—itisn'tastickeryouslaponaproduct to make it more appealing or a slogan you canwriteunderacompany'slogotoavoidscrutinyor push sales towards a predictable demographic or target market.I went to an all-boys, catholic school, and wastaught a lot of things outside of academics --leadership,contributing tosociety, sex ed,etc. --but topics like, human rights, feminism, activism, or how to relate to the opposite sex, weren'tdiscussed.Wewereonlywarnedaboutthewomenwe would meet and how they would distract us from our studies.
Page 75
100 Perspectives on Gender Equality65I think feminism being introduced into classrooms earlier (not necessarily as a graded subject) would have helped us understand ourselves better. Should feminism beintroduced earlier inschools, it wouldn'tbe seen asan alien concept. It would be accepted as one of the denitions of civility and characteristics of modernityand that many things we take for granted were achieved through feminist activism. It would have also given us a framework to develop our own thoughts on how we contribute to society. Feminism is for Everybody by Bell Hooks is an accessible example. I think it is important that people are introduced to feminism through its thinkers, its activists, its artists and negotiate its theory, in all its substance, before they consume it in its more corporate-appeasedorgovernment-endorsedforms.If there's something I learned about feminism, it's that it promotes critical thinking, it encourages you to raise questions and it is uncomfortable when you must confront and be held accountable for your sexist actions or beliefs.""Photo: Contributor
Page 76
candid66JOVICE NGResearch Director, Saab Singapore Co-director, Saab-NTU Joint Lab, Nanyang Technological University Singapore Gender Is IrrelevantStudying for my rst degree, a BSc in MaterialsEngineering at NTU Singapore, we had a strong 40% female student ratio. But when I startedwork as a process engineer in the semiconductor industry, I soon found my fellow engineers were almostentirelymaleasweretheoortechnicians.Onlytheoperatorswerefemale.During these early years, the female staff experienced sexual harassment and sexist comments, and I saw clearly how top management wasalmost100%men, except for the occasional HR role. I took several jobs in related industries, each time with the same experience, and I realised that the technologysectorisaprettymale-dominatedone.SoIdecidedtotakeaMaster'sinEngineeringinthe hopes of nding better opportunities and adifferentworkingenvironment.Iwasn'toptimistic.DuringmyMaster'sresearch,mysupervisorwasakind, capable and respected Swedish lady scientist who inspired me to pursue a PhD in Sweden. This opened my eyes to a different world, where gender equality was taken seriously and everyone wastreated with respect. I liked it enough to stay in Sweden for 10 years (from PhD to postdoctoral to three years as a scientist in biotech) before returning to Singapore and taking on a Scientist rolerstatASTAR,andnowasResearchDirectorat Saab.WHATILEARNEDI've learned that it's essential to maintain yourself-esteem.Ihadlowself-esteembeforeImovedtoSweden;Iwasn'tcondentIcoulddoabetterjob than my male counterparts. But my time in Sweden taught me otherwise. Leadership is dened by personality; capacity and capability Photo: Contributor
Page 77
100 Perspectives on Gender Equality67are genderless too. I regained my self-esteem,secure in the knowledge that I do the best job possible. Gender is irrelevant.In Singapore, women continue to face a challenge from traditional attitudes, especially within families, and tiresome stereotyping in society generally. We are still xated on what male andfemale roles and behaviour should be. However, over the past 20 years, Singapore has done a lot to encourage female students to excel in science and maths, and participate in leadership courses. I see the engineering schools getting more female candidates and women in Singapore are gaining more senior positions, but we still have a long way to go — especially in the advanced technology sector.In my laboratory, three of the ve researchfellows are ladies, the engineers are male, and one assistant engineer is female. We work hardto encourage female candidates, giving them equaltreatment andopportunity, sothat wecaneventuallysendthemintotheworkplaceasfully-trained competitors. Companies should always look for a balanced gender ratio when the recruits have similar skills, to ensure equal opportunity and treatment.We must emphasise gender equality, without tilting too much to one side, but it is no longer acceptable for employers to say "there were no qualiedcandidates".Companies should always look for a balanced gender ratio when the recruits have similar skills, to ensure equal opportunity and treatment.""
Page 78
candid68DENIS EDWARD Entrepreneur Getting Girls Into TechI do not believe that any civilised person will say that women should not have the same rights and opportunities as men. I am proud tobeapartofthisnarrativeandIdon'tknowif I earned the right to comment. Though it was not directly intended for it, part of my work does empower women. NewYork.SG primarily has a female community because, coincidentally, many creatives happen to be women. My previous start-up, Homebakee, was the same. Itended up serving primarily women to make an income from baked goods. What I also saw through my work weremany groups that emerged championing the cause of female empowerment. Groups in tech include women who code, intricate software programming built by women, etc, that were deemed a male's playingeld. It makes me happy to see this shift towardequality.Photo: Contributor
Page 79
100 Perspectives on Gender Equality69I am very fortunate to work in a space where innovation is everything. It's what will keep the world going. It's exciting and it gives us hope for a better future but we won't see the innovation we need if we don't attract more women to get involved on an equal basis. We know there is a huge gap of girls in STEM and that many industries - particularly in the science and IT space - are still very male-oriented. We need to ensure more females pursue opportunities and career paths to be the innovators of tomorrow." "PETER MOORE General Manager - Platform & Technologies - Asia Pacic Japan at SAP AsiaPhoto: Joachim Diawara
Page 80
candid70MIKAEL LARSSON Trailing SpouseEach Move Is an Opportunity for Both PartnersI was raised in a family with two brothers and have been blessed with three sons myself. So I see it as my responsibility to be a role model for my boys whenitcomestogenderequality.Despitemywifeacting as the main breadwinner of our home for manyyears,myboysdon'tseeitasoddandhavenever asked why, which I believe is a success.My wife's professional postings have takenthe whole family abroad all over the world. The decision on whether we move is always discussed asafamilywhichIthinkiscritical.Whiletheyaregreat professional opportunities for my wife, I have always seen these postings as an opportunity for our family to explore different paths and perspectives in life.For any males who are hesitating to follow their partners, I would strongly advise you to take another look at the opportunity it represents. This could be your chance to spend more time with family, allow yourself to take on new challenges personally or professionally. When following mywife to Singapore the rst time I launched anagency which was a fantastic journey. The second time, I focused on my academic journey and had thechancetostudylawandcriminologyfull-time.WhenwereturnedtoEuropeaftersevenyearsinAsia I was given the chance to head up a company as their CEO. Your professional career does notneed to be over because you followed your wife. If youareopen-mindedinhowyoucanpursueyourgoals you can do them anywhere.A nalpiece of advice for my malefriends is tobe a role model. Actively show your partner that whatever you would expect them to do for you, you are ready to do the same, both personally and professionally!
Page 81
100 Perspectives on Gender Equality71My wife has also taken the whole family abroad for different professional postings around the world. The decision has always been discussed and approved of by the whole family. I have seen these postings as a family opportunity, not only a professional such for my wife, and it has allowed me and the whole family to explore different paths and perspectives in life.""Photo: Contributor
Page 82
candid72SIR MICHAEL CULME-SEYMOUR BTHumanitarian & Life Science Logistics AdvisorContinuously Driven to Help Women Get to the TopMost of my early life was spent in an all-maleenvironment. I went to an all-boys school at theage of seven, then joined the Royal Navy at 16wherewomenwererarelyseenorheard.Wereitnotforgrowingupinanall-femalehouseholdofthree sisters and a mother, women could have been from another planet. After leaving the Navy, I livedonOilRigsasaDeepSeaDiver–nowomenthere either!When I nally got a "real job" at Swissair inSwitzerlandinmymid-20s,Icamefacetofacewithworking alongside women. Although Switzerland is assumed (and is) a very modern country, the Kanton of Appenzell only gave women the right to votein1990,thisis43yearsafterSingapore.Asin most global companies, women were not seen to be anywhere around the "C-Suite'of Swissair.Crossair, a small regional airline could legally hire an "all-female" ight attendant crew – and thechairman would defend this decision by claiming that 80% of his passengers were businessmen.How times have changed. Overthepast35yearsofmycareer,Ihavemadeit a personal mission to ensure that I help as many women as possible – be it through charitableorganisations in India, supporting abused women, or by mentoring female employees at various companies that I served in. Most times there was no difference in the efforts needed to train and support staff, male or female, and appointments were all on a merit basis. Then there was India. Here, I discovered that one of the companies that I was running had a staff of 45menandonewoman.Ifoundthatthepreviousleadership had not even selected women as part of the team and especially not to be considered in any leadership role. I changed this with clear Photo: Contributor
Page 83
100 Perspectives on Gender Equality73instruction for the human resources team to ensure thatwehadanequalselectionofmaleandfemalecandidatesforeachjobopening.Withintwoyears,wehadourrstfemaleGeneralManagerand50%of all staff were women. It was the opposite in Korea,where100%ofmyofcetherewasstaffedbywomen–requiringaninterventiontoapplyanoppositechangetoIndia–toensurethatwestartto recruit men!Apart from the many positive attributes that women bring toa company and society– particularly inleadershiproles–Iunderstandthequietstrugglethat women in corporations must deal with. Including balancing career with motherhood and, sometimes, in the circumstance of being a single parent. At some risk of being labelled "old fashioned," I do believe that women in a corporate career still need support. This will remain the case if the majority of boards and C-Suites continueto be male-dominated. There is no justicationfor the inequality of pay, benets, or recognitionthatstillexists,andwemustcontinuetoghtforequality.I,forone,willcontinuetoghtforequalopportunities across the board. Onapositivenote,weareprogressing.IfIjoinedtheRoyalNavytoday,20%ofmyshipmateswouldbe women. I do believe that women in a corporate career still need support. This will remain the case if the majority of boards and C-Suites continue to be male-dominated. There is no justication for the inequality of pay, benets, or recognition that still exists, and we must continue to ght for equality.""
Page 84
candid74RICKY FOOPartner & Director, Mercuri UrvalGender Balance Is AchievableI work for the Swedish consulting company Mercuri Urval providing executive search and talentadvisoryservices.Wehardlydiscussgenderequalityinthecompanyasitisadefaultforus.Wehave many very successful female colleagues who are equity partners in the company, and earningequal pay is a no-brainer for us as pay followsperformance.IntheSingaporeteamtoday,I'mtheonlymantogetherwithvewonderfulwomen.We believe that including more women in thetalent pool is a way to reverse gender imbalance still prevalent in many industries and we do our best to search for female candidates who have the right capabilities to join our clients, especially theSwedishoneslikeHusqvarna.ItissometimesdifcultincertaincountrieslikeJapanandKorea,butitispossible.Ourclientsappreciatetheeffortandwedonottakeaquota-drivenapproach.My wife Mary is a stay-home mum for now.Mary and my mother-in-law are the "drivers andoperators" at home, making most of the decisions while I play a supporting role. Mary is keen to return to the workforce one day, despite us having a large household to manage. I can't expressenoughappreciationforhersacricingtimeintheworkplace to play a larger role at home for now. I domybesttosupportherandI'mawarethatIcanstill do better every day.Wehavefouryoungboys(Noel10,Nick8,Ness3,andNeil6monthsold)andwedoourbesttoinculcatetherightvaluesinthem.Weconsciouslydo not create stereotypes of boys and girls as we believe that there are many possibilities in life. They have a good mix of boys and girls intheirfriendshipgroupsanddon'tseemtowearagender-biaslens.On a personal front, I'm writing a book, "Jobhunting:BuildingaPurpose-DrivenCareer,"whereI am interviewing 40 professionals at different stagesoftheircareers.Mygoalistohaveanequalrepresentation of career stories from men and women and I am doing my best to seek out women
Page 85
100 Perspectives on Gender Equality75who are keen to tell their stories. I am doing my part to encourage women professionals, especially the younger generation, to nd theircareer paths. I believe gender balance is achievable, especially within the service sector. In the heavy industries there are still limitations, and I encourage companies to do their utmost to design jobs to be possible for both genders."I'm doing my part to encourage women professionals, especially the younger generation, to nd their career paths." Photo: Contributor
Page 86
candid76My girlfriend and I are locally employed, so we are very thankful for the paid parental leave our respective companies gave us. Business Sweden offered me three months of paid parental leave, and then I added one more month of my annual leave. For my girlfriend, the paid parental leave was four months which is not considered the norm for foreigners working in Singapore.Ibelieveit'simportanttotakeparentalleave,butofcourse, everyone has their personal story to take intoconsideration.Myjobisproject-based,whichmeantIcouldnishoffmostofmyprojectsbeforemyparentalleave,andIhaveverysupportiveco-workers that continued working on the projects I didnothavethetimetonish.WhencomparingSwedenandSingapore,onebigdifference is how the social support systems are built up. In Singapore you often have your extended family or a helper living with you assisting in taking care of your children. In Sweden, when you have children, the norm is that you as a parenttakecareofyourbabyduringtherstyear,after which you can start using the pre-schoolsystem subsidised by the government. Which system creates the strongest bond between childrenandparentsisdifculttosay.Tobehonest,it seems like Singaporeans have a stronger bond with their parents, however this may be cultural differences as well as how much you can rely on what support you can get from the government.Companies should see paid parental leave as an employee benet, equal to providing healthinsurance, that can attract the younger generation who I believe expect this when looking for their next employer. For me, the ideal solution would be amoreexibleapproachtowardsparentalleave,a shared number of paid days for the parents to have the opportunity to choose who is home with the baby. MARCUS KUUSINENMarket Manager, Business Sweden SingaporeSharing Responsibility
Page 87
100 Perspectives on Gender Equality77Companies should see paid parental leave as an employee benet, equal to providing health insurance, that can attract the younger generation who I believe expect this when looking for their next employer.""It was natural for me to take parental leave with my child. I have come to appreciate the amount of work it is to take care of a young child; your free time goes down to almost zero. But being able to be home with my son from such a young age and to follow his development so closely has been amazing, and I think it denitely has created a strong bond between us. Going forward, I will try to be home earlier to be able to spend some time with him before his bedtime and work a bit more from home in the evening.Photo: Contributor
Page 88
78candidLEE SYAFIQOwner, Ashes Burnnit & Maison SucreeLet's Remove Gender Normative Mindsets Like "Men are Born Leaders" and "Women are Too Soft-Hearted"The woman that has made me understand the importance of gender equality was my mother.She has raised and groomed me to be the man that I am today. She has struggled in achieving her career goals, needing to work double hard to get noticed and be acknowledged for her efforts. That, and all the struggles she faced during her different stages in the company she worked for, made me realise that inequalities are present incertain workplaces.Protecting gender balance is an essential responsibility of being a young entrepreneur. It allows for ideas to be developed that can cater to more people. This approach to development can provide a platform for business growth through the core concept of inclusion.In my opinion, the biggest challenge facing gender equality in Singapore will be to recognize thatwomen, just like men in the current generation, have plenty to offer in terms of ideas, intelligence, and worth towards building a stronger foundation ineveryaspectoflife.Weneedtoremovegendernormative mindsets like "men are born leaders" and"womenaretoosoft-hearted".To achieve a community where everyone will have the opportunity to excel, it is the responsibility of everyone to remove these damaging stereotypes andprovetothenaysayersthatdon'tbelieveinthemovement how wrong they are. The biggest challenge facing gender equality in Singapore will be to recognize that women, just like men in the current generation, have plenty to offer in terms of ideas, intelligence, and worth towards building a stronger foundation in every aspect of life.""
Page 89
100 Perspectives on Gender Equality79Photo:MuhammadHazPhoto:MuhammadHaz
Page 90
80SHASHI RAJ Project Manager, Oil & GasDiversity Can Transform Our Working Environment Working in a predominantly male industry, I feelvery fortunate to have had the opportunity to work with incredible male and female colleagues. In my opinion, most industries with mainly or only male employees hired for core business roles, are severely lacking. During my time in the Middle East, having a female engineer on the team was unheard of. What was intended to be a well-oiled"Machine of Men" turned out to be a somewhat dysfunctional, clumsy setup when compared to my experiences with more diverse teams.Diverse teams had more ideas, approaches, and solutions to every problem we tackled. Additionally, while we were "in the grind" the working environment was more supportive without diminishing a sense of urgency. Stressful moments where projects spiralled out of control justdidn'thappen.Theleaderofthegroup,whethera man or woman, was more synergized with the team'sneedsandcreatedmorecohesion.Inmyopinion,formale-dominatedindustriessuchas the oil and gas sector, it is time to strive for more diversity in order to make serious waves into increasing productivity and improving the general vibesoftheemployer-employeeenvironment.Photo: Contributor
Page 91
100 Perspectives on Gender Equality81NICK JONSSON Co-Founder & Managing Director, Executives' Global Network (EGN) SingaporeEqual Benets Are Essential for EqualityUnbalancedpolicies aroundbenets (likepaternity leave) send the wrong signal that men should return to work and women should be home and care for the children. It reinforces the idea that men should focus on a career while women should focus on the family. If men and women share the parental leave equally, it demonstrates that menand women are equal, not just in theorybut in practice. It drives home the idea that men and women share the responsibility forbothnancesandfamily.Furthermore,allowing men to contribute more at home gives women the space to focus on their careers. Irmlybelievethesamebenetsneedtobeprovidedtobothmenandwomen.Only thenwillbothmenandwomenbeequallyaccountable for running the household and their careers, including taking on leadership roles.Photo: Contributor
Page 92
candid82YC CHOYVice President & Head of Region, UK & Europe, Singapore Economic Development Board (EDB)Evolving Views on Gender EqualityGender equality – it means different things todifferent people. So I thought I should share two stories at different stages of my life, and how it has shaped my perspectives. Mymumwasastay-at-homemum,orahousewifeas we call it in Singapore, but she is one of the strongest women I know. Growing up, I didn'tunderstand it too well but we were struggling to make ends meet, but she took on multiple roles toprovide for the family – as a housewife, as amother,andasababysitter.OnebenetwasthatIgrew up with babies all the time as her little helper – I remember my shift was from 5-7pm whenshe had to cook, and I had to keep the babies occupied and safe! But the multiple roles, and the multi-taskingmeantthatshehadlittlecapacityforanythingelseinherlife.Thestresses,sacrices,and resilience she showed us was exemplary and served as a role model to us all.I share this because I think in modern gender equalitydiscussions,thereseemstobealeantocelebrate women who "lean in" at the workplace (pun unintended) – successful, professionalwomen who seem to be able to juggle everything in life. And there is nothing wrong to celebrate them–butIthinktherearetworisks–rst,wedon't recognize that they are the exceptionsrather than the norm, and that blinds us to the broad-based support and protections that otherwomenstillrequiretodothesame.Second,womenwhochoosetoputfamilyrstshouldbecelebratedaswell–genderequalityisnotonlyaboutrisingto the pinnacle of professional success, but that women–andmen,forthatmatter–shouldhavethe independence and choice to decide where they want to focus on and prioritise, and get rewarded and recognized the same.That leads me to the sadder part of my story, which shapes a particularly strong belief of mine. Unfortunately, when I was in my teens, the relationship between my parents had eroded, and they eventually divorced. My mum was disproportionately affected – rst, she was"trapped" in the marriage in the later years, as she believed she needed to keep the family together for the sake of the kids; second, because she had not worked formally throughout the marriage, she had little savings and CPF (retirement) funds, and most of the proceeds from the sale of assets wenttomyfather.Essentially,shewasrst"heldprisoner" and then "punished" for devoting her Disclaimer: The text is written in a personal capacity and not for EDB.
Page 93
100 Perspectives on Gender Equality83life to the family. I think it illustrates that many women are still inter-dependent ontheirfamilyorspouses,whichconsequentlyreduces their independence, life choices, and increases their downside risks.In my opinion, a country that does well in supporting women in their various roles and thus increasing their independence is...no surprise– Sweden!Ispent ashortsabbatical in Sweden, and being fascinated about its approach to parental policies and parenthood, I took an ethnographical approachtounderstanditbetter–spendingtime with Swedish couples, families, and kids. And I believe there are several things other developed societies can learn from. First,there'samisperceptionthatSwedishparental leave is extremely generous and not replicable – while yes it is moregenerous than most, the most important aspectisitsexibility.Forinstance,parentscan "trade" their paid allowance for more parental leave, which they can also defer to when their kids are older. Second, the sum of policies encourage men to play their part andco-parent.Forinstance,thereis"take-it-or-leaveit"paternityleave,andmalebossesrole-modeltakingtimeofftocarefortheirchildren when their partners rst return towork. Third, labour and social protections for Photo: Contributor
Page 94
8484candidwomensuchastherighttoreturntoanequivalentrole and reduced working hours after maternity leave, and legal protection including shared assets for women cohabiting with their partners even before marriage, supports women in their multiple roles and independence in life choices. Nodoubt,theSwedishexperienceisunique,butitis not due to its homogeneity of society or some special altruistic trait. In fact, cohabitation and co-parenting are relatively recent phenomena,prevalent only in recent generations. Pre-1970s,traditional gender roles were the expected norm; andpriortothe1990sparentalleavereforms,co-parentingwasararity.Norisitperfect–despitehuge progress, the "last-mile" of gender equalityremains stubbornly difcult, with languishingsocial pressures that women are the primary care-giver and the gender wage gap. But in thepast decades, consistent policy and societal normshavemovedtheneedle–andthisisindeedreplicable elsewhere. To sum up, I have brought you on a short tour from my home in Singapore and then to Sweden, from my childhood joys and sorrows to professional curiosity, from the policies to the human stories. It will take a lot more to unwrap these issues in depth, and my perspective is a narrow one given myuniquecircumstances,butIamgratefulfortheopportunity togive my voice tothis difcult, butimportant topic....labour and social protections for women such as the right to return to an equivalent role and reduced working hours after maternity leave, and legal protection including shared assets for women cohabiting with their partners even before marriage, supports women in their multiple roles and independence in life choices." "
Page 95
85100 Perspectives on Gender Equality85Society in general can learn a lot from skaters. We constantly try new things and we may fall, but we recover and try again. Falling is not the same as failing — and it's through this process that we reach our goals. Skating is traditionally a male-dominated sport, but it has become more diverse and there continues to be more and more female skaters in Singapore. We're not quite there yet, but by applying the attitude we have when we skate we will achieve gender balance in skateboarding eventually." ALI HALILHead Coach Singapore National Skateboarding Team"Photo: Shutterstock
Page 96
candid86NUR 'AINI BINTE MOHAMAD YASLI Team Singapore Powerlifter Lessons on Gender Equality from a Para PowerlifterI work at an adventure learning centre in a tertiary institution where we provide outdoor learning experiencestostudents.WhenIrststartedthejob,I was told by many that outdoor education is a male-dominatedindustry—whydidIwanttoget involved in something so masculine?Better for everybody to have male trainers because the activities could be physically challenging for females. Today, female trainers outnumber male trainers in my department. Whilethiskindofmentalitystillexistsin our society, we should not blame our older generation for this. They grew up learning from their parents. However, the mentality is shifting fast and has changed tremendously over the past decades. I always feel that my teammates at work — including the male ones—seemyabilityratherthanmygenderormydisability. It is both reassuring and heartwarming for me to know that my colleagues see beyond any physical appearance. WhatIammostknownforinSingaporeisforbeingafemalepowerlifter.WhenIrstjoinedPhoto:SingaporeDisabilitySportsCouncil
Page 97
100 Perspectives on Gender Equality87this sport, I got a lot of pushback from people close to me; "This is too dangerous for you," "This is not a sport for girls," "It is a male sport — you will never go far." But I loved training with my team, it made me happy. Gradually things started to change. I started to get comments like — "Wow, if youare doing this, maybe I could also try something that is not typical." So I realized that whilst doing something out of the norm that I enjoy, I was also empowering others to do the same. I was introduced to powerlifting in 2015 bymy teammate Kalai Vanen, who is also a parapowerlifter,ashesawmetrainingwithmyschool'sdragon boat team. He wondered if I would be interested in trying powerlifting for a potential place in the ASEAN Para Games powerlifting team the same year. As I was still in school, I didn'ttake up his offer until 2017 when he called meagain.Thatyearthe9thASEANParaGameswere heldinMalaysia.IqualiedfortheGames,whereIplaced5th.When I started powerlifting, I was very scared.Initially,Iwaslifting46kgandItoldmyselfIwouldstopat60kgbecause60kglookedheavytomeatthattime.Today,mypersonalbestis81kg.Thisshows that everyone is capable of so much more than they think. Stepping out of your comfort zone and overcoming your fears can help you discover yourhiddenabilities.Idon'tcomparemyselfwithmy male counterparts, I just want to improve my ability every day and become a better powerlifter.Powerlifting has not just given me condence ithasalsohelpedmebuildtrustandpatience.WhenI am scared of trying out a heavier weight, my coach always tells me to trust the process: "You have prepared for this, trust the preparation and the training process. You can do it." This kind of thinking is applicable not just in powerlifting but in work and life in general. The same goes with patience—Ihavealwaysbeenquiteimpatientinmy life, always wanting instant results in everything I did. Powerlifting has taught me to build up one step at a time to see results. If I skip a step or go too fast, I risk injuring myself. I apply this kind of thinking in my daily life as well now. My mother and my grandmother were initially not very supportive of me doing powerlifting. My grandmother was especially worried whenever I went for training and competition. But she eventually understood that I was serious about the sport and that it was good for me because it made me happy and stronger which helped to delay the deterioration of my condition. EQUALITYINTHEWORKPLACEANDATHOMEOverthepastdecade,IthinkSingaporehasworkedhard on creating equal opportunities for womenand I think it is starting to show results. Previously I was working for a large MNC, and I was impressed by the female senior leaders in the company. It gave me a lot of inspiration to move on in my career too. At the tertiary institution where I work
Page 98
candid88 89now, I also see a lot of female senior managers. Gender equality, as well as inclusion in general,is important because it creates diversity, and diversity is good for advancing an organisation. If everybody is the same and thinking the same way, you can not advance. If you look at gender specically — different gendersprovide differentpoints of view and can help solve problems in different ways. I think the important thing now is to shift the mindset even further in Singapore. I come from the Malay community here, and I think it is important that our community works on these issues too — I see them as universal. Many women have a huge burden not only advancing their careers to provide for their families but also having full responsibility for the household. I have heard of cases where the husband has been able to pursue an MBA, but not thewifebecauseshecouldnotndtimetostudyin the evenings. To reach equal opportunities,we need to transition into a society where both husband and wife take care of the household. Rightnow,Idon'tseethishappeningmuchevenamongst the younger generation.I come from a household of strong women. My parents divorced when I was young and I have seen my mum going from mainly taking care of me and the household to taking on all responsibilities at home. It made me realize that, asawoman,wehavetobeprepared.Weneedto become independent and not only rely on a spouse or a parent. To me, changing mindsets is the most challenging but also the most important priority in Singapore when it comes to gender equality. Powerliftinghas taught me something very powerful: you rise byliftingothers.Whenweseeotherwomendoingsomething out of their comfort zone, we should lift them up and celebrate, that way we are lifted too. It pushes us all forward. By doing this, we create more female role models who can inspire more women to take steps forward that they might not have dared to do otherwise. UNCONSCIOUSBIASIdon'tseemuchunconsciousbiasinmysport,asmy coach treats us all the same. For example, if I need help, I need to ask for it. I think unconscious biasismuchstrongerinhouseholds.Womenhaveaccess to most jobs in Singapore today, but what perhapsstopsthemistheirsituationathome–Gender equality, as well as inclusion in general, is important because it creates diversity, and diversity is good for advancing an organisation.""
Page 99
100 Perspectives on Gender Equality88 89thattheworkloadinthehouseholdisnotequallydistributed. I have the feeling women usually have to ask for help with household chores from their husbands,itisrarelytheotherwayaround.Womenare usually quite resourceful and strategic – afemale head of department once shared with me that she did her PhD while her child did his PSLE, so both of them focused on their studies together. I thought that was very good planning.The most memorable moment for me when I participated in the Paralympics in Tokyo this year was when I saw the Singapore ag at thecompetitionvenue–itmovedmetotears,andItoldmy coach "We did it!" All those people whohaddoubtedmy abilitytoget thisfar– yethereIwas.Singaporewas forthersttimein historyrepresented in powerlifting in the Paralympics –and not by a male, but by a female! Women have access to most jobs in Singapore today, but what perhaps stops them is their situation at home – that the workload in the household is not equally distributed.""
Page 100
candid90Photo: Tim Cooper on Unsplash As an educator, having equal opportunities for both genders is paramount to the future of the world."RYAN LIU Music Teacher"Photo: Contributor
Page 101
100 Perspectives on Gender Equality91Unconscious Bias
Page 102
92candid92Corinna and Amy met over a cup of coffee to discuss the state of gender equalityin Singapore, and their upcoming plans for AWARE, the nation's leading gender-equalityorganisation. In particular, they honed in on the subject of managing unconscious bias: one of themostpopularworkshopsofferedbyAWARE'scorporate advisory arm, Catalyse. The topic remained top of mind as they shared some of their own personal experiences growing up in two different cultures: Singapore for Corinna and India for Amy.A:"Ididn'tknowyou'rethreesisters,likeweare.Didyourparentsndittoughthattheydidn'thaveason?"C:"Idon'tthinkso.Whydoyouask?"A: "Well, in India, where I was born, there is apredominant assumption that sons will stay on with their parents and look after family assets. Girls are considered the 'property of others' astheywillgoawaytotheirin-laws'aftermarriage!My father studied in the UK and is progressive & open-minded.Hehasalwayssaid,andgenuinelyAn Unbiased DialogueCORINNA LIMFeminist, Lawyer, Executive Director, AWARE, SingaporeAMY AMRITA DAGAManaging Director, Catalyse - AWARE's Corporate Advisory, Consulting & Training division for Diversity, Inclusion & BelongingPhoto: Contributor
Page 103
93100 Perspectives on Gender Equality93believed, that he was as proud of his three daughters as he would have been of a son. But time and again, when it came to discussing nancialmatters, it was limited to my male cousins, and laterevenextendedtohissons-in-law,butnottousgirls! Such a deep-rootedunconscious biasitwas, fanned by social inuence and traditionalculture!"C: "Yes. These biases stem from culture, socialisation, our education, media, our lived experiences, likes & dislikes.My dad would have liked at least one son, and I am quite sure that if one of us had been a boy,my parents would have treated him differently. But because we were three girls, we were given the same opportunities and responsibilities. All three girls excelled in sports and were tomboys.By the way, did you ever think of addressing it at yourend?"A: "Yes, I did highlight the gender bias to my Dad, though after many years of feeling peeved about it. The change in him didn't happen overnight,but upon reection, he realised his unconsciousprejudice, and thankfully, today, he discusses everythingwithhisdaughtersrst!"C: "The tricky part is that we are not aware of these biases we hold. Have you tried those interesting Harvard University tests on Implicit Bias? Youmust!Sometimestheygiveresultsthataremostsurprising! Even I found that, despite all my years Photo: Contributor
Page 104
94candid94and identity as a feminist, I still harboured some underlying sexist assumptions that I was not conscious of at all!"A: "That's our 'fast brain' looking for patternicityto simplify the millions of bits of information it receives per second. And this is natural and works well, except when negativity creeps in.Just recently during Covid, do you remember how people developed biases against certain races & nationalities because of where the virus or a certain strain was discovered? Participantsin our Catalyse workshops have shared about how terribly discriminated against they felt, when some others, even on public transport, would subconsciously choose seats away from them!"C:"Simply slowing downand reecting canhelp us become more mindful of our (potentially partial) inclinations.See,AWARE(ness)isalwayskey!AtAWARE,thereis a common passion we share - our love forGender Equality. In our recruitment process, wetypically use two rounds of panels and administer skills tests to reduce recruiters' implicit biases.We implemented this some years ago and havefound these to be very effective in ensuring higher quality recruitment and reducing afnity and other biases."A:"Iagree.It'simportantthatwewalkthetalkinordertoremainauthentic.IreallyappreciatethatatAWARE,withitsmultitudeofdiversity,wealsoencourage an open culture for respectfully 'calling out',thusgiving ustheopportunity toconstantlystayontopofourownunconsciousbiases.I nd this makes for such a positive, safe andhealthy environment at work."---The implicit bias test referred to above:
Page 105
95100 Perspectives on Gender Equality95"The programming and brainwashing begins as one is born. Boys are meant to be a certain way and girls are different! Stereotypes are reiterated like folklore till it is considered as the truth and gospel. To change attitudes towards women we have to stop the segregation, programming and biases in every interaction. Plus we have to be patient, it took us hundreds of years to be here so attitudes and mindsets are not going to change overnight. But a conscious bias towards women betterment by all is necessary."SUV MOHAPATRAManaging Director & Regional Lead, Accenture
Page 106
candid96GAUTAM GANGARAM Head of Marketing & Consumer Intelligence (Singapore), GfK A Perspective on Privilege and Becoming Aware of ItMy father passed away when I was nine years old so I grew up in a household made up solely of my mother and older sister all the way up to the point when I left Sri Lanka and moved to Singapore to pursue my tertiary studies. I was 18 andtremendously excited about going to university. I didn'tclockontomyprivilegethen,infact,ittookme years and years to realize it. Let me explain.Both my mother and sister spoke about my aspirationtogotouniversityasanon-negotiable.Iwasnotallowedtoquestionit.Boththeseercewomen in my household were of the opinion that I was deserving of an education that I would not get in Sri Lanka and constantly encouraged me to work hard and achieve those dreams. Their (tough) love, their encouragement and eventually their pride (when I got in) is something I revelled in–andwhynot?Itwasallaboutme.Wheredidalloftheirmagnanimitycomefrom?Idon'tknowandthatwasandisfundamentallytheproblem. I knew my mother had been pulled out of college in the early '70s and put into cookingclassesso astoimproveher chancesofndingasuitablehusband.Fast-forwardtothelate'90'sto my sister expressing her intention to pursue a corporate career right after high school only to be told that she could do that only until she found herself a stable (read: rich) husband. These women were basically told by society that higher education and career would be wasted on them but yet they came through for me in a way that I am not sure I could have for anyone else. This was my privilege and I am glad I am aware of it.The fact that we are still discussing gender equality, 21 years into the 21st century shouldbe a great source of shame to us. My mother and my sister were my only frames of reference when I was growing up and they continue to be the people I look to for advice and wisdom when going through tough times even though they did not have the privileges I was afforded. Could I see them kicking ass in a workplace setting with some of the advice they've given me over the years? Hell yeah!In my adulthood, my inner circle has expanded to includemy condantesandmy bestieswho are,by and large, women. Women who have foughtagainst the patriarchy to get to where they are
Page 107
100 Perspectives on Gender Equality97today but somehow infuriatingly still have to continueghtingagainstsexist,misogynisticandignorant people (mostly men) every day. Can we givethemabreak?We all have a part to play in this. We need toconsciously and conscientiously instil the concept of equality into the younger generation(our sons, daughters, nieces, nephews) so that theirself-worthisnurturedandtheycantakethatcondence into their future relationships, bothpersonaland professional.We also needto callout bad behaviour amongst our peers and yes, even our seniors in workplace settings to ensure that weare not talking about gender equality inanother 20 years from now."We all have a part to play in this. We need to consciously and conscientiously instil the concept of equality into the younger generation."Photo: Contributor
Page 108
candid98EDWIN SEAHSenior Diversity & Inclusion Consultant, Include ConsultingI Am a Feminist Who Stands for Gender EqualityI am a feminist who stands for gender equalitybecause the business case is so clear. Studies from Mckinsey have shown that organisations with higher gender diversity are 25% morelikely to have above-average protability thanorganisations that don't. This indicates that when we have equal representation of men and women, everybody wins. I am super thankful for the experience at Microsoft back in 2014, as it got me started on my Diversity and Inclusion Journey. By being exposed to shocking facts and statistics on gender inequalities in the workplace, suchas women being underrepresented at senior leadership and the widening gap of salaries, I felt a strong sense of ownership and accountability to ensure everyone should be on a level playingeld.In my current role as a Senior Diversity and Inclusion Consultant, I work with clients to support them in advancing their skills and knowledge in gender diversity and inclusion. My work allows me to dive into the research of the leading causes and propose solutions around a theme. For example, research has found that one of the most signicant barriers to creatingmore gender-balanced workplaces is a conceptknown as unconscious bias. We develop thesebiases from our culture and upbringing, which helps us simply put people in boxes and make quickdecisionsonwhichgenderismorecapable,likeable or promotable. As a result, we might unconsciously prefer a specic gender whenmaking decisions, such as recruiting for positions. In recruitment, one of the most considerable unconscious biases lies in our job descriptions. For example, when we have job descriptions lled with masculine coded words like strong,driven, or superior, we could be inadvertently discouraging women as they might not describe or associate themselves with such terms, and it couldalsosignalahighlymale-dominatedculture.A practical solution to address this is to put your job description through a gender job decoder, and that helps you pick out what are some of the masculine code words that you might be using andswitchingthemtomoregender-neutraltermsso, for example, you can change the word strong tocapableorresults-oriented.
Page 109
100 Perspectives on Gender Equality99Lastly, another unconscious bias in recruitment occurs in the interview itself; when we conduct unstructured interviews that involve personal questions, we might end up biasingcandidates. Therefore, I recommend adopting structured interviews, which requiresyoutoaskaconsistent,xedsetofquestions,pairedwithaworksampletest to assess how candidates deal with real-life scenarios on the job. This willensure that you hire the most suitable candidates and avoid unconscious biases in recruitment. I hope you found my story helpful and that you potentially could champion some of these best practices in your workplace. Research has found is that one of the biggest barriers to creating more gender-balanced workplaces, is a concept known as unconscious bias.""Photo: Contributor
Page 110
Page 111
100 Perspectives on Gender Equality101J. JEYASEELANOwner & Chief Spiceman Questioning Personal BiasFair employment practices pave the way for discussion on equality, job recruitment and thebias that follows it. I have been guilty of being biased when looking for new employees. Just recently, I was looking fora part-timer in oneof my stores.Therewasa female applicant that I interviewed who was in hermid-20s.Iaskedherifshehasanyexperiencein cooking. Thinking like a "Normal Person" I was bafedbyhowawomanofheragehadn'tsteppedinto the kitchen to cook a meal and I immediately hated the way I had made that assumption.Making assumptions is something we human beingscannotavoid,it'sinallofus.Unfortunately,society has programmed us to have these stereotypesinourminds.Therststeptopavingthe way to change is to become aware that these ideas in our heads are very wrong. We need to question how women become thedefacto people in the kitchen to prepare meals. How did it get to the point where men assumed womenwouldhandleit? Fair employment practices pave the way for discussion on equality, job recruitment and the bias that follows it." "Photo:MuhammadHaz
Page 112
candid102JIMMY JIGMOManaging Director APAC, Devoteam G CloudGender Inequality Is One of the Most Signicant Issues Society Is Facing TodayGrowing up in a progressive household, I became aware of the substantial disparity in the way I was brought up compared to how I was socialised by the behaviour of the other boys and men I was surrounded by later in life.Let's get one thing clear: Despite recentimprovements and long-standing efforts, in nocountry are women truly equal. In Sweden, wepride ourselves on being at the forefront of gender equality.Iwasraisedaroundresilientwomenlikemy grandmother, a serial entrepreneur, my aunt, a doctor and a spokesperson against domestic violence, and my sister and cousins. They are all powerful examples of how this paradigm transcends and amplies down through generations. And then we have my mother, the most impactful woman of them all, who has given me the foundational belief that with time and persistence,wewillachievetrueequality.Upon travelling outside of Sweden I was amazed by the diversity and multicultural societies I encountered. They seemed to have everything gured out. One experience stood out to me,however. A man pushed his spouse out the door, slammed it shut, and turned to me to say, "You have to control your woman. Some discussions are between men." I can't recall every word, but I was speechless. It was a young couple, and I hadn'texpectedthatatall.Asforward-thinkingasmany countries are, I was reminded there is still someworktobedone.21yearslaterit'sstilltrue.I believe gender inequality is one of the mostsignicant issues facing society today and alsonegatively affects males. The pattern of men beingtaughtphraseslike'manup' fromanearlyage translates into masking their vulnerability and avoiding any discussion about their emotions. Photo: Contributor
Page 113
100 Perspectives on Gender Equality103On the other side of the same coin, women aregenerally taught that their purpose is marriage and motherhood. These mantras breed an innate senseofinequalityandshowhowseverelygenderequalityneedstobeachieved.I proudly work for a company that catalyses change towards gender equality and diversity.Devoteam G Cloud believes in helping others, which is why we've sponsored 'Enable for Life', an independent NGO that provides homes and education to help young orphaned girls in India. I stand in solidarity with women and under represented individuals through organisations like Women Will Singapore, a program focusedon creating economic opportunity for women everywhere, and #IamRemarkable, a place where we empower women to celebrate their achievements in the workplace and beyond. We encourage and motivate women to pursueleadership roles and become entrepreneurs. Wealso want to educate men and involve them in the conversation. The sooner we realise we all bear the responsibility of turning this around, the closer we march toward equality for all. Without it, weare setting ourselves, both men and women, up for failure in the long run. To achieve equality,we must all empathise, listen and engage in the discussion.Gender equality is a human right. We all benetfrom it, and that's why it's important to me.I believe gender inequality is one of the most signicant issues facing society today and also negatively affects males.""Photo:MimiThian-Unsplash
Page 114
candid104Multiple sources of research show that diverse teams will succeed on tasks where teams composed of members who are very similar will fail. Similarly, a report by the World BusinessCouncil for Sustainable Development (WBCSD)shows that women leaders are accelerators, helping companies unlock the 'economic prize'associated with pursuing Global Goals – 17;objectivestoendhunger, poverty, andinequality,and effectively tackle climate change and resource degradation by 2030. OLDHABITSDIEHARDGiven the advantages, why has the present globally unbalanced gender situation remained unchanged forsolong?Itcanbesummedupinfourwords:old habits die hard. When one of my boards tragically lost ourchairman of the board some years ago, we immediately worked out a press release to inform the markets. Fortunately, before we published it, a female board member advised us to ofciallyexpress our condolences to the family. None of the male board members had thought about this. After she pointed it out we immediately realised the importance of this addition.As a member of the Wharton School executiveeducation board, I am particularly proud that the majority of incoming MBA students at the WhartonSchoolwillbewomen.Havingpersonallyexperienced the benets of gender-balancedteams, I see this as a positive step toward a more equalgenderbalanceinthebusinessworld.GÖRAN SEIFERT Managing Director, Anda Pacic Achieving Gender Equality Is a Team Effort"The future is all of us… we need to add seats to the table. We're not taking away seats. We need to include everyone. This is for the betterment of everyone's world." NATALIE PORTMAN - Actor and Activist
Page 115
100 Perspectives on Gender Equality105Göran Seifert was born and bred in Sweden. He has a long international business career across Europe, Asia, the Americas, Africa and the Middle East. He performed roles such as head of regions, chairman and non-executive board member at multinationals, including Philips and Italcementi, a worldwide leader in the cement sector, now part of Heidelberg Cement.Photo:MuhammadHaz
Page 116
candid106GROWINGUPMALELike everyone else, my views were shaped long before entering the business world. Having grown up without siblings and studied in a boys-onlyclass in my early years, I did not have an easy start interacting with females. Suddenly being faced with girls in high school was not easy for a young, slightly shy boy. A large part of my mandatory Swedish National Service took place in asparselypopulatedsub-arcticareainthenorthofSweden. Again, I was isolated with men as women were excluded from the NS at that time. While Ilearned helpful skills during NS, not working with women meant I missed out on developing key relationship skills.Universityinthelate60sofferedmemanyexcitingexperiences — but gender diversity, alas, was notoneofthem.Outofourengineeringclassofapproximately 50 students, there was just onewoman. OnceImarried,IquicklycametorealisethatIcouldlearn a lot from my wife Cecilia. She saw things in a different light and offered new perspectives. Later on, I gained the same benets from ourdaughter, Andrea.ATTITUDESATWORKIn the business world in the 80s and 90s, therelurked a general idea that certain activities were better suited to men, particularly in the conservative cement industry which had always been seen as a domain for men only. There were hardly any women at all in management positionsandmanycompanieshaddecidedlymale-oriented attitudes. Looking back at old photos from strategy and marketing meetings there is hardly a woman in sight. The few exceptions were mainly in theHRandnancedepartments.Ifoundthisoddand started to dispute such narratives and biases, actively bringing more women into executive leadership and board positions. I realised that this diversity was highly benecial to the teams andforthe entire organisation.I haveseen rsthandhow obviously true it is that diversity and gender balance are of utmost importance. MOVINGFORWARDWhenImentorSingaporeanstudentsIparticularlytry to support Singaporean women in their personal and career paths. As Singapore aims to strengthen the core of its workforce, women are now more than ever an essential source of talent that must be nurtured.While women often drive the conversation forgender equity, I am convinced that to reachsuccess — both men and women should work together. Singapore and the world need both.
Page 117
100 Perspectives on Gender Equality107Gender equality has a positive impact on social well-being and economic growth. To create a more equitable society, it is imperative we step up efforts to address gender inequality." ASHLEY PEREIRA Client Success Manager, Data Zoo"Photo: Contributor
Page 118
candid108PATRICK DONALDSON Global Head of Wealth Solutions, Sales Strategy & Execution, RenitivWe Must Examine Our Unconscious Bias for the Next GenerationAs a father, a son, a brother, a husband, and, frankly,ahuman—it'ssoimportanttoadvocateforwomen'srightsonthebasisoftheequalityofthe sexes. Overcoming unconscious bias is anarea we need to talk more about.Based on my experience, overcoming unconscious bias doesn't happen without a great deal ofthought, effort, learning, and education. It's onlywhen you are asked to write something like this that you start to face some uncomfortable truths — what unconscious biases have you picked up throughout your life, and what are you proactively doingtocorrectthem?RECKONINGWITHTRADITIONI was brought up in a fairly conservative society andwassenttoanall-maleboardingschoolinthehighlands of Scotland. It was an incredible place, withyearsofhistory,acresofplayingelds, andI made lots of friends. But embedded within the culturewasasetofmale-centricvaluesthatwerequite conservative that took me many years tounderstand was a problem. These unconscious biases were a challenge to correct.Mydaughter - andmy son -are growing upin aworld thathas changed signicantlysince I wastheir age. They look to their parents, their school, their friends, and the world around them for guidance. To avoid passing on outmoded ways of thinking,it'ssoimportantthatwebecomeawareof our own unconscious bias on many subjects.THEWOMENWHOHAVEINSPIREDMEWhathasreallymadeadifferenceinhelpingmecorrect these biases, is having lived with several inspiring women. The closest of these are in my immediate family and what I have learned from them is what I want to be sure to pass on to my children.My mother, widowed much earlier than anyone should, overcame a range of challenges due to unconscious (and conscious) bias against her. Could she handle the family business, could she support herself? She has fought with resilienceandstoicismtore-buildthelifeshehadexpectedto have with my father. She has shown me how important it is to overcome adversity and keep going. She is a role model for her generation.
Page 119
100 Perspectives on Gender Equality109My wife has inspired me with her ardent vision, commitment, and drive to build her thriving woman-focused physiotherapy business fromthe ground up. Driven by the passion for helping women,Monica has shownme that it's possibleto be truly happy and nancially successful inbuilding a business with a meaningful purpose. She is an inspiration to me and a role model for both of our children.As a proud father, son, brother and husband, I'm committed to ensuring that both of mychildren grow up equally respecting womenand men — and to consciously avoid creating prejudices unintentionally. There are several areas I try to focus on:• Commitment-itneedstobeaconsciousandpro-activeeffort• Consistency-betweenmywifeandIandthemessage we pass on• Experience - talking about times when wehave seen or experienced bias• Resilience-recognisingwhenwehaveactedwith prejudice, understanding why, and working out how to avoid repeating it.Living in Singapore now, having grown up in the UK, we are lucky to have the privilege of being able to recognise and correct unconscious biases and avoidpassingthemon.Weoweittoourchildrento make sure we succeed.Photo:AugustdeRichelieu-Pexels
Page 120
candid110ADRIAN FURSTENBURG Entrepreneur & Hand Bag Designer Gender Equality - A Building Block for a Fairer and More Inclusive WorldI remember seeing an article in the Economist which read: "Societies who treat women badly are poorer and less stable" and it made me think of my home country, South Africa. It has a progressiveconstitutionforequality;forallowingsame-sexmarriages,worksagainstracistbeliefsanddoesitsbesttopromoteequalityforwomen,buteventhoughit'sstatedonpaper,therealityis quitedifferent.One controversial example is that condomsare available for free in most public toilets, but sanitary pads, which are insanely expensive, are only available in stores. The thinking behind thisis whatbafesme, becausehavingsex isachoice,wheremenstruationisnot-andthatistheproblemwithequalityonabasiclevel.I now live in Singapore, known as the city of the future. It has strict rules, fantastic urban planning and architecture, and a system called 'ethnic integration policy' which is to discouragethe forming of racial enclaves in the lion city. Singapore has a female president and even though authority is practised through the prime minister, the symbol of having a female guremakes me even more hopeful about the future. For me, it shows in the small details of how this country operates, the senior population can tap their travel cards on certain trafc lights for alonger cross time, most shopping centres have great amenities for mums like stroller space, breastfeeding and changing rooms and it has a very low unemployment rate. I am not saying that all of these fantastic details which make a country operate smoother are invented by women, but I won't be surprised if it is.Whenwomengettomakeimportantchoices,beit for a country, a company or a home - there isalways more harmony, less crime, and a big sense of thinking ahead. If we look at other countries, like Germany or New Zealand, it also shows how well a country operates when women are in charge.I am by no means an expert in politics or geo-economics. I work as a handbag designerinstead. I know when to strike a balance between aesthetics and functionality in a handbag. I have had the opportunity to make bespoke handbags for the most amazing women, both in South Africa and here in Singapore.
Page 121
100 Perspectives on Gender Equality111I am humbled that my designs play a part in empowering them. I am inspired by the female essence of mothernatureandthisisreectedinmy work. I see beauty in translating that feminine force into designs that empower women. FromwhereIamstanding,equalityfor women is a key building block for a truly inclusive society, one that shows no form of discrimination —whether based on race, sex, religion or sexual orientation — and that'squiteencouraging!"I am inspired by the female essence of mother nature and this is reected in my work. I see beauty in translating that feminine force into designs that empower women."Photo: Contributor
Page 122
candid112FARHAN FIRDAUSPartner, MEET Ventures To Benet Us AllIf you live in a community where women are not as respected as men, how likely are you to exhibit a high degree of respect for women, especially with the negative repercussions of diverging from culturalnorms?I was lucky to grow up with an excellent role model, my dad, who from when we were very young showed my brothers and me how we should treat women.WhenIwasgrowingupinthe80sitwasunusual for men to perform primary caregiving duties towards their children, but my dad did that while juggling his corporate job. He was the primary caregiver from the time my siblings were young, with my mum playing a supporting role since she was working 12-hour shifts at the hospital andneeded more rest. My dad never looked at gender roles. For someone born in the '60s,this modernmindset is remarkable and I have always admired my dad for that.In the start-up landscape, the proportion offemale entrepreneurs, founders and even venture capitalists is extremely low, to the point where we know who they all are because there are so few of them. What we do at Meet Ventures, playing a small role to advocate gender equality, is toprovide pro bono talks at Middle and Secondary schools on entrepreneurship where we make it a point to feature female founders, their struggles, journeys, and successes. This simple act signals to young girls in school that they too can aspire to be business owners and we provide them with female role models to look up to. It also shows male students that women are successful business owners and entrepreneurs too, which may help in the long run to remove stereotypes. Achieving gender equality is everyone'sresponsibility because how can it be fair to provide a certain level of privileges for one community and not for another, whether it is based on gender, sexuality, race or religion? Equal opportunities to grow have tremendouseffects on both societies and in the workplace. Whenpeopleknowthattheywillberewardedontheir merits they are motivated to give their best and it leads to a more dynamic environment which intheendwillbenetusall.
Page 123
100 Perspectives on Gender Equality113Achieving gender equality is everyone's responsibility because how can it be fair to provide a certain level of privileges for one community and not for another, whether it is based on gender, sexuality, race or religion?""Photo: Contributor
Page 124
candid114Gender balance gives a wider talent pool, different perspectives and enhanced collaboration, all contributing to a happier workforce, better performance, and increased protability."LARS BERGSTRÖMGroup Vice President, Indian Subcontinent & Asia Pacic, GAC"Photo: Contributor
Page 125
100 Perspectives on Gender Equality115Photo: ContributorJOHNATHAN TANMarketing Manager, Hinrich Foundation Are We "Naturally" Socially Biased? Gender equality isn't about sharing resources, givingequalopportunitiesorensuringagoodmixofgenderssitting on any company's board of directors. It is about understanding the commitments and the sacrices that are behind every personal decision being made and us acknowledging that. The moment we start to consider gender equality in any situation if its "politicallycorrect" or if gender diversity is "enough" in any context, we have already segregated ourselves via gender and failed to look beyond the social stigma it entails. Genderequalityisalsoaboutstrippingawaythesocial stigma of any industry or job being male or female-dominated or appropriate. It needs tobase itself on having the best person for the job. It needs to be a new concept that both the industry and workforce will accept and embrace, and it needs to be a culture that the world must adopt going forward.
Page 126
candid116 I strongly believe that regardless of gender, everyone should have equal opportunity to pursue the preferred life choices and career paths to the best of their capability and that the outcome of these choices and efforts should be rewarded equally regardless of gender."MAGNUS GUSTAVSSONRegional Manager, Nojdhs Underwater Technology "
Page 127
100 Perspectives on Gender Equality117Championing Careers
Page 128
candid118OLDOUZ MIRZAIE Regional Manager/ Chief Executive Ofcer, H&M South Asia & PacicClosing the Gap Requires Intentional Leadership Regardless of GenderInthemid-80swhenIwasonly1.5yearsoldwewere forced to leave our home country after the Iranian revolution, like many Persian families at that time. Legislative changes that led to thelimitationof manywomen'srights cameintoplace amongst other restrictions and my father was persecuted for demonstrating against the new regime.For my parents, leaving their home meant not only saying goodbye to their families and all their friends, but also to their careers and the privileges they had built through many years of study and hard work. They would need to start from scratch in a country where they did not speak the language, wheretheiracademicqualicationswouldnotberecognisedandwheretheyhadverylittlenancialstability and almost no social circle to fall back on for any kind of support whilst having three small children to take care of. However, what they always held onto was the desire that they and their children, particularly their daughters, would live in a freer and more equal society. It would not be her gender thatdetermines what she could be, but rather, her abilities, character, and actions. Istronglybelievethatmyparents'actofsacriceand their courage to ght for what is just, andultimately, for their right of choice, had been deeply instilled in me from a young age. This has shaped my view and passion to act intentionally when it comes to inclusion and diversity, wherein gender equalityplaysapivotalpart.Having parents who never differentiated our after school activities based on our genders, they encouraged us to be open-minded and curious.This meant that my brother would join my sister and me in ballet classes, and that we all got to take judo lessons in turn. This also meant that my sister was invited to the neighbourhood football games that my dad and brother played in. This was not only because she was good at it and wanted to participate, it also was because they included her despite what other players on the pitch thought.Having joined H&M at the young age of 18 hascertainly given me the opportunity to both be nurtured continually, and to further nurture gender
Page 129
100 Perspectives on Gender Equality119equalitymyself.H&MisabrandfoundedinSwedenwheregenderequalityisnotonlyoneofthemostprogressive in the world by law, but it is also lived and practised in society, championed by both women and men alike. With over 19 years at H&M, having grown frombeing a sales advisor through many roles in stores, to later holding area and country positions, I'venot once been made to feel any less qualied orvaluable based on my gender or any other external factors. In fact, it is the total opposite — at H&M womenmakeup76%ofourglobalcolleaguesand72%ofourleaders—whichisquiteuniqueevenforthefashionretailindustry.Weprideourselveswitha high amount of internal development, where we encourage everyone to be themselves and more. Weareempoweredtounleashourfullpotentialinan inclusive & diverse environment where what we doisasimportantashowwedoit.WithInclusion& Diversity rooted in our company values, social policies and global employee strategy, we want to lead the way to a more inclusive world and drive positive change globally. Photo: Contributor
Page 130
candid120But let's not be mistaken, any culture must beconstantly lived, revived, and nurtured, and this means everyone — irrespective of gender, personal experiences and preferences — must actively identify gaps and work intentionally to close them. Setting clear targets on recruitment, making deliberate appointments, and creating inclusive upskilling programs, are not only crucial but also make total business sense. At H&M Group we have clear goals and strategies set in all our marketsandbusiness unitswithgenderequalityas one of our key priorities.Highly aware of my privileges and opportunities in life, this signicantly inuenced my decisionto take on roles in countries such as South Africa and now, Asia. For me, it is about choosing to be part of the solution through intentional leadership and decision making to try to eliminate, or at least, minimize one barrier at a time. It starts by understanding and raising awareness that these barriers often stop highly talented and qualiedfemaleemployeesfromfulllingtheirfullpotential, which in turn becomes a detriment to many businesses, and even society at large. This is often the case in parts of the world, including Southeast Asia where a more traditional gender split of homely duties still exists as women are expectedtofullthesedutiesdisproportionately.H&MGrouphassignedtheWomen'sEmpowermentPrinciples and we are working towards Sustainable Development Goal number 5, which aims toachievegenderequalityandempowerallwomenandgirls by 2030. However, theEqual MeasuresReport has revealed that in 2019, no country in the world is doing enough to make sure we achieve genderequalityby2030.As employers and companies, we must take our share of responsibility to help make women'schoices simpler. We need to make it possiblefor women to choose family and careers, rather than having to choose between these. It can be as simple as starting with smaller barriers, such as making it more convenient for mothers to return fromtheirmaternityleavebyofferingmoreexibleworking hours, or by providing private spaces for a new mother to perform her motherly duties without having to struggle and feel awkward.To be #candid, having a gym or a fancy coffee machine at work are certainly nice benets tohave, but providing an easily accessible and comfortable space for a mother to express breast milk for her dependent child should be regarded as a human right.So,letus,together–regardlessofourgender,buildphysically and psychologically safe spaces where we continue to intentionally and systematically break down the patriarchy by nurturing cultures that act in line with nature and not against it.
Page 131
100 Perspectives on Gender Equality121PNG CHEONG BOONChief Executive Ofcer, Enterprise SingaporeDiversity and Inclusivity in Our DNADiversity and inclusivity are an integral part of our DNA here at Enterprise Singapore (ESG). As the government agency championing enterprise development, it is critical that the team possesses diverse competencies, experiences and views given the wide range of industries and enterprises we work with. I am happy to share that at ESG, we have a balanced gender mix, not just in our leadership team, but at all levels of the organisation, inSingaporeandatour36overseascentres.Weunderstand the challenges that women face in the workplace, especially the working mothers, andweensurethatourHRpoliciesarepro-family,provideequalopportunities,andthatprogressionismerit-based,regardlessofgender.
Page 132
candid122Recognising women's contributions in theworkplace is not new to me. I have devoted my entire career to Scania, an organisation that strives forgenderbalanceandequalopportunityformenand women. As Country Manager of Singapore operations, I report directly to a female boss and work closely with the women in my team.It is important to have all forms of diversity at different levels of the organisation, and gender balance is a big part of it. Having enough women in the workforce mirrors the gender mix in society, where women make up about half of the population. We want their viewpoints to be represented in the organisation's products and services as wellas its policies.Unfortunately, as the automotive industry has historically been male-dominated, females makeuponlyaboutaquarteroftheworkforceglobally.This may be set to change as the industry for heavy vehicles is undergoing a major transformation. We are moving away from internal combustionengines — often associated with diesel and physical labour — to more digital and sustainable transportation, such as electric trucks and buses. These are exciting times. As many job scopes are beingredesigned,wehopemorewomenwillndautomotive careers challenging and attractive.To ensure gender equality at Scania, there arepolicies for every new employee of managerial rank and above to be chosen on merit from at least one female candidate and one male candidate. A whistle-blowing channel is always available for employees to report unfair situations, and all resigning female employees are interviewed by senior management to nd out if there areincidentsofgenderdiscriminationthatrequirefurther investigation and action.In addition to hard policies, I prefer a softer approachtoinuencechangeattheworkplace.ANDERS LISSCountry Manager Singapore and Regional Manager South Region, Scania Always Work in ProgressIt is important to have all forms of diversity at different levels of the organisation, and gender balance is a big part of it.""
Page 133
123As managers, we need to be open-mindedand challenge ourselves to promote women'scareers. We can lead by coaching rather thangiving prescriptive guidance. As facilitators paving the way, female employees are supported and always assured that discrimination and abuse will not be tolerated at work.I alwaysadopt a exible attitude towardsworkhours when female employees need to balance their professional commitments with their responsibilities to their families. The same approach is extended to male employees. When we advocate for gender equality, andfor couples to share the family and household responsibilities, we have to support the men too.Buildingagender-equalworkforceshouldalwaysbe a work in progress as there are many facets to it that involve societal attitudes as well. Wecannot view our work as complete. I think the best way forward is to bring to the forefront a consciousness, a discussion on women'spotential, their value to the workplace as well as their challenges and their experiences. The conversation on gender equality and womenempowerment must continue.Photo: Contributor
Page 134
candid124VICTOR MILLS Chief Executive, Singapore International Chamber of Commerce (SICC)Why Gender Equality Is Important to MeIwasluckygrowingup.Allmykeyinuencerswerewomen. Every one of them was more empathetic than most men in my family circle. The women were better communicators, far more consistent, andallweredenitelymorepleasanttobearound.Thanks to those women, I entered the workforce 40 years ago with no gender bias.It came as an unpleasant shock to discover gender and racial biases in the workforce right from the start.AllthewomenImetinmyrstjobtolerateddistasteful chauvinism from the majority of their male colleagues and put up a variety of fronts to cope. Most women then did what mostmenthoughtwere"women'sjobs": secretaries, HR support, cashiers. Most men and women limited themselves to this norm. And yet, the two female executives I did meet in my rst job were moreprofessional and just as smart and able as the best of their male equivalents. This wastheUKin1981.By 1982 I was in HongKong. It was no better there. Gender bias was combined with racial assumptions and biases which made for a distasteful mix. Outdated social mores andcolonial snobbery made me feel as if I was living inthe1890sinsteadofthe1980s.Singapore in 1985 was a breath of fresh air.Society was far more egalitarian than in colonial Hong Kong. There were more women executives in more roles – including the most senior.Since independence, Singapore has always recognizedthebenetsofencouragingwomento be economically active to benet businesses and society.I have seen plenty of progress towards gender equality in the last 39 years. I attribute this togreater opportunities for education for men and womenandthequalityofwomen´scontributionsat work. The other enabling factor is the wisdom of mostly male hiring managers and business unit heads. They recognized ability and wanted it for their teams.There have been far more male than female mentors available to women in my working experience.Photo: Contributor
Page 135
100 Perspectives on Gender Equality125While there has been progress and many morewomen are employed at every managerial and leadership level than when I started work, many businessesstilldonotpaymenandwomenequallyfor doing the same job. I do not understand why thisispermitted.Unequalpayshouldbeoutlawed.Aslateas2008,awomanfriendwhowassexuallyharassed at work did not nd justice. Her casewas not dealt with correctly. It was brushed under the carpet "to avoid embarrassment." This sort of behaviour should be outlawed too.Gender equality in the workforce and society isimportant to me because men and women are equally capable and, therefore, it makes perfectsensetotreatthemequallywell.Thebestwaytoachieveequalityoftreatmentformen and women is for every business to have a PositiveWorkplaceCulture(PWC).Itisthekeytosustainedcommercialsuccess.APWCiswhenabusiness decides on the values it stands for and the behaviours which demonstrate those values and which everyone in the business strives to practise consistently.At a minimum, a PWC is one where no one isabused, discriminated against, sexually harassed or undermined. Where everyone who wants todevelop their career is given every opportunity to improve their knowledge and skills. Whereevery single person, whatever their job function, is held to account for consistently demonstrating the desired behaviours the business has decided to practise. Where penalties for non-compliance are imposed regardless of seniority or revenue generation.While there has been progress and many more women are employed at every managerial and leadership level than when I started work, many businesses still do not pay men and women equally for doing the same job. I do not understand why this is permitted. Unequal pay should be outlawed.""
Page 136
candid126MICHAEL BUCHANANHead, Portfolio Strategy & Risk Group; Head, Macro Strategy; Head, Australia & New Zealand, Temasek Inclusion Turns Team Members Into Team PlayersWe all want everyone in our teams to performat their best and a team member's success isalways amplied when they are able to supporteach other across their own team. To help each individual to be at their best and to effectively collaborate with their teams, leaders should try to provide an environment that allows each person to feel condent in contributing mosteffectively. An important consideration is to allow for diverse views across diverse backgrounds and voices. While the common consideration wouldbe gender-specic, it is in the spirit of allowingeveryone to feel empowered to contribute. For example, leaders avoid creating an atmosphere where topics, language or behaviors could exclude women, people at a certain seniority level, or other minority representations. Furthermore, team members whose natural inclination is not to speak out with contrarian views should be actively encouraged to do so. Only in theseways can we bring to bear the full benets oftransforming team members into team players. Gender equalityis ultimately about inclusion andit'swhatweneed-inallitsforms-notonlytobuild high-performingteamsbuttocreateafairersocietyfor the next generation.
Page 137
100 Perspectives on Gender Equality127"There's power in allowing yourself to be known and heard, in owning your unique story, in using your authentic voice. And there's grace in being willing to know and hear others. This, for me, is how we become." MICHELLE OBAMA
Page 138
candid128VINOD NARAYANANCountry President, AstraZeneca SingaporeCourage Is ContagiousI grew up in India in a social context when professional opportunities for women were, arguably, limited. My mum, Indira, graduated with a science degree but chose to focus her energies as an accomplished homemaker supporting the needs and aspirations of our family. As a multi-talented, creative and caringperson that she continues to be, it is hard not to marvel at the values she has carried her entire life; embodying team over self, working smartly with resources, nudging and inuencing withsuperb emotional intelligence and empathy; skills that are timeless and fundamental to success in a business setting. It was the lost opportunity of a generation to not catalyse this treasure ofjudgment,problem-solving,andselessnessofmany millions like my mum into economic value. Fast forward a generation, we have come quitea distance. My wife, Lavanya, who encountered similartalesofunfullledaspirationsforwomen,grew up with the determination to be counted and excelledasaSTEMenthusiast.Ananceexecutiveby profession and mother to our three children, she manages a P&L of over 10B$ and thrives while jugglinghermanyavatars.Ourcareertrajectoriesstarted at similar times, however, we quicklyrealized that we needed a system to manage our expectations of individual career growth while balancing the shared goals for our family. I have been a trailing spouse to help my wife expand her professional pursuits, while she has followed suit to support me through my international assignments as well. Not easy choices but we have seen them together with lots of life lessons thrown into the mix. As courage can be contagious, we hope to instil thesamebeliefandcondenceinourdaughterstoexploretheirdreams.Ourmottois:Don'tletanyonedullyoursparkle.Wewantthemtoleadwitha"whynot?"mindsettobreakdownbiasesandstereotypes.Trishnaaspirestobeaninternationalsquashplayerand Tanisha has her sights on pursuing a career inmedicine.Wenowhaveagenerationofleadersand personalities who are great role models and torchbearers of women empowerment; Kamala Harris, Indra Nooyi, Michelle Obama, SherylSandberg, Malala Yousafsai, Naomi Osaka andGretaThunbergtonameafew.Wehavealottolearn from their powerful stories.I have personally beneted from working withwomen leaders around the world. Close to 75%
Page 139
100 Perspectives on Gender Equality129of my managers in my 20 year career were and are women. I got the right dose of inspiration, condence, and nurturing at various points thatindelibly shaped my professional advancement andleadershipbeliefs.Whatappealedtomemostwas their inimitable styles built on equanimity,inclusiveness, humility, and an optimistic belief in the future. At AstraZeneca in Singapore, I am thrilled to be supportedbyanall-womancommercialleadershipteam who are leading the next phase of healthcare innovation to harness what science can do. Driven by a common purpose built around patient-centricity, they are inspiring and rallying an entire organisation towards bigger possibilities. Itisimportanttoaccelerateandsupportwomen'sempowerment as a social and business imperative. Workplacesandbusinessesthatthriveinthefuturewill stand out for having successfully integrated diversity and inclusion into every aspect of work. Womenleadershavetheabilitytoleadusthroughthistransformationinasustainablemanner.Let'scelebrateandsupportthismovement,it'stherightthing to do!Photo:MuhammadHaz
Page 140
candid130BOUDEWIJN PESCH Vice President APAC, Axis CommunicationsThe Biggest Challenge We Face Is Having Open Conversations About DiversityLast year, we combined two regions in APAC at Axis Communications to form one head region andsubsequently,itledtotheformationofanewleadership team. It was important for the leadership team to have internal Axis experience and external industryexperiencefromacrosstheregion.Whileour main goal was to establish a culturally diverse team familiar with our business, gender diversity wasalways onourminds. Welooked forpeopleinside and outside Axis, ensuring that we always had several female candidates on our shortlist. In the end, we selected the best candidates for the roles,andthefactthatitwas50%menand50%women is purely a product of our process. Photo: Contributor
Page 141
100 Perspectives on Gender Equality131 ...gender equality is the only way forward.""For our internal selection, the challenge was not as signicant since we have invested in femaleleadership for many years at Axis and hence, the poolthatwecouldselectfromwasquitebroad.Itis essential that our senior management is diverse and that we have diversity within our entire staff. The diversity was crucial on the technical side of our team, as it sets us up to have a good pool of staff to choose from for internal promotions for the future. The impact of the new diverse team on the organisationisabittooearlytosee.Withonlysixmonths since the team was formed, we are still tryingto nd ourfeet consolidating ourdifferingcommunication styles. I do, however, hope that for thefuture,peopleseethatwedon'tonlytalkaboutdiversity but deliver on it. When recruiting, wemake sure we have a broad list of candidates to continue to build an organisation that is growing in both gender and cultural diversity.In addition to my own experience of seeing diverse teams make better decisions, I have three good reasons for believing that gender equality is theonly way forward: my three beautiful teenage daughters. I hope they grow up in a world that will judge them on their capabilities and that their professional journeys are free from gender bias.At Axis, we always strive to create a business environment free of biases in terms of people'ssexual preference, gender, colour or race — an open-mindedenvironmentwherethesetopicsdonotstrainourmentalwell-beingbutenhanceit.Ithink the biggest challenge we will face is making sure that the conversations we have as colleagues and as an industry are open. The security industry isverytraditional.Wewanttobeattheforefrontof initiating these conversations and demonstrate that diversity is good for our company and the industry.
Page 142
candid132PER MAGNUSSONGroup CEO, Jebsen & Jessen GroupDiversity Gives Us an Economic Edge WhenI started outin theengineeringindustry, itwasmale-dominatedandtherewerefewwomenin technical and management positions. However, womenwhodidentertheeldshowedveryhighlevels of dedication and performance, perhaps due to a necessity fuelled by obstacles they faced as they broke glass ceilings and challenged long-standing gender biases. As more womenjoined the industry, we also noticed that the working climate and team interactions became more level and productive as soon as we had a slightly better gender balance.However,betterperformanceisnot–andshould not be – the main reason for gender equity.It is simply the right thing to do. Any form of discrimination is a disgrace. Since I have a daughter who is about to enter the workforce, therehavebeendiscussionsaboutgenderequalityathome.Isincerelyhopethattheselimitations–real or perceived– that my daughter and I havedebated will no longer affect women entering any industry.For those who have not experienced discrimination personally–forexamplewhite,middle-agedmenlikeme–itcouldverywellbethatwehavealargeblind spot, and that we are discriminating without even noticing it ourselves! The mere thought of this scares me, and each and every one of us must strive to become aware of our personal gender biases.Another key contributing factor to gender inequalityistheculturalexpectationsoftherolesand responsibilities of men and women. The emancipation in Sweden, for example, started during previous generations and hence, the younger generations of professionals currently working in Sweden have grown up with fairly liberal parents. This causes the expectation of load sharing between men and women for children and household chores to be more equal. Thesocial bias is exacerbated if the societal support system for taking care of children and the elderly is not fully developed. A good support system makes it easier for both men and women to be more productive in the workplace and, in that sense;itisatleastpartiallyself-funding.
Page 143
100 Perspectives on Gender Equality133Any businessperson would cringe if their company were to make large investments and then just use half of the investment. Such behaviour just doesnotmakesense,butwhyarewethennewithdoingexactlythatwhenit comes to women? Today, graduating university cohorts have afairlyequal genderbalance; in totality,theremight evenbe morewomen than men obtaining a university degree! Several studies also suggest that women achieve better academic results as comparedtomen.Whyarewethenacceptingthatalargepartofthatbrainpowerthatwehaveinvestedinisnotfullyutilised? The positive effect of utilising more of this brainpower became clear in the 20-year period from 1970 to 1990 inSweden. During those two decades, female participation in the workforcegrewfrom60%to81%(whilethemaleparticipationremained constant), and the gross domestic product grew seven times in the same period. This huge improvement in productivity was achieved by utilising resources more efciently. It wasmainly driven by some crucial changes in the Swedish maternity leave system and equality legislation that were instituted during the1970s.FairnessandequalityarepartofthecorevaluesoftheJebsen&JessenGroup. Still, in our management team of seven, only two are women. To ensure thatwomenare routinelyconsidered for C-suiteroles, weare committed to implementing fair hiring practices; for example, weaimtohaveatleastonequaliedfemalecandidateamongthenalshortlist for senior positions. The chosen candidate is chosen based on his or her skills, but ensuring we have both genders represented in the shortlist and that they are evaluated in an objective manner reduces the risk of viable female candidates being overlooked due to gender bias. Wealsostrivetousefact-basedmetricsduringtheselectionprocess,in order to reduce the risk of bias and achieve a balanced pool of both men and women at all stages of the hiring lifecycle.Photo: Contributor
Page 144
134Our business thrives when we provide a framework for our employees to succeed, including equal rewards, resources and opportunities for all, regardless of gender." "candid134MARK ANDREWSManaging Director, The Andrews Group, Proud BOLON PartnerBenets, Policies and Community Deliver Inclusion Growing up, I was surrounded by strong and capable women. My family not only believed in equality but constantlydemonstrated values of justice and inclusivity. This foundation has manifested itself in both my personal and professional life. Since my company started working with Marie and Annica Photo: Contributor
Page 145
100 Perspectives on Gender Equality135Eklund, the owners of Bolon, over 15 years agoto support the growth of Bolon ooring acrossAustralia and Southeast Asia, I have been inspired by their success, particularly in a traditionally male-dominated industry. They are not only mybusiness partners but also my friends and mentors andI'mproudtopartnerwithfemaleleadersinamannerthatupholdsequalopportunitiesforall.Ever since taking leadership of The Andrews Group I'veensuredthatwe'vehadadedicatedfocusoncreatingaworkplacewithequalopportunities,equalpay,andbarrier-breakingprogramstoencourageand support all employees in the workplace. This has been deeply entwined in our business strategy, corporate policy and culture. Today we boastafemale-dominatedworkplacewithwomenmakingup70%ofthecompany'sglobalworkforceand with the 100% female Southeast Asia teamconsisting of industry professionals from three continents. I am constantly inspired and grateful for their achievements, growth, and contribution. I am proud of the progress we have made so far and remain committed to creating opportunities for women at all levels of our company.As a business owner, I have the opportunity — and more importantly the responsibility — to create an inclusive and dynamic workplace. Our businessthrives when we provide a framework for our employees to succeed, including equal rewards,resources and opportunities for all, regardless of gender. At The Andrews Group, our employees are encouraged to work exible schedules thatmeet their needs and facilitate maximum work-life balance. This is especially important for working parents, who can continue to maintain their career trajectory whilst being present in their children'slives.Benetsandpoliciesarepowerfultoolstocreatean equal workplace, however, I believe that theyneed to coexist with an inclusive culture that fosters belonging and collaboration among all. The AndrewsGroupisafamily-ownedbusinessandbyencouraging formal and informal collaborations at all levels we see the benets of creating acorporate culture in which everyone is included and feels part of the same family.
Page 146
candid136ADAM CICHExecutive Vice President, Head of Electrolux APAC & MEABuilding a Diverse and Inclusive Workplace Is My Personal Mission Electrolux is a global appliance company standing behind a strong purpose to shape living for thebetter.Wedoso bydelivering enjoyableandsustainableTaste,CareandWell-beingexperiencesto consumers around the world. We also wantto become a leader in diversity as we recognize the unique value that every individual brings toour company. This doesn't apply only to genderdiversity, but also to other underrepresented demographics in our teams.I personally believe we can vastly improve our abilities in decision-making, consumerunderstanding, and conveying our purpose with the right balance and mix of talents, considering different opinions, perceptions and vulnerabilities. The majority of our consumers today are women and our workplaces need to reect this reality.It sounds easy, but like some other parts of the world, gender diversity is a big challenge in APAC & MEA. This is caused largely by cultural and social barriers where women are not expected to step up in their career, work in male-dominated eldsortakeonseniorleadershippositions.As a company, we have a stretched ambition to improvegenderdiversitysothatweareonpar–preferably,above-othercompaniesinourregion.WhileIpersonallyrealizethatwearenowherecloseto where we want to be, I strongly believe that this journey will make us stronger, more innovative and a better employer. I make it my personal mission to create a culture where everybody has the same chance and where both our male and female talents develop and market our products.It's not a smooth road as it involves addressingbiases, common beliefs, and putting measurable actions behind them. We will not reach ourambition overnight, but we are taking massive steps in raising awareness and ensuring that our peopleleadershaveKPIsreectingteamdiversityas well as gender balance in succession plans. EVERYSTEPCOUNTSThis year, one of our female leaders in Rayong, Thailand – Ketnapas - has won the globalleadership award at Electrolux. That was a great moment of pride for me and others seeing a young talent working in one of our factories, a people
Page 147
100 Perspectives on Gender Equality137"With the right level of determination, anything is possible. We just need to create the right environment for more women to rise up the ranks."Photo: Contributor
Page 148
candid138leader, a mother and a colleague getting well-earned recognition for years of effort in building her personal brand in a very tough environment. I can also proudly mention that we have three female leaders heading our business in Taiwan, Korea and the Philippines – paving the way toinspire others to follow in their footsteps. Inournanceteams,abouthalfofkeyleadershippositions are held by very capable women. This includesrolesascountrynancedirectors,plantcontrollers and head of shared services. Theseinspiringgures,inaway,haveshownmethat with the right level of determination, anything is possible. As men in leadership, we need to create the right environment for more women to rise up the ranks and earn their space in the boardroom – making their journey easier is ourshared responsibility. We are offering growth and developmentopportunities. With every vacant role, we aimto keep gender diversity in pools of candidates presented to the hiring manager. We are alsolooking into enhancing a female leadership program with the intention of empowering women to grow further within the organization including leadership, at a faster pace.To further tap this, we have joined forces with the Sweden Chamber of Commerce in Singapore in a female leadership mentoring program; encouraging our female leaders to mentor and listing our potential talents to be mentored by external companies. WALKINGTHETALKBy 2030, we aim to reach a 40% femalerepresentation among people leaders in our APAC & MEA organisation. We are reviewing all ourpeople processes to become "diversity proofed." We are starting a Women@Electrolux networkto have a platform to discuss challenges and opportunities openly. It is tough to act where needed if we are not on the ground, close to our people and their thinking. It's an exciting transformation journey that weare just embarking on but with determination and persistence,Iamcondentthefuturewillbemorediverse and inclusive. I consider this my personal mission at Electrolux.  I end my reections withan inspiring quote from Jarinya Maneeroj (she/her), our Manufacturing Engineer Manager in Thailand: "Tomorrow is all about us together. And through diversity and inclusion, we achieve our full strength. Difference makes life more beautiful."
Page 149
139100 Perspectives on Gender EqualityHaving seen rst-hand the difference it makes when more women venture into entrepreneurship — not only to their own lives and families, but also to society as a whole — it has become clear to me that gender equality is what we need to drive the economy forward." KENNETH CHOOAuthor & Founder, KC Creative Marketing"
Page 150
candid140I raise up my voice - not so I can shout but so that those without a voice can be heard. We cannot succeed when half of us are held back." Malala Yousafzai"
Page 151
100 Perspectives on Gender Equality141Enshrined in the Singapore National Pledge is our citizens pledge as one united people to build a democratic society governed based on justice andequality.ConsistentwiththeNationalPledge,MentorMedia'smanagementphilosophysinceitsfoundingin1993,hasitsrootsinfairemploymentpractices.Withourglobalpresence,weneedtobeconscious of local cultures and sensitivities. So wealwaysstrivetogiveequalopportunitytonewhires and all employees regardless of gender and focus on merit. If we had depended on just one gender alone in Mentor, we may not have been so successful in our business and growth.AspartofElandersAB,andasaSwedish-ownedcompany, we are receiving strong support from our Board to promote and enable our female colleagues. We are focussing on training anddevelopment plans to prepare them for even more leadership roles. While there still is a long road ahead, we have been successful in elevating outstanding female talent into leadership positions despite our industry traditionally beingmale-dominated.KOK KHOON LIM President & CEO at Mentor Media, Member of Elanders GroupStrive for Equal OpportunityPhoto: Contributor... we always strive to give equal opportunity to new hires and all employees regardless of gender and focus on merit.""
Page 152
candid142ROGER YUEN Founder & CEO, Clozette Co-founder, HeForShe SingaporeProviding Opportunities for Women Is the Way ForwardI grew up in a working-class Chinese familysteepedintradition.In1940attheageofeleven,my late father left Guangdong Province penniless on a boat to Singapore. My mother was the eldest amongst twelve siblings, born when education for womenwasnotthenorm.Asaresult,shedidn'tget schooled and had to work odd jobs from a youngagetosupplementherfamily'sincome.At the tender age of nineteen, she tied the knot with my father through an arranged marriage. Since then, she has been a full-time loving wifeand mother to four children, while he worked hard to make a living, sometimes taking on additional jobs to make our lives more comfortable. Despite my humble beginnings, I managed to carve out a corporate career and then became a serial entrepreneur. Like most mothers, she often sings my praises. Still, on one such occasion, she surprised me with her wistfully lament, and I paraphrase, "if only I had an education and the opportunity, I could be as smart as Lee Kuan Yew (the late Prime Minister of Singapore)".Her utterance struck me deeply. All through my growing up years, it was par for the course for the men to work and the women to stay home to mind the house and children. It never dawned Photo: Contributor
Page 153
100 Perspectives on Gender Equality143upon me that my mother had ambitions to be more than just a housewife and a caretaker for the longest time. It broke my heart to realise that she hadunfullled passions,dreams and aspirationsthat she can only live through her children. I'vealways hired based on meritocracy, but it took this incident to make me consciously aware that no women should be deprived of the opportunity to realise their potential.My mother was part of the inspiration that gave birth to Clozette, a new media company that empowers andcelebrateswomen,co-foundedwithtwoofmyfemale partners who were my management team membersfromtwentyyearsago.Morethan70%of the one hundred and seventy-odd employeesat Clozette are women, and of my direct reports as the CEO, 60% are females, of which threequartersareinseniormanagementroles.Itwasn'ta conscious effort to hire more females but rather one based purely on meritocracy.My mother's rueful reections were also pivotalto me becoming a co-founder of the HeForShechapter of Lean In Singapore that believes it is our responsibility to help create an environment that enables women to lean into their careers and passions.Timeshave changed.While there'sstill roomforadvancements, I'm heartened to see progressin closing the gender equality gap. Empiricallythrough the course of my work, I'm encouragedthat today's young women in Singapore arecondent of themselves and will not hesitate toassert themselves and gain "a seat at the table." I genuinely wish they will be given a chance to realise their passions and ambitions to the fullest, an opportunity that my mother never had. I'm encouraged that today's young women in Singapore are condent of themselves and will not hesitate to assert themselves and gain 'a seat at the table'." "
Page 154
candid144NARESH KANT Solutions Architect, BrazeThe Importance of RepresentationGrowing up as a young male in Singapore, I was not aware of my privileges. I saw the world as most other young men did. I had many role models to look up to. National leaders who have changed the course of history. Cartoon characters, books and movies that have shaped my personality. Sporting icons that I emulated, who taught me to dream big.The odd thing though was that these role models, perpetuated by the media and reinforced by popular culture,weremostlymale.Ineverquestionedwhythis was the case and was ignorant about the disparity between the sexes.The fact is, as we see the world through our own lenses, we rarely see beyond what our minds will allow. Without role modelsor leaders who resemble you, where does one derive the inspiration and condence to take onthis world to full their potential? What do titleslike "chairman," that conceal male privilege, teach people about hierarchy? How do the clichesand stereotypes that reinforce outdated values, delivered to the world through the vessel of new media,inuenceusabouthowtoliveourlives?I never imagined how navigating the world as a female could be very different. I never thought about how the effects of the patriarchy would feel for someone who is inherently marginalised by that system.I'vecometorealizethatrepresentationmatters.When I joined Brazethree months ago, I startedseeing rst-hand the impact of how betterrepresentation could bring about exponentially positive outcomes.My manager is a condent, articulate andaccomplished woman. Her attention to detail and work ethic is inspiring. Also, her empathy and interest in my personal growth is unparalleled compared to the other managers I have been led by (who all happen to be male). She isahugereasonwhyIamsowide-eyedaboutmygrowth and future.One of my mentors is an experienced femalecolleague. She has extensive STEM experience and is also the company's leading IntegrationsArchitect within the APAC region. I refer to her as my sensei, because she has taught me everything IknowsinceI'vejoined.Ihaveanotherfemalecolleaguewhosecustomer-facing skills are impeccable. She consistently negotiates tough situations with enterprise customers and does so with empathy, urgency
Page 155
100 Perspectives on Gender Equality145"Going the extra mile to support gender diversity will culminate in a better society, not just for women, but for all people."Photo: Contributor
Page 156
candid146and a keen attention to detail. I consider her to be a mentor to me, and I am humbled, because she performs her job at such a high level while also raisingaone-year-oldathome.These examples may seem anecdotal, but I feel they offer some perspective about building a work environment that empowers women. Here are some company policies at Braze that not only articulate strong intent, but are also resourced correctly and get results:Braze mandates the enablement of all its employees with a classroom-style curriculumsystem, where its employees are constantly refreshed, through a series of lectures and lessons around diversity and inclusion in the workplace. Education is the precursor to change.Braze also has employee-led groups such asElle@Braze where women and their allies candebate important issues, organise ways to foster connections across the wider organisation and establish mentorship opportunities. Support systems ensure changes can be sustained.Braze has a commitment to diversity. 53% ofBraze'sEMEAleadershipteamareheldbywomen,well above the industry average. More than half of the employees in APAC are women. Theresultsareclear--asofJune2021,companyannualrevenueincreasedabove$200m.It'snotacoincidence. Representation matters.In having balanced gender representation, an environment of safety and inclusion is created for people of all backgrounds. From hereon, talent from previously underrepresented communities can be unearthed, nurtured, and actualised, and nally give back. This cycle is important toestablish and maintain.I believe societies can do better with representation, and while Braze is but another organisation that is taking the right steps towards empowering underrepresented communities, its policies are only a benchmark to surpass. Organisations that have the resources to createchange through policies should do more. And it's about time men also participate in thischangemaking.Going the extra mile to support gender diversity will culminate in a better society, not just for women, but for all people. But this process does not happen overnight.This is a plea for the leading companies of the world to do better. And this process needs to be intentional, and it needs to be explicit before it becomes inherent. And for men who might feel their position in society being "displaced" or "challenged" - being an ally of women, does notmean being an adversary of men, so consider standing by this cause.
Page 157
100 Perspectives on Gender Equality147ROBIN CHIBBA Vice President Finance Asia, Oriame CosmeticsOne More ReasonBeing a cosmetics company selling direct, the vastmajorityofour2.5millionmembers aroundthe world are women. While a lot of our BrandAmbassadors started out wanting to earn a little extra money for the family, our top Ambassadors around the world have become hugely successful entrepreneurs in their own right. In countries like Sweden, where Oriame wasfounded, so much progress has already been made around gender equality even if there isstill much more to do. However, in some other countries, it is like time has stood still for decades. When some of our Brand Ambassadors aroundthe world, especially in societies where women are still expected to stay home and take care of the family, start to earn more money than their husbands,it cancreate unnecessary friction.It'snot unusual for us to hear that they hide how much they were earning from their husbands. It is sad to think about how many successful careers might have come to an end in this way. That is just one more reason why global gender equalityisofsuchimportance.Photo: Contributor
Page 158
candid148Gender equality is the manifestation of accepting our own good enoughness. When I truly know, in my heart that who I am is good enough, not better or worse than anyone else, then I can accept others, regardless of their gender, race or nancial status. The result is an empowerment of who we are at our best, the enablement of our collaborative strengths and the embodiment of our best selves that we bring forth to serve our family, our community, our workplace, economies and the world at large."RAVI VIGSustainability Committee, Swedish Chamber of Commerce & Co-Author of "You Are Good Enough! Embracing Who You Really Are.""
Page 159
100 Perspectives on Gender Equality149Celebrating Women
Page 160
150150candid...issues on inclusion and diversity such as gender equality need to be a priority in Singapore if we consider ourselves a rst-world nation." "Photo: Contributor
Page 161
151100 Perspectives on Gender Equality151EUNICE OLSENFounder of Eunice Olsen Media, Author & Media PersonalityI come from a one-child, lower-middle-incomefamily. My father was in the armed forces, and he raised me like how they are in the military — very strict and disciplined. Even so, I have always had his unconditional support in everything I do. On top of that, it was also the strong women inmy family who helped to shape the person I am today. My grandmother was an entrepreneur who also had to run a large household. As the oldest daughter-in-law, she was basically in charge ofeverything around her. My mother worked two jobs seven days a week for over 20 years to help with the household expenses and also because she wanted me to have the privilege of being able to playthepiano,theonethingI'velovedsinceIwas3. I grew up with my parents always telling me that I could do anything I want. They always encouraged me to be bold and fearless in my approach to life. IneverfeltthatbecauseIwasagirl,Icouldn'tdocertain things. I feel very grateful to have had these strong pillars around me, spurring me on from a very early age.It might surprise you to learn that what propelled me towards gender activism was the Miss Universe Singapore pageant competition which I won in 2000, and which led me to participate in the Miss Universe International competition the same year. Many people think that a beauty pageant is the worst thing for building good gender perspectives. Although so many disparage this type of competition, I have never experienced so much support and camaraderie between women as I did there. All the competition and backstabbing that you hear of did not exist between us competitors, I just felt a huge celebration of sisterhood that really amazed me. Everybody had a role to play when they returned home to their country, and thismadeahugeimpressiononme.WhenIcameback to Singapore, I decided that I wanted to use my title purposefully for my country too. That'show I got involved as a volunteer in the Toa Payoh GirlsHome,aninstitutionforgirlsbelow18whowere sent there by the juvenile courts. They were looking for someone to inspire the girls, and I was excited to meet them. This encounter changed mylife andmyvolunteering journeybegan. Overthe years, I have had the opportunity and joy to meet and get to know so many amazing girls and women through this work. This would never have happened without the Miss Universe Singapore pageant. For me, it became a platform that gave Standing on the Shoulders of Unsung 'Sheroines'
Page 162
152candid152me the condence to do what I wanted to withmy life and that led me, in turn, to help other girlstobuild condence,tocelebratelife,andtounapologetically be who they want to be.Alongside my volunteering work, I was propelled into a media career. Appearing on TV and lmgave me more opportunities to talk about causes that were important to me, such as supporting at-risk youth. I worked in the media industry asa host, actress and musician and in 2004, very unexpectedly, I was asked to apply to become a Nominated Member of Parliament in Singapore. At the time I was very involved in grassroots committees at a national level and often spoke about causes such as volunteerism. Although it was a daunting role and responsibility for a 26-year-old,Idecidedtotakeonthisnewchallenge.I became the youngest Nominated Member of Parliamentin2005togoonandservetwotermsinofceandtherstmemberwithabackgroundintelevision,andasabeautyqueen.Looking back, I believe that Singapore may not have been ready for this. It created a frenzy in the press, some of it very negative, with a lot of focus onmybackground;that"glamourdoesn'tbelonginparliament," "Eunice might be talented, but is this thekindoftalentweneedinparliament?"andsoon.Thiswastoughtotakeatrst—itexposedmeto the harsh realities of public life, even though I was already working in the media industry. Gender equalitywasnotyetaprioritytopicinSingapore,and now, in hindsight, I can say that this became a real "gender moment" in my life. Did the backlash happenbecauseIwasawoman?OrbecauseIwasyoung?OrbecauseIhadworkedinthemedia?Orbecauseofallofit?IamdeeplygratefulthatIhada lot of support from my parents and close friends during this time, and while there was vitriol, there was also a lot of encouragement, for which I'meternally grateful. My parents didn't mollycoddleme, but advised me to pick myself up and keep going.Don'texpectrespect—earnit.Sothat'showmy4.5yearsasaNominatedMPstarted.However,notmanytookme seriouslyinitially.While Iwasoften talked to in a very condescending tone by both men and women in various settings, there were those who were very kind and supportive, and one of them was President S. R. Nathan. He became a role model, and he always told me that as long as your motivation is right, and your heart is in the right place, you can't go wrong, even ifyou feel as if the world is against you. I took my work as an NMP very seriously and worked hard
Page 163
153100 Perspectives on Gender Equality153to try and use my voice purposefully, especially on topics like volunteerism, youth, inclusion and diversity. Eventually, people's attitudes towardsme started to change, but by that time it didn'tmatter much to me anymore. The focus on the workwasmoreimportantthanpeople'sopinions.My goal was to bring my media experience and my community work together. I wanted it to become a platform where I could speak even more about issues that matter to Singaporean society, and the world. This is how the International Emmy Award-nominatedshow WomenTalk came aboutwhichfeatureseverydayunsung'sheroines'fromall around Asia. I also produced 3.50, a lm onsex trafcking,which focused mainly on womenand girls. My work also started to revolve around women'shealth,withastrongfocusonmenstrualhygiene management. As a result, more and more of my work became centred around women and gender issues, and I also started to build my media companyEuniceOlsenMediaaroundsocialimpactstorytelling, and specialised communications andmediatrainingthatfocusesonvalues-based authentic communication.I have said for many years that issues on inclusion anddiversitysuchasgenderequalityneedtobea priority in Singapore if we consider ourselves a rst-worldnation.2021isanimportantmilestonein this sense. The gender review that is currently underway and which will lead to the publishing ofaWhitePaperinearly2022willbevitalforourcountry.Wearestandingontheshouldersofmanygreat Singaporean women who have gone before us, including our mothers, grandmothers and great grandmothers.Unsung'sheroines'whohavebuiltSingapore and who need to be recognised and celebrated. My grandmother worked so hard as a mother and an entrepreneur her whole life, but she never had an outlet where she could tell her story. WhenI askedher once whatdroveher,how shecouldmanageitall,shejusttoldme:"Well,therewas not much choice in those days. You just had to do it." These are the everyday heroes of our society that we need to celebrate and remember, whose stories need to be heard. They paved the way for our generation of women who not only have more choice, but also a stronger, and greater voice.
Page 164
candid154FARHAN SHAH Editor-in-Chief, The Peak SingaporeMother, I Salute You The only memory I have of my father was from when I was eight years old. I had sneakily stayed up late to watch a football game. Thinking that everyone was asleep, I sat really close to the television so that I could hear the whispered tones of the football commentators narrating the action. Then, I remember seeing a shadow strut across the living room windows, which faced the common corridor that all the apartments on that oor shared. I froze, notknowing who that could be at that wee hour of the morning. I heard a rattling on my doorknob and panicked. Before I could scream, the door swung open and my father stepped into the living room. Reliefwashedoverme,knowingitwasn'tarobber.Then,IrealisedIwasn'tevensupposedtobeupwatching football and braced myself for a scolding.Instead, when my father saw me, he smiled, said hello and noticed the match was on. And then, the strangest thing happened. He passed me a gift thathehadbought—aremote-controlledtoycar.Thenextday,Isetuparampatthetopofaightof stairs, set the car about three metres away, gunned the remote control and let the toy car hurtleitselftowardstheramp.Ithittheapex,ewand landed at the bottom. In the process, the left front wheel crunched and twisted into a mess. The car lasted all of 12 hours.A year or two later, my father also left my life. I bring this episode up because it's the onlywonderful memory I have of my father. The rest comprised shouting matches, cheating, and eventual disappearance. It was just my mother, my brother and me against the world during an era when divorce was a stigma. She had to work long hours and barely had time to teach my younger brother and me the vagaries of life. Yet, she raised uswellandtaughtusasmuchasshecould.Wenever had much. We never wanted for much. Wewerehappy.My mother is not the quintessential successfulfemale. She never reached the upper echelons of the corporate ladder or became the face of importantsocialissues.Buttome,she'sasuccessin her own right. And with 2021 being the Year ofCelebratingSingaporeWomen,Ithoughtitwasimportant to highlight not just the usual stories
Page 165
100 Perspectives on Gender Equality155of triumphant ladies in the ofce andsociety, but those who keep the invisible threads of life taut and connected to each other.To all the women in Singapore who are doing their best either for their families, themselves and for each other, I salute you. To my mother, I will always love you and appreciate everything that you'vedone for me. I would not be the person I am today without you.To all the women in Singapore who are doing their best either for their families, themselves and for each other, I salute you.""Photo: Contributor
Page 166
candid156THADDEUS LAWRENCE Coach, Runaway Success LearningYou and Me Against the WorldIt was Helen Reddy's song, You and Me AgainsttheWorld,thatmymumwouldhumeachtimeshecradled me. My biological father had absconded with his girlfriend, deserting his young, then 20 year-oldbrideandbaby.Beingtheoldestof4children,itwasonmymother'sshoulders to bring home the bacon. Home also was where my Grandmother showered me with love and nourishment. This responsibility was subsequently taken over by my 'Lau-Ee' (Grand-auntie) when my Grandmother passed. The new matriarch of the family commanded an enormous amount of respect and an inordinate amount of adulation. Deservedly so too. There was a sublime wholeness to how she performed her role.Whetherdishingouthomefavouritesonthedinner plate or dishing out disciplinary measures onme,heravourswereasrobustlycolourfulasthey were ruthlessly compassionate. The duty of care placed upon her was one that she took on with great affection and attention. If I ever did win an Oscar, it would be remiss ofme not to begin with the obligatory, "I would like to rstthankmy,"andfollowthatupwiththelonglistof women who have made the biggest difference in my life. This list could well be anyone's mother,grandmother, auntie, sister, cousin. How many of ushavenotbeensalvedbyawoman'slove?Whoamong us has not been soothed by a woman'shealingtouch?Hasanyonenotbeenstrengthenedbyawoman'ssteelydevotion?Attheveryleastwewereallbroughtintoaniteexistencebyawoman.So why, then, is it necessary for us to ensure the basic human rights of women? That we needto make changes happen so that women and girls no longer face economic inequities, legaldiscrimination and societal dysfunctions is a sorry indictment of how we have lost our way. Our poverty of diligence has led to the systemicdevaluation of the people and their activities that contribute the most to human welfare and development.It'sinsanity.Perhaps the gravest violence we can do to ourselves is to live our lives with our eyes and hearts half closed. The problem is that once one is aware, he can't blind himself or pretendnot to see anymore. The onus is on men to dare to comprehend — to comprehend that even our smallest, seemingly inconsequential actionalters the experience of reality in some subtle, meaningful, powerful way. That itself is an act of
Page 167
100 Perspectives on Gender Equality157immense courage and mindful leadership, the absence of which is cowering cynicism andagrantimpotence.To honour and respect women and womanhood should be common sense. It should be commonplace. It should be the purview of the common man. It speaks to the homeliness and hardiness of our hearts when we live in vigilant appreciation of those who pull the rainclouds of hope over our deserts of despair; those who spin thefulcrumsofourimagination–whatifwe could create a brighter future? What if our lives could be better? What if theworldweremorefair,just,free?As Simone de Beauvoir said, "The present is not a potential past; it is the moment of choice and action." Women are the rst educators leadingthe brilliance out of their infants. They are the sower of the mustard seeds that become the largest of garden plants. They are the transformative power behind all that is great in our world. All throughout this journey, their nurturing never ends. As my mother is fond of telling me, no matter how old I am, I will always be her baby. To which, I reply, "You, to me, are the world."Photo: Contributor
Page 168
candid158TERRY MOOK Service EngineerWhat Will It Take to Make Gender Inequality a Thing of the Past?Asafathertoa4-yearoldgirl,Ioftenthinkaboutmydaughter'sfutureandwhatitwillreallylooklike.Iwasraised in a typical Asian family where the dad runs the nancesandthemumdoesthedomesticwork.Idon'twant that life to be the only choice for my daughter. Having an incredibly intelligent and independent wife, plusbeingadaughter-dad,thewordthatIwishformygirlsto taketoheart is –CHOICE. FromwhatI haveseen, women commonly have to juggle many roles; a mum, a professional, a friend, a daughter… the listgoes on. It is important for everyone to be able to have a choice in what they want their life to look like and not be restricted because of "tradition" or "culture."As men, we should support the choices of the women inourlives.Removingstereotypeslike"I'mthefather,therefore, the child will prefer to seek her mother if she'ssickorhungry."Simplethingslikepreparingthemealsortyingyourdaughter'shair,dadsshouldbeableto do that too.Toanswerthequestionabove,Iwouldsayagreatwayto leave gender inequality in the past is by us, men,empoweringourwomenandsupportingtheirCHOICES.Photo: Contributor
Page 169
100 Perspectives on Gender Equality159 Inspiring LeadersLeadership has nothing to do with gender. Mitigram's founder Marjon Wohlén and CEOMilena Torciano are great leaders that inspire me. Being a father of three young children I need to juggledoctorappointments,schoolpick-upsandmore. I worry that I could feel like an unreliable team member at times. Both Milena and Marjon exercise an empathetic leadership style and have never made me feel bad about balancing my family obligations with my responsibility to the company. Perhaps that has something to do with their personal experiences of starting families while balancing their successful careers.Every person has the right to pursue whatever makes them happy. The fact that structures and normsinsocietymakeitmoredifcultforwomento reach certain positions is unacceptable. This has become even more clear since the birth of my daughter. Nothing should stop her from chasing her dreams.JOHAN EGNELLHead of Asia, MitigramPhoto: Contributor
Page 170
candid160PRAKASH URUTHIRAMOORTHY Prudential Financial Services Director, Prakash & Associates (An Agency Unit of Prudential Assurance Company Singapore)A Tribute to the Women Who Raised MeAs my parents worked full time, my grandmother played a big role in raising me during my younger years. I remember her to be one of the most amazing women I have ever met. She was widowed at a very young age and, with no family in Singapore, she could have easily been stricken by poverty and homelessness. However, she stepped up and did odd jobs.Beingawasher-womantoaspicegrinder,shefound the means to raise her children to have a good education, to eventually become capable adults with MDM. RUBAVATHY NurseOn Raising a Feminist SonBackinIndiaduring the1920s,itwas commonforfamilies to marry off their young daughters to eligible men. My mother was no different and was betrothed to my father when she was just a 12-year-old girl.My father was originally married to my mother'selder sister, who unfortunately passed away during childbirth. I was a very young child when my father Photo: ContributorPhoto: Contributor
Page 171
100 Perspectives on Gender Equality161good careers. I never once heard her complain nor would she ask for anything, always looking to give to those around her instead. Especially the less fortunate. In 2000, my grandmother was presented with the Exemplary Mother Award by Jamiyah Singapore, after a successful nomination was made in her name by her children. That was a proud day for our family.Even thoughit'sbeen 16 years since herpassing,Istillmisshersomuch.Mygrandma'spassing coincided with the beginning of my career in the insurance industry, and I owe a lot of success to both my mother and grandmother. I was privileged to have also had so many women role models to learn from during my early years in the business, many of whom run successful agencies of their own. They inspired me to start managing my own team of consultants. TodayIleadateamof14nancialconsultants.Ihave also adopted what I like to call a "Feminist Leadership" style of management. This is commonly associated with working teams being collaborative, relational, and empathic. It makes for a more pleasant working environment and the bottom line shows higher retention rates and cohesion within the team. I wish to pay tribute to the two very special women who raised and moulded me into the person I am today,mybelovedlategrandmother,S.Valliammah,my mother, Rubavathy Muthu, and also to the many other women in my circle whom I was fortunate to have met throughout the course of my life so far. passedawayandIcan'tsaythatIrememberhimvery much, but I wonder how life would have been if he had been around during my growing years. After his death, my mother became the sole breadwinner for our family of four and made the decision to remain in Singapore even though she did not have any family here. I remember her as a very strong, resilient, independent, compassionate, patient, and loving person to us and to those she cared for. Shesacricedeverythingtoraiseus.Idon'tthinkIwouldbeaforward-thinkingpersonifitwasn'tforher. It is a norm for Indian women of my generation tobequite"old-fashioned"ontopicssuchasbeingable to work at a good job or raising their sons and daughters a certain way, or even having an opinion oftheirown. WhenIbecame amothertoyoungboys, I knew how important it was for them to learn thequalitiesmymotherinstilledinmegrowingup.Being respectful of everyone, seeing everyone as yourequal,andalwaysdoingcharityforthosewhoneeded help. I am proud to say I have raised two incredible sons who respect everyone and have such good hearts and characters.
Page 172
candid162MUHAMMED HAFIZVisual CreativeLearning from WomenI grew up in an average Malay household and my mother was the backbone of the family.Growing up in a house with two elder brothers and a father, I often struggled as a child because of the sometimes very toxic, masculine environment. Seeing the struggles my mum had to go through fueled me to make the most of what I have. I saw rsthand the sorts of problems one had toovercomebeitinwork,nancial,orrelationshipswith family and friends. My mum never stopped me from aspiring to be whatever I wanted or envisioned. Her support led me to ventures where I had tons of opportunities to work with many people in and from various countries.Alongtheway,I'vemetsomanywomenleaders, entrepreneurs and colleagues who denitelyinspiredandhelpedmeinmyjourney.I get my values from my mother and these amazing women, something I might not have gotten should I have stayed in a male dominant environment. Women have taught me so much; empathy,perseverance, tenacity to pursue my dreams, and even the strength to know when to walk away from toxic situations.Inthelastfewyearsofmylife,I'velearntalotandhave come to embracethe qualities I've learnedfrom the women in my life, something I might have been too insecure to do while growing up. There's no shame in being kind, soft, forgivingandunderstanding. Idon'tthinktheseshould beconsidered "male" or "female" traits. Because the women who taught me these were extremely tough, strong, and hardworking at the same time.I'm thankful to have a loving and supportivemother and also be blessed with so many women who have shown me how to do better, not just at work but also as a human being. To all the women out there, I salute you, you'vemade a difference in my life and the world and I only know you will continue to do so and make the world a better place.
Page 173
100 Perspectives on Gender Equality163 I have worked with many amazing women throughout my career. In my work responding to the Covid-19 crisis I have seen rsthand the resourcefulness, agility, and perseverance of women in business and as entrepreneurs. For instance, Catherine & Sylvia — the co-Founders of SayangMe — who successfully pivoted their natural wellness meridian therapy workshops online with great ingenuity. Let's all come together to ensure there is no difference in how women are treated versus men whether that's in relation to compensation, leadership, or as colleagues."KEITH KEE Business Transformation, Asian Resources Centre "
Page 174
candid164MARCUS TEO Associate Brand Manager, AstraZeneca SingaporeCelebrating Tenacious WomenGrowing up in a typical Asian family, the message I received was that the role of women is to be dutiful housewives and that men were the breadwinners. Thisalpha-maleperceptionwasstronglyingrainedin me over time. However, the very people who have builtthat alpha-maleperceptionin mehave alsomoulded me into a person who salutes women. Even growing up in a male-dominated family, I have witnessed how the ladies in my family live with tenacity and strength, pulling through their toughest times and emerging stronger and better versions of themselves. My grandmother has been a widower for close to 50 years, single-handedly raising ve sonsby taking on odd jobs such as washing clothes, dishes, and tailoring clothes for her neighbours. Having little or almost nothing left for herself, she would always give the best to her sons to ensure they received a solid education, had proper weddings, and put in every effort for them to build their families. I will always remember how she protectedmybrothersandmefromourdebtors'harassment while our parents were away when I was only eight years old. My grandmother has unreservedly given her all to build the family without the support of men and has shown great resilience and perseverance in tackling whatever life throws at her. She will always be my role model and I am always reminded to give my best and to not give up. The second woman in the family whom I want to celebrate is my mother. Having gone through mastectomy and chemotherapy to survive breast cancer, my mother has shown us what it means to live with strength. Her diagnosis came when I was 11 and she carried the burden of the side effects and pain from the treatment all by herself while supporting and caring for a young family. We never knew how much nausea and vomitingshe went through, how much hair had fallen post chemotherapy as she was always in a cap and we will never understand the pain she went through. Twenty years have passed and she has recently had a relapse and is currently living with stage four breast cancer. Even though she relied on us to navigate the health system, had her fair share of fears and concerns about her condition, she has never once shown her fear or pain as she never wants us to worry.
Page 175
100 Perspectives on Gender Equality165My mother is a woman of strength. She has slogged all her life to repay debts for the family and has carried the burden of life on her own and I celebrate her life. Womenofstrengthandtenacitydon'tonlyappearat home. AstraZeneca CVRM Business UnitDirector, Jeanette Lim, is the icon of woman power. Being in the industry for more than two decades, she saw multiple changes over time. Jeanette exemplies determination and strength to learnand adapt quickly to the ever-changing industrytrends and communication methods with the team. Jeanette leverages her industry experience together with her sharp critical thinking to guide the team toward success. Jeanette goes the extra mile totake care of her team's mental, physical,and emotional wellness. Words cannot describehow much I respect Jeanette; to me, she is beyond aboss.She'saninspirationandamentor.I am proud to be working at AstraZeneca Singapore where80%ofourcolleaguesarefemale.Manyhavedemonstrated determination and entrepreneurship to embrace the changes that arose from the pandemic. Men and women alike, everyone at AstraZeneca Singapore is given the same opportunity to shine and develop, making it a truly great place to work.As we continue to spotlight the merits of women we need to be reminded that both men and women are integral parts of the human ecosystem and each of us is made to play a role in creating success.Together,let'screateabettertomorrowby bringing the best out of each other!Photo:MohammadHaz
Page 176
candid166SANJEEV MAGOTRAFounder & CEO, Joye.ai - '10,000 steps' of mental well-beingHead GirlI grew up in a small town amidst the hills of northern India. The most prestigious school in our town was the one being run by the Irish sisters, and my parents aspired for their son to study there. However, there was a big challenge -theschoolwasonlyforgirls!Withtheinuenceofaspiringparentslikemine,the school began to accept a handful of boys and I was one of the lucky thirteen boys in our classoffty!Duringmyfantastictwelveyearsat the school, I grew up in the company of many bright girls, and a few boys.Amongst the many things I learnt, the most fundamental were the values of the school: risk-taking, commitment, teamwork, empathyandrespect.AsIreectonthem,thesevaluesare the essence of true leadership. Stepping into the professional world, I have again been fortunate to have worked with many bright women. During my career with organisations like Accenture, IBM and Intel, some of my most admirable colleagues, managers and mentors have been women.I want to take this opportunity to express my appreciation for four exemplary leaders who haveinuencedmeduringmycareer:Janet Ang. Cordelia Chung. Nerida Caesar. Neelam Dhawan.WiththelensoftheleadershipvaluesIlearntatschool, they bring together a great combination ofskillsinrisk-taking,commitment,team-workand empathy. Their leadership is about setting a vision, inspiring people to commit to the cause, and as a team, overcome the hurdles until you achieve the goal. They are leaders with immense strength of the mind, intense commitment, and enduring promise of empathy. They have a spectrum of styles to apply to a wide variety of situations, without losing sight of the end. They have the ideal balance of the "people and purpose" style of leadership. They are the best leaders I have worked with and they have inuencedmegreatlyduringmycareer.I thank them for the wonderful learning opportunities I and many others have had working with them.
Page 177
100 Perspectives on Gender Equality167A few years after I graduated from high school, the school reverted to an all-girlsinstitution.Recentlyitwasrankedamongstthetop-tengirlsschoolsinIndia.I credit my schooling with having taught methatmenandwomenareequalinallmatters of work and life. After all, I grew up in a school with a head girl, and no head boy! I credit my schooling with having taught me that men and women are equal in all matters of work and life.""Photo:MuhammadHaz
Page 178
candid168AMINUR INDRA (MINO)Independent CreativeWhen It Comes to Overcoming Challenges, It Doesn't Matter if You Are a Man or WomanMy name is Aminur, but everybody calls me Mino. I'm25thisyear.IgrewupinaMalayhousehold,and like many others, my family experienced many challenges that have shaped me and made me who I am today. At the centre of getting us through it all is my mother. Seeing all of the hard work my mum has done for the family inspires me. She has taken care of mysiblingsandmeforyears.Shehasraisedvechildren; one from her rst husband, three boysfrom her current husband (my dad) and a baby who was left by my aunt and who has become a new sister to us. My mum has always found ways to put food on the table. She works two jobs to ensure the family keeps going. My mother has sacriced a lot interms of putting others before herself. She has gone through countless pains but still managed to break through it all. She is the denition of"impossible is nothing," always reminding me that "every problem has a way out of it."My dad had a heart attack ten years ago so he couldn't work. She was technically the only oneworking while my brothers and I were still studying. Wehadtosellourhouseandmovedfourtimesinveyears.Weevenstayedatmylategrandparentsfour-roomatwiththreeotherunclesandaunts.It was a tough time but it showed me how strong women can be. I am convinced that women are tougher than men on many fronts. Despite the challenges, my mother has managed to feed all of us and provide us with the things we need and want. She is always telling us "if wedon'thavesomethingthatwewant,we'lljusthavetowaitalittlelongerandbepatient,we'llgetiteventually".Evenifittakesyearsofwaiting.I'mstill proud that she keeps to her word, that touches me. My mother has always ensured that we had everything we wanted like new toys, shoes, clothes, a guitar, drums and my rst camera. I work as a creative designer and photographer and
Page 179
"100 Perspectives on Gender Equality169...when it comes to overcoming challenges, it doesn't matter if you are a man or woman - we all have what it takes to get through it."she has encouraged me the whole way through. At this age,she'sstilldoingherbest:beingentrepreneurialandkeepingsideline jobslike baking.I'll helphoweverI canwiththeskillsthatIhavewhetherit'sdesign,brandingormarketing for her cookies. I am grateful for everything that she has taught me about stepping up to the plate when it'sneeded.Andwhenitcomestoovercomingchallenges,itdoesn'tmatterifyouareamanorwoman-weallhavewhat it takes to get through it. Photo:MuhammadHaz
Page 180
170DABIRU VASHISTH RAMAN (VASH)Undergraduate, National University of SingaporeMy Determined SisterThere are many accomplished women in the world. One of them is Tanya Venkatraman. Totheworld,sheisa28-year-oldwholeftSingaporethree years ago to experience true independence and further her career. This was not a simple career move – it was the culmination of trying several jobs until she nally settled on one that she thrived in. It is her tenacity and ability to spring back from the defeats that have brought her to where she is now: a successful business development manager at an MNC in Hong Kong.However, to me, she is my older sister and I call her Didi. The one who made up stories about how my parents found me in the trash, who saved sweets in her school uniform pockets for me, and who Photo: Contributor
Page 181
100 Perspectives on Gender Equality171inspiresmetoneverquit.Manytimes,shewouldkeep me up all night with improvised stories she madeuponthey,albeitwiththemesandmotifsheavilyborrowedfromCaptainUnderpants–but I digress. It is my sister who paved the way for me. Being the older sibling, she faced the brunt of our parents'disputesanddisagreements.Itisthanksto her bargaining, negotiations, and settlements that I reaped the benets. Her hard-won battleswere my stepping-stones to an amicable social life with reasonable expectations, and for that, I am grateful.Her journey to where she is now was long and difcult,lledwithbothpersonalandprofessionalobstacles. What amazes me is her ability tobounce back from these obstacles and grow from them. Her struggles taught (and continue to teach me) that time can heal everything, and sometimes it takes a shift in your perspective to survive. Just the other week, she faced an incredibly terrifying scenario with a taxi driver who physically assaulted her, a scene that unfortunately occurs far too often to women. In this instance, my sister was extremely lucky - she left unharmed. A fewhours later, she was not only able to talk about and report the experience to the authorities but was even able to laugh off the encounter. Her ability to process traumatising experiences in her life using humour makes her one of the strongest people I know.Didi is oneof the many reasons gender equalityis so important to me. She eschews the Indian tradition of getting married early and providing for the family in favour of developing herself and her career, with the full support of our mother. Listening to their conversations taught me at a veryearlyagethatwomenareequaltomen,andfundamentally there is no difference between the two. The only difference is that one is born with a certain set of privileges. It is distressing that despite my best wishes for her, the structures in place put her and other women at a disadvantage and sometimes even in danger.Didi, my mum, and my beautiful friends have had a signicant inuence on me. I have no doubtthat I would not be where I am today without the community of women that I have had the privilege of knowing. I am therefore asserting my belief in gender equality for the wonderful women in mycommunity and in the communities of others.I would not be where I am today without the community of women I have had the privilege of knowing.""
Page 182
candid172GANESH RAJAre We Doing Enough to Move Forward? Coming from a strong cultural and conservative background, family values strongly inuencedour daily life. When my mother was a child, herbrothers were sent to school. When she askedher mother why she stayed home, she was told that upon marriage, a woman's place is in thekitchen, looking after the family and her husband will take on the role of the breadwinner. Therefore, her brothers were groomed to full their placein society and were encouraged to further their education for a better life. As you can see, gender inequality was alreadyenforced from a young age with the perception that a wife is subservient to her husband. But moving forward60years,howmuchhasreallychanged?Walkingintoatoystore,stereotypicallygirlsplaywith dolls, pots and pans while boys can be an astronautor reghter – clearly colour coded toensure each role and place. We are unwittinglydeepening the divide between genders at that tender age. The big question is, how can we break thistypecast? It starts by open-heartedly evaluating our discernment towards gender equality and our own beliefs and values. And while education plays a major part, the debate should shift from IQ to EQ. Education grooms the general perception, whereas on an emotional level one often falls back on their innate norms and values. It might be slowly changing, but we still have a long way to go before every person is seen individually, treated equally,andisincludedbasedonmerit.Had my mother been given the opportunity to get an education, she would have had more condence and felt equal towards my dad. Withencouragement from a young age she would have been empowered to make a better life for herself and for us. It could have brought her better opportunities work-wise, but maybe moreimportantly,shewouldhavebeenabletondhertrue self.
Page 183
100 Perspectives on Gender Equality173The big question is, how can we break this typecast? It starts by open-heartedly evaluating our discernment towards gender equality and our own beliefs and values." "Photo: Contributor
Page 184
candid174ARUNA WITHANELegal Director APAC, CohesityDiscovering New Horizons as a Trailing SpouseAs one of the most courageous women I know, it was my mum who has truly shown me what it means to challenge societal norms.Whenmy parents gotmarried shewas a trailingspouse. My mum left her whole world behind her and moved to Canada to build a future with my dad. She took part-time employment as astenographer to support my dad who at the time was a scholarship student reading for his doctorate. Oncehecompleted,hejoinedthefacultyandwasaprofessoruntilhisretirement.Withhisnewfoundcareer, my mum gave hers up to help raise a family. She had what I consider to be the hardest job of all, raising three children with no extended family. When we were a bit more independent, my dadtells this story best, of how my mum approached him and said she wanted to do something different. She wanted to go back to school. She wanted to go back to the university where my dad was a professor and where both her kids were undergraduate students to study child psychology. Withherdegree,shewantedtohelpgivebacktothe community to help mentor young children with a focus on autism. She did just that, despite it being the most uncomfortable situation you could ever imagine. She hadn't ever been to school in Canada, herhusband was a faculty member and she was denitely the oldest student in every one of herclasses.Thisdidn'tfazeher,shewasdeterminedto transform herself and we were so inspired we rallied behind her as a family. I mean, it wasn'teasy being 18/19 having your mum and dad oncampus with you and to top it off friends of yours taking classes with your mum, thinking she was cool to be doing what she was doing. Looking back, I can't imagine how brave andcourageous she was. She was passionate about transforming herself when there were so many obstacles and or reasons for her not to do it –but she did it anyway! With a young 15 month-old daughter, I hope my mum will rub off on her and I hope I can be that dad that gives her all of the support she deserves and needs to be as determined in this world as her grandmother. Everyone'smumistheirinspiration,butIhopemystory will inspire more women to do whatever it is they'repassionateabout.
Page 185
100 Perspectives on Gender Equality175Everyone's mum is their inspiration, but I hope my story will inspire more women to do whatever it is they're passionate about.""Photo: Contributor
Page 186
candid176PRAKASH HANDE Associate Professor, Department of Physiology, Yong Loo Lin School of Medicine, National University of Singapore.Grit, Perseverance, and Determination Start Early in Life for WomenThe call for more women in administrative positions and leadership roles makes me think of my PhD supervisor, Professor Uma Devi. She was a teacher, mentor, colleague, and now, a friend. She was born in a community and time period where women had limited opportunities to pursue higher education. She resisted these objections and convinced her parents to allow her to do a PhD in a city 3000 km from her hometown in South India. This was in the early1960s.Uma Devi was a formidable adversary to antiquatednormsandideasandrosetothelevelofProfessor.Subsequently,shebecametheheadof a department she built from scratch, with help from colleagues and students. Many of us who were part of this journey at this stage are still in contact with her until today. She was a leader in all aspects such as heading the department, leading the research initiative at the institute, mentoring junior faculty members and graduate students. As a mentor, Prof Uma Devi guided us through our graduate studies and directed us to progress towards independent researchers and faculty members.She possessed the determination to overcome any challenge she faced during her work. I understand from her that she did not face any major problems of discrimination on the basis of her gender. As far as I am aware, men and women facultymembersarerecruitedunderthesamepay-scalequalicationsandexperienceinallnationaluniversities in India.
Page 187
100 Perspectives on Gender Equality177"Uma Devi is an example of a born leader. She was the department head for more than 20 years in two different institutes. I consider her to be an exemplary model on how to lead a professional life. After retirement, she acquiredan additional skill by studying for a Diploma in Clinical Hypnotherapy. This allowed her to counsel cancer patients, patients with critical illnesses, and other conditions such as addiction. She has set an example for everyone by becoming an accomplished academic researcher, a leader, and to fully utilising retired life. I greatly admire Prof Uma Devi, who has displayed immense character and courage to achieve great accolades, while overcoming numerous hardships and obstacles.The call for more women in administrative positions and leadership roles makes me think of my PhD supervisor."
Page 188
candid178FERO LOHHR Project Manager for Singapore, Malaysia & Vietnam, H&MCelebrating My Mum: Mrs Do-It-All Growing up in a typical lower-middle-classSingaporean household, we did not always have the luxury to live as comfortably as we would have liked. However, my mum was resourceful. She simply had the magical touch to turn a $10budgetintoamealthatisttingforChineseNew Year or to act as the in-house counsellorwhenever I needed relationship advice. From torn pants to my precious broken choo-choo train,mum was always both the in-house seamstress and handywoman!IN MY EYES, SHE IS MRS DO-IT-ALLLittle did I know my mum was more and beyond. She was also a strong pillar to my dad — during the economic downturn when dad got retrenched, mum took on the sole breadwinner role and worked as an ofce Ah Jie (阿姐) at a famous departmental store. The lowly status of the job did not stop her from putting in her best effort to takecareofthewell-beingofhercolleagues.Shealways kept a lookout for ways to contribute, from smallgestureslikeensuringeverybody'sdrinkingglasses were always kept off the table edges to brewing herbal tea for everyone out of her own pocket. A proud moment for her was when she poked her nose into the buyers meeting while they were sourcing for the Ladies Chinese New Year collection. They had a direction that year to focus more on premium cheongsams to elevate the departmental store'simage.Bear inmind,it wasa recession period — my mum voiced her opinion that no one is going to be able to afford the line and that the focus felt out of touch with what wasgoingoninsociety.Thiswasawake-upcallto both the buyers and the sales manager — they made a 180-degree change to their approach,sourced for more affordable options, and focused on marketing the positive message of "we are in these tough times together" — needless to say, it was a huge success that resonated with the customers and yes, mum got a nice Ang Bao from the bosses in recognition for her contribution.
Page 189
100 Perspectives on Gender Equality179My mum always reminded me of the power of inclusion. Regardless of gender, age, social level and or which walks of life we come from, all opinions matter! If we can consider all perspectives when making decisions, we can truly be surethat our actions will havea far-reachingmeaningful impact.The power of inclusion comes back in my professional life at H&M. At H&M, we are proud to work with colleagues from Boomers to Zoomers, regardless of gender (or how one identiesoneself) or background. We always say, it isnever about having the perfect skill, knowledge or t,itismoreaboutyourexperience,personalityand how you can contribute meaningfully.Inclusion & Diversity is what we are very intentional about at H&M. Being part of human resources, one of our main focuses is to have diverse team representations. Just like in our recent transformation of the e-commerceteam, we have achieved fair representation on gender, ethnicity, age, locality, and nationality through recruitment with an inclusion and diversity approach. While transforming the expansion, construction and facilities team, whichis a male-dominatedeld, we were ableto have strong female colleagues assuming key leadership positions.Photo: Contributor
Page 190
candid180EDWARD ANTHONY JOE RAJASINGAMFinancial AdvisorBravery in the Face of Adversity Growingupinthe50s,itwasverynormaltoseeyour traditional family set up. Husband, wife, children, and the family pet. The husband would go to work and the wife would stay home to mind the children. My late mother birthed seven children and I was her eldest. For most of my childhood, I remember my mother minding all seven of us, preparing the meals, and helping us with our schoolwork. My father would go to work every day in the morning and return home in the evenings. My siblings and I loved my father, he was our hero. My mother was seen as the disciplinarian and would complain to our father about all the naughty things we did while he wasaway.Wewerecontentformanyyears.Itwasyourtypical50sfamily.Right about the time I was 12 or 13, my father had lost all his money on a failed business and put his trust in some very bad people. I remember the exact day I stopped recognising my father, he was downtroddenanddepressed.Hedidn'twanttotalkto anyone and would hide in his study for hours on end. None of his children could console him, andneithercouldmymother.Withsevenmouthsto feed and no income, I saw my mother do what I thoughtshecouldneverdo–becomethefamily'sbreadwinner. She worked hard to not only feed us, but she set aside time to provide constant emotional support to my dad who was lost in his own world. She never once showed us she was going to give up. She would delegate to us our chores while she went out to sell whatever she was selling that day. Some days, I would help her with the heavy lifting and went door to door peddling anything from Photo: Contributor
Page 191
100 Perspectives on Gender Equality181groceries to toys to snacks. I remember her being mocked or chastised for leaving her children and husband behind while "chasing the money." It didn'tmakeanysensetomethen.Lookingbackat some of the conversations my mother and I had about that time she calls the "rocky road," she mentioned how afraid she was and how important it was to keep our father and us safe from all the gossip and hate. I did not see fear, all I saw was dedication and bravery.I am now a grandfather to four grandchildren with two on the way. Three of them are my beautiful granddaughters. Just as I did for my daughter, I constantly remind my little granddaughters how amazing they are and that no stigma or old-fashioned thinking should stand in their way to reach their goals and aspirations. They must have the same opportunities as anyone else to succeed. I may have never known the amazing powerof a woman if mymother didn'thave theopportunity to step up and succeed. I am grateful for that experience. "I constantly remind my little granddaughters how amazing they are, and that no stigma or old-fashioned thinking should stand in their way to reach their goals and aspirations." Photo: Contributor
Page 192
candid182JEREMY LEEMusic EducatorMaking and Believing in Choices Whilemanyexpectmentolooktowardmalerolemodels, it is often neglected that women could better embody many important life values. I did notrealiseitatrst,butmanywomeninmyfamilywould become my role models in some way or another. Whether it is a sense of dedication, acommitment to the self, or an acute awareness of one'schoices,Ihavecometoseetheseinactionthrough the lives of my grandmother, mother, and sister. As the cards for each generation are dealt differently, I would like to see how they have been affected by their generation's perceptionsof gender, and how things can be potentially envisioned moving forward.My paternal grandmother was born to a Thai Teochew Chinese father and Teochew Chinese mother and was the eldest of many children. From an early age, she had learnt the art of homemaking and caring for others. She grew up in Pasir Panjang in a Roman Catholic household, and after the Second World War worked a goodnumber of years as a washerwoman for the nuns at the former Convent of the Holy Infant Jesus at Bras Basah (now CHIJMES). She had received some education prior, and her command of the English and Malay languages was impressive. She taught me how to spell and pronounce in English, whileChinesewasmygrandfather'sresponsibility.Had her matchmaking to my grandfather not been successful, I suspect she would have become a nun. After a prolonged battle with colon cancer, my grandmother passed on my 19th birthday. Shehad dedicated her prime and adult life to her husband and family. As a housewife and primary caregiver of the household, she had a resolute and unbreakable spirit. In the early stages of her illness, she chose to prioritise our family over her ownhealth.WhileitwassomethingIdidnotagreewith, I admired her for her strength and conviction.My mother lives in France. Over the last twodecades, home for her has been several countries, but her focus has always been herself. Some people may think it selsh, yet I believe it isessential to her identity. At the age of nine, I forgave her for choosing not to be a part of my life as my mother. Her life story is one that continues tointrigueme.Attheageof14,withherbrother'sclothes on her back and ten cents in her jeans, my
Page 193
100 Perspectives on Gender Equality183We all have an innate desire to be our truest selves in ways big and small, whether we know it or not, and we should all be given the opportunity and courage to see for ourselves who we are and who we can be.""mother left home. She eked out a life for herself on the streets with odd jobs mostly done by men. Her passion for hairstyling eventually led her to Japan where she spent her early 20s. She returned to Singapore afterwards where she met my father and got married.As a child, she had been subjected to favouritism practised in many traditional Chinese families. Her brothers enjoyed many privileges and had priority for schooling, and growing up my motherwasfrustratedbythis.Once,herprimaryschool principal and teacher visited her family at their Bugis shophouse, urging my maternal grandparents to send her for piano lessons after seeing her at the piano in school. They had even offered to pay for her lessons, but my grandparents atlyrefused,citingthatherresponsibilitieswerewith her siblings and household chores.My mother'schildhood experiences would cometodeneherearlyexperienceswithmotherhood.After miscarrying a male foetus, she found herself pregnant again but with a female who would become my sister. She feared that her own experiences would be re-lived by her daughter,and she resisted natural birth. She suffered from postpartum depression though my father and her were not acutely aware, as mental health awarenesswashardlyprevalentinthe1980s.For many years now, my mother has lived as an independent woman. Though she is married, she isercelyprotectiveofherabilitytomakechoicesand carve out her own path. She has not allowed herselftobedenedbyboundariesthatshehasperceived as society's expectations. While I amaware that this continues to be a struggle for
Page 194
candid184her, it is a struggle she is more than happy to contend with.As children, my sister and I were never very close. We had not grown up together in my formativeyears aged three to six, and she was often in need of attention from my paternal grandparents. As we grew older, I came to be aware that she was taught to behave differently from me. I had the relative freedom to be and to go where I pleased, while she was not allowed to hang out with her friends after school and on weekends, and was home most of the time.TherewasonceIwaslyingontheoorofthelivingroom doing my homework and was blocking the path to the kitchen. She was warned by my paternal grandfather not to step over me, and to wait for me to get out of the way. Being a wilful child then, I refused to move and she began to cry. This came to deneformethestarkdifferencesinexpectationsand privileges between males and females in the context of a traditional Chinese family. From that moment, I became more sensitive towards my sisterandbegan toquestionhow mysisterwasbeing raised. As much as I fought for my sister to be able to socialise in her early teenage years, our grandparents did not budge.My sister and I are closer now. She is an adult woman, has gone through her phase of obsession with Korean pop stars, and keeps a close-knitsocial circle consisting of her friends from the polytechnic. She persevered through her university studies for preschool education and went on to work for a few years in a preschool. She is also happily married, and I am witness to the respect she and her husband have for each other. At the moment, they have decided not to have any children. She has also pivoted from preschool education to working at a doggy daycare, describing it as a job that she is truly passionate about. The choices my sister has made, when she wasnallygiventhefreedomtomakethem,givesa clear signal that she is aware and in control of her life.Just as my grandmother has lived her life, my mother and sister and countless women live theirs now. As we are unable to alter the past, so welooktothepresentandthefuture.Weallhavean innate desire to be our truest selves in ways big and small, whether we know it or not, and we should all be given the opportunity and courage to see for ourselves who we are and who we can be. Welooktoeachotherforinspiration,whoeverweareandwhateverwewanttocallourselves.When we are all given the chance to make our own choices and believe in them, that is when we can be our best selves.
Page 195
100 Perspectives on Gender Equality185Photo:MuhammadHaz
Page 196
candid186Women belong in all places where decisions are being made. It shouldn't be that women are the exception." JUSTICE RUTH BADER GINSBURG "
Page 197
100 Perspectives on Gender Equality187Born Feminists
Page 198
candid188JERRICA CHOOI Country Holding Ofcer, ABB SingaporeBorn FeministMy earliest memories of my childhood are of growing up at the corner of Temple Street in Chinatown, Singapore. It was the 1970s – the streets were lined with noisystreet hawkers and the ve-foot walkways alongthe rows of shophouses bustling with trade and activity. My family came from very humble beginnings and we were one of four families sharing a tight space above a shophouse. Like many in my generation, I was left in the care of the family elders while my parents lived away from me tobeclosertotheirworkplaces.Iwastherstinthe line of grandchildren born to Chinese migrants and I remember being surrounded by strong, vocal, independent women in that crowded house – my great-grandmother, great-grandaunt,grandaunts and grandmother, and the other workingwomen-tenants.Like many Singapore families rebuilding from zero after the end of the Japanese occupation in the 1940s, life was hard. My grandfather suffered aworkplace injury at a sawmill and had a difcult recovery, frequenting opium dens to escape hispain and misfortune. Unfortunately, whatever little pension savings he had was eventually depleted to feed his addiction. The situation was dire, and it was all up to the women in the family to provide for the family and put food on the table. My great-grandmotherand great-grandaunt, togetherwith their daughters, found entrepreneurial ways to make a living. They worked as housemaids for the expatriate community, set up a vegetarian food stall,wentdoor-to-doortoprovidelaundry,sewing,and ironing services, and delivered catered meals tobusyshopvendorsintifn boxes(theoriginalGrabFood). I was raised by these amazing women andtheequally supportivemen inthefamily. All Iknewgrowingupwasthataperson'sgenderdoesnotpredetermine one'ssuccess in life,only hardwork, street smarts, and integrity.My family told me I could be anything I wanted to be. I was encouraged to be a lawyer because I had a glib tongue and would argue my way out of punishment or charm the street hawkers into feeding this chubby kid. Alas, I decided I preferred to count money instead, so I studied Accountancy at Nanyang Technological University and I was the veryrstUniversitygraduateinthefamily.Laterin
Page 199
100 Perspectives on Gender Equality189 I was not born into a family of wealth, but I have something better, I was born into a family of feminists.""Photo: Contributor
Page 200
190my career, my employer sponsored my Executive Master of Business Administration (MBA) program at the University of Connecticut while I was working in America, which also made me the rstinthefamilytoholdapostgraduatedegree.I was born into and raised in a family of feminists. I was never treated any less favourably for being adaughter.Onthecontrary,beingtherstbornofmy generation, I was often doted on. I also grew up with two young uncles who taught me to play rough, be tough, be courageous, and take risks. I never knew there was a gender divide until I attended school, and society started telling me that I may not be given the same opportunities and recognition just because of my gender. The older I got, the more society tried to dene myrole, stereotyping my place as a woman in the workplace. It may sound incredulous now, but in 1997Ipetitionedfortherighttowearpantsuitstowork every day of the week instead of just one day a week on Fridays. It was just 24 years ago that Ihadtoquestionwhetherwearingpantsinsteadofa skirt makes me a less effective employee.As I matured in the workforce, I realized the importance of having an employer whose stance on gender diversity is aligned with my own values. Data does not lie (spoken by a true accountant). More and more research has shown that diverse teams perform better. Companies with strong diversity and inclusion programs also attract and retain the best talent. Some industries are naturallymoregender-neutralbutcompaniesinthe
Page 201
191engineering space are still very male-dominated,mainly due to archaic gender bias in education choicesforgirls.Itrequiresacompanytobemorethoughtful and deliberate in developing effective programs to break that bias. I am proud to be part of ABB, a company that is changing the landscape by reaching out with exciting STEM programs for young girls like the FIA Girls on Track project and by setting targets for females in senior leadership roles.Myowncareergrowthhasgreatlybenetedfrombeing mentored and sponsored by exceptional senior female leaders and I have also witnessed how having strong male allies across the ranks can really help advance gender inclusion and equity.Weallneedrolemodelstoshowwhatispossible,and I have made it a point to pay it forward and help pave an easier path for younger colleagues.Bynomeansisthepathtogenderequalitysmooth.Wheneverthejourneygetsdifcultinmydailylife,I drift back into my memories of growing up in that crowded Chinatown shophouse. To look back in admiration to the strong women role models who accomplished what was necessary for our family to survive. I was not born into a family of wealth, but I have something better, I was born into a family of feminists.Photo by Danist Soh on Unsplash
Page 202
candid192TERENCE TEOHSenior Development Partner, Enterprise SingaporeIt's Time to Leave Gender Bias In the PastMirror, mirror on the wall, who's the fairest ofus all? For many years, generations of peoplehave been socialised to various stereotypes from a young age. Different cultural traditions have also perpetuated their respective unique gender-based customs. As society progressed, some of the "norms" that condone unfair practices have become far tooentrenched. Gender inequality isone of them.Womenhavebornethebruntofdiscriminationindifferent scenarios, bound by what stereotypes have dictated they should or should not do. Society has slapped on roles and abilities to what isbettingofafemale.Weareallprobablyfamiliarwith and will admit to subconsciously coming to accept terms like "the female president", "the femalepilot",or"thegamergirl."Onthecontrary,labels like "the male president," "the male pilot," or "the gamer guy" would sound superuous. Let'stakeamomenttoponderthis.It'sratherabsurd,isn'tit?Whileweacknowledgethatthesegenderbiases originated from the past, it is important to rationalize them to make sure they stay there.It'stimetodissociateabilitiesfromthenotionofgender.Weshouldallbefreetochooseourrolesand capabilities, and be given a fair chance to proveourselves.Ourperformanceinsometasksmay fall short of expectations, but oftentimes, they can be attributed to personal shortcomings rather than gender difference.It'stimetolosethe"usvsthem"mentality.Istherereallyapointindeningwhichisthemoresuperiorgender? Absolutely not! There is no competitionto begin with. In fact, the more we embrace, complement, and uplift one another, the more wins we can achieve together as one human race.It'stimetoadoptaninward-lookingperspectiveongender balance. Yes, there may be benets thatcomewithit–economicgrowth,socialharmony,"I look forward to the day when gender equality is so organically integrated into society that it doesn't warrant prolonged discussion."
Page 203
and so on. That said, equality is afundamental and unconditional right and everyone deserves respect even whentherearenobenetsattached.While we celebrate some progressand success toward women´sempowerment in Singapore today, there remains much to be done to leveltheplayingeld.Let'sallunlearnthe outdated beliefs and recalibrate ourselves to the modern world! I look forward to the day when gender equality is so organically integratedinto society that it doesn´t warrantprolonged discussion.Withthis,I'dliketotakethischancetothank the admirable women in my life andcareer –my mother, mywife, mymentors, leaders, business partners and friends – who are nothing shortof amazing. If not for their unwavering guidance, care, friendship and support, IbelieveI'dbemuchlessthanwhoIamtoday.100 Perspectives on Gender Equality193Photo: Contributor
Page 204
candid194PATRICK RONADirector, CignaWork With People With Integrity I know it may sound likea cliché, but I honestlydon't think I see gender at work regarding mymanagers, colleagues, team, or partners. Instead, I simply see people who have integrity, are good at their job, and whom I enjoy spending time with. I was raised to respect everyone I meet regardless of gender, class or race. I believe this upbringing set the foundation for my fundamental belief that everyoneiscreatedequal–andshouldbetreatedand compensated, likewise. Yes, there were a few seminal moments in my path to feminism. The most important one was when my wife and I decided to get married, and she claried that her career was important toher and insisted I pledged to treat her career as essential as mine. A second seminal moment was the evening an important client sexually harassed a young female member of my team during a night out. When I found out what had happened, I called the client and told him his behaviour was unacceptable and that we were resigning his business immediately (the language might have been a bit more colourful). When he threatenedtocall the CEO of my agency, I encouraged him todoso.Thankfully,myCEOnotonlysupportedmy decision but threatened to report him to the police (remember the part about working with people with integrity). It is my good fortune to have worked for and with amazing people throughout my career. That has beenthemostsignicantinuenceinmyjourney.People who have worked every bit as hard as me, ifnotharder,andpeoplewhowere–andare–farmore competent. But, unfortunately, in a handful of cases,someweren'tfairlycompensatedbecauseof their gender, race or sexual orientation; and a few were actively discriminated against when it cametimeforpromotion.Asaresult,it'ssafetosaythatIdidn'tworkforthosecompaniesforlong.Sincewitnessingthesesituations,I'vetriedhardtoworkforcompanieswithexplicitpoliciesofequalpay and opportunity; and to be a manager that pays and promotes people fairly. My path toward feminism came full circle with myinvolvementwithLeanInandtheco-foundingof HeForShe Singapore. It started when I joined –uninvited–oneoftheearlyLeanInSingaporegatherings organised by my wife, Helen (one of the Lean In cofounders) and invited myself toparticipateinoneofthebreakoutgroups.Our
Page 205
100 Perspectives on Gender Equality195group had a great discussion about unconscious bias and its impact on every person in the group. During the sharing session afterwards, one of the women in our group suggested that Lean In needed to invite more men to these discussions as we are "at least 50% of the problem".So I was encouraged to form the HeForShe Singapore and managed to recruit an extraordinary group of menequallycommittedtosupportingwomen in their career and life ambitions. Everyone has a uniquepath toward feminism, and it has been genuinely inspiring. Everyone has a unique path toward feminism, and it has been genuinely inspiring.""Photo: Contributor
Page 206
196MUHD AZAMUDDIN (AZAM)Undergraduate, National University of SingaporeI Am a FeministI am a feminist, and it is important not just to the people around me, but to myself as well. I champion feminism because it is a celebration of humanity at its best; a recognition of the reality that men and women can harmoniously live together on a basis of equal rights and opportunities, devoidof discrimination and prejudice in any form. The advocacy of equal rights does not just apply tothe women who sorely need it, even if this ghtforequality is beingdriven by them.In fact, itisour responsibility as men to lend our hands in assistingthisght.For too long, men have perceived the narrative of 'feminism' in erroneous ways, thinking that itservesasanopponenttomasculinity.Wethinkthatfeminismwouldresultinmen'spowerorinuencebeing taken away, or we assume men and women are inherently different and thus deserve different rights. This is certainly not the case. The roots of this word may have stemmed from the Latin word, "femina" which means woman or feminine, but thereisabsolutelynothing'feminine'abouttoday'sghtforgenderequality.Throughfeminismwecannally confront the gendered issues that plaguePhoto: Contributor
Page 207
100 Perspectives on Gender Equality197our societies and provide the basic human rights thatwomendeserve.Wecanseemorewomeninleading positions to contribute to the betterment of our societies. I have personally seen the women in my friendship circle excel in every domain possible; education, leadership, family to name a few, solely because theyweregiventheequalopportunitytodoso.Forexample, being under a female Project Director whowascondent,commandingandassuredinaforeign land during an overseas CIP trip validated my perception that women can excel and be better than a man in a "traditionally masculine" role. This experience was important to me because it made her happy knowing that she, or any woman, can and will do an amazing job if they were given the chance. Changing this false narrative through the abandonment of our traditional beliefs on establishedgenderrolesmayseemdifcult,butitwillprovidebenetsnotjusttowomenbuttomenas well. Indeed, feminism is what it is meant to be: the idea that every human on Earth deserves equalrightsandequalaccesstoallopportunities.This leads to the emergence of both tangible and intangiblebenets,suchasboostingtheeconomy,the overturning of laws that discriminate against any gender or an overall satisfaction in life for both genders. It is time we dispel this binary that has separated and limited us from seeing progress in society. It bodes ill for the future of humanity that we would deliberately seek to oppress and crush the intellectual and economic potential of our other halves, solely because of the gender they were assigned at birth. Ergo, men should never be afraid of upholding feminism within their personal values, nor should they have their masculinity threatened by their false perceptions of it. Webecome feminists not because the world expects us to; we become feminists because the world needs us to....feminism is what it is meant to be: the idea that every human on Earth deserves equal rights and equal access to all opportunities.""
Page 208
candid198Photo:MuhammadHaz
Page 209
100 Perspectives on Gender Equality199ZACHARY CHOOI Assistant RM, DBS - husband of Amber Pong, Entrepreneur, Hawker & Founder, The Headless Baker & SonsWe Are All Feminists, We Just Don't Know It YetThe concept of branding a role (or a task) as masculine or feminine is outdated and has no place in our society.At the start of 2020, my better half, Amber, started her brick & mortar cake shop as a hawker store in Ghim Moh — The Headless Baker. Apart from being a little tongue in cheek, she decided on the name as there was no clear picture of what the business would become.Amber has been my best friend since secondary school and she has always gone against the grain. She is the most tenacious person I know. Just over a year after opening the rst store,Amber opened her 2nd Headless Baker outlet at The Star Vista mall. This time focusing onViennoiserielikecroissants.As a leader, she is passing on the tenacity that drove her business to succeed to her team by challenging them to think differently when they get stuck. She encourages her pastry chef to think more like a baker and the baker to think more likeapastrychef-notbecausetheyaredifferentgenders but because there is a lot to learn from each other. She is a model of how to reject the ideas of what "male" and "female" characteristics mean within a profession. Breaking down these gender stereotypes is one of the major steps to advocatingprogressionandequality.No society can truly ourish if it sties the dreams and productivity of half its population." BILL CLINTON, Time Magazine, 2012. "
Page 210
candid200MOHAN PANICKERConsultant & Former UN Ofcial Exceptional Women Contribute Signicantly to Improving the WorldAs I write this piece for SwedCham today 16August 2021, the Taliban has overrun Afghanistan and captured Kabul. The world looks on in horror and anguish, with reminders of the harsh treatment that the Taliban subjects its people to, particularly women and girls. The education minister and an NGOleader(bothwomen)havedecidedtostayonto negotiate with the Taliban to ensure that their hard-fought rights are not eroded and that girlscan continue to be educated. A very brave move indeedbutaninterestingoneasforthersttime,educated women leaders are taking responsibility in an extremely tense and dangerous situation in Afghanistan.Photo: Shutterstock
Page 211
201100 Perspectives on Gender EqualityYes, I am a feminist and really worried at this turn of events, not just in Afghanistan, but elsewhere in the world. As an international citizen, having worked in the United Nations Ofce in Genevaforover35years,itisobviousthattheeducationof girls and women contributes effectively to development in all societies. Safe childbirth, infant andchildren'shealth,basicsanitationandhealthpractices, and the development of young girls (and boys) as responsible and able leaders in any communityarekeystoreapingbenetsfromsuchinvestments in girls and women. For the UN SDGs 3 (good health and well-being) and 5 (Gender Equality), there is a closecorrelation between the investment in girls' andwomen'shealth and educationand their positivecontribution to development. Not every girl or woman will become a doctor, an engineer, a researcher, or a teacher; but it only takes a handful of them to be given these opportunities to trigger a multiplier effect to open the way for others.I have always had women supervisors who demonstrated excellent leadership and showed a keen interest in my professional development. In one instant, I had the privilege to work and learn fromawomaninaveryseniorpositionintheUN'speacekeeping mandate in the former Yugoslavia in the mid-1990s. Blandina Francis Negga fromBarbuda was an exceptional woman who, not only furthered the work of the UN Security Council, but her steely and smart leadership saw her hold her own with the Serbian and Croatian military forces to maintain peace, save thousands of lives and foster an environment of detente. Unfortunately, even at the UN it took many years to implement agender-neutralsecretariat.Thereareexceptionalwomen who could be contributing in signicantways to further the work of the international community in so many areas. When I served on recruitment panels at theUN, I always made sure that women had equalopportunities at application, interviews (and when feasible), appointments into jobs. When Imanaged a policy development program within the UN for an international audience, and after I retired from ASEAN, as many qualied women" It is inconceivable today that women should be paid less for equal work or be denied equal opportunities at training and education. There is ample evidence out there that point out the value that women bring to societies."
Page 212
candid202needed to be selected to attend these programs. It is inconceivable today that women should be paid less for equal work or be denied equalopportunities for training and education. There is ample evidence out there that points out the value that women bring to societies.Achieving gender equality is not just a loftygoal, it is something that must be ingrained in societies. That this is still a matter for debate today is worrying. Developed and urban societies demonstrate much prejudice in the manner they treat women whether in the workplace or at home. This is worse in traditional societies or particularly under repressive regimes. As Governments commit to further education for all, they must be held accountable should girls be marginalised from schools because it is convenient to do so. Whenever there are budgetary crises, socialprograms, particularly education, especially for girlsaresacriced.Therearemanypressurestheinternational community can apply to mitigate thesetoensureabetteroutcomeforgirls.Womenleaders are well poised to take the challenge to governments. Malala's efforts at advocacy at alllevels to seek resources and implement policy changeshavemadetremendouschangestogirls'education in Pakistan and many other countries.Today many women leaders have achieved political recognition, and their work is made visible thanks to the internet and social media. Their achievements are to be lauded. From the management of the racial crisis in New Zealand, steering a country out of economic stagnation as in Germany, calling out governments for human rights abuses as is done in Sweden, and most recently, showing leadership in a time of a grave pandemicinmanyEuropeanstates.Womenfromthe developing world too have demonstrated much courage and their stories can and must be also told. There is still work to do and I continue tobepartofthevoicethatcallsforequalityinthetreatment and sharing of opportunities for women to advance our societies.Mohan Panicker formerly worked in the United Nations Ofce in Geneva from 1981-2016 and took part in several United Nations peacekeeping missions in the Former Yugoslavia and East Timor. Mohan is from Singapore.
Page 213
100 Perspectives on Gender Equality203Photo:YannisH-Unsplash
Page 214
candid204Women represent a massive, untapped source of intellectual capital sitting right in front of us. Some are aware of this but refuse to acknowledge, while others are ignorant. They will be the laggards in the new world where our species completes the transition from a physical to a virtual driven paradigm."SANG SHINDirector, Digital Innovation, Temasek - Co-founder IxSA"Photo:ChristinaWocintechchat-Unsplash
Page 215
100 Perspectives on Gender Equality205Being a feminist means believing that every woman should be able to use her voice and pursue her potential, and that women and men should all work together to take down the barriers and end the biases that still hold women back."Melinda French Gates"
Page 216
206Being a feminist is an expectation my generation is placing on everyone because we will not accept anyone standing for less.""Photo:MuhammadHaz
Page 217
100 Perspectives on Gender Equality207THOMAS WELLER University StudentBeing a Feminist Is the Expectation of My Generation Like many fteen-year-old high school boys,Women's Rights were not exactly at the top ofmy priority list. It seems silly — a feminist simply championsequalrightsbetweenmenandwomen,how could you not be one? Well, what stoppedme and many others were that we were afraid to stand out from the crowd; even if it was for the right reasons.Ijoinedmyschool'sfeministsociety,butIwasnota feminist. At least not at rst. I got involved tosee if how social media depicted them — very loud, very rude, and spiteful — was accurate. The club had no male members and I went in completely blind. To say that I was out of my element would be an understatement. I did not join expecting to change my perspective, let alone champion the cause. However, developing into an engaged team member quickly became an obvious conclusion.Whenyoudenefeminismsosimplyandhonestlyasbeingabout"equalrightsandopportunity",itiseffortless to comprehend (even for an adamant teenage boy). Perhaps it's just my peers and I getting older,but I am glad to see that the world has begun to shift so that feminism is the new norm. As the current cultural climate continues to emphasize the importance of equity and equality, it is nowtrendy and cool to be part of this movement. Being a feminist is the expectation my generation is placing on everyone because we will not accept anyone standing for less.
Page 218
candid208LUO CHEN JUN Operations Specialist, Facebook SingaporeAs an Ally, Where Do I Begin? That'salwaystherstquestionweaskourselveswhen we want to explain something important or complicated, but it's also the same doubt we have when we want to commence on something meaningful. Where do I begin is precisely the question thatmany men with good intentions ask themselves when they want to support gender balance and female empowerment. It's also the samequestionIaskedmyselfwhenIembarkedonmymaleallyshipjourney.Ifithadn'tbeenthefemalementors who guided me through initiatives like the Lean In organisation, it would demystify the common beliefs of female empowerment circles. I would have remained ignorant and believed that female empowerment groups are exclusively for women and men should only support from afar cause there is no place for a man to contribute. This is why as a proud male ally and member oftheLeanIn Singaporechapter,I thinkit's veryimportant to promote the awareness of male allyship and lead by creating a male ally starter kit for those with good intentions. Step one may not necessarily be joining a female empowerment organisation or attending an event on gender bias. Step one can simply be taking a LinkedIn learning module on building an equitable and inclusiveworkplace or watching a Ted Talk about women leadership from Sheryl Sandberg. All it takes is to initiate the male allyship within oneself is a simple rststep.WhatI'velearnedaftertakingmyrststepofmaleallyship is the realisation of the bigger picture behindgenderequality.Themomentamaleleaderiseducated ongenderbias andinequality, itwillinnately increase the capacity for him to develop a stronger empathy for other important initiatives towards race, religion, sexuality, disability and other marginalized groups. Henceforth, taking the rststepofmaleallyshipalsoleadstosteptwo;becoming a more equitable and inclusive leaderas a whole.So this is my male allyship story and advocacy here, creating a starter kit towards step one for my fellow males with good intentions and leading them to step one like how a friendly neighbour guides youwhenyou'refeelinglostinanewcommunity.Maleallyshipisalsoawin-winsituationnotonlybecause studies have shown that organisations with diverse leadership realize higher prots.
Page 219
100 Perspectives on Gender Equality209But when male mentees are mentored by female leaders, they also have a greater understanding oftheimportanceofbecomingamoreequitableemployee. When female leaders have theopportunity to mentor men, they can also build a generationofmoreequitablemaleleaders.Having the privilege to be mentored and sponsored by my incredible female mentors, it is time for me to step up and lean in to become a better male ally than what many women and I grew up seeing. The moment a male leader is educated of gender bias and inequality will innately increase the capacity for him to develop a stronger empathy for other important initiatives towards race, religion, sexuality, disability and other marginalized groups.""Photo: Contributor
Page 220
candid210GERARD EE Executive Director, Beyond Social ServicesGender Norms or Power Structure? We are not all created equal. Of course thereare differences between men and women. But the importance here is — how do we harness our differencesso that all of uscan benet andlive an equally fullling life? Throughout my life,I have always been inspired by the philosophy of Taoism, which makes clear that we all have both male and female energy within us. One is not better than the other — the question is, how do we use this energy in a holistic sense of being. Just because I like to cook, clean and look after the children, doesn't make me any less of a man. And if a woman doesn'tlike these types ofchores,itdoesn'tmakeheranylessofawoman.We all have different strengths, and recognisingthese strengths and celebrating them is what is important. Photo: Contributor
Page 221
100 Perspectives on Gender Equality211For many years now I have been a male leader in a female-dominated environment. I have learnta lot — for example, the culture of care, and how important it is to incorporate this culture when leading people. Instead of looking at it as a male way of working, or a female way of working, I look at it more as a positive or negative way of working. I feel very humble in my position as a leaderbecausequiteoftenIdofeelabitofself-doubt. Am I a leader of my organisation because theworldismorecomfortablewithamaleleader?In that sense, I feel very respectful of the privilege I have to be accepted as a leader by so many men and women. I have always asked myself why there has been somuchmale-femalegenderdivisionthroughouthistory, and I have come to the conclusion that most of the time, it is not really about gender but about maintaining power structures. In my work with Beyond Social Services, I meet many women in vulnerable situations. I see many of them positioning themselves as inferior vis-à-vis theirhusband or male family members. I have also seen how such a belief system reinforces very unhelpful power dynamics within a family. That is a reality that I witness often, and a lot of the work that we do is actually to help rebalance this dynamic, to create a family environment where everybody has avoiceandshouldbetreatedonequalterms.Singapore has come a long way. Women herehave amazing opportunities to shape their lives. However, in the low-income communities whereI work, where, in theory, women should have the same opportunities as in more afuent areas,there is often a stronger emphasis on women to focus on home and family. By and large, thankfully, there are structures in place in our society today thatmakeitmuchmoreequalthanitwas,say50years ago. But I also see a lot of structures that needtoberemovedinorderforequalitytoreachall levels of our society — rich and poor. Wecan'tbecomplacentaboutgenderequalityandwecan'ttakeitforgranted.Thebarrierscanoftenbe very subtle, not so noticeable. If you look at the number of women in senior leadership positions in our country, I think we have to admit that we are stillquiteapatriarchalsociety.A society that focuses on what needs to be done for the collective good, and not from a gender focus works much better. We often spend toomuchtimeondifferencesthatdon'treallymatter.Everybody should have the privilege to excel within the area they want to excel, regardless of gender. Here we often use a very narrow notion of what successis:succeedinginthe"man'sworld."
Page 222
candid212Gender equality is beyond a tagline - we need to walk the talk by initiating those conversations in every boardroom and integrating it in every business planning cycle."EMIL AKANDER Trade Commissioner of Sweden to Singapore & Market Area Director, Business Sweden"Photo: Contributor
Page 223
100 Perspectives on Gender Equality213TAN BOON KENG Principal EngineerI Am a Feminist Because...There should not be a distinction between what we believe men and women are capable of in any scenario. When there is equality ingrained in our mindset, respect and harmony become a way of life.Competition exists in all forms, be it the workplace or personal lives. With the equalitymindset, competition becomes a healthy and constructive activity that usually encourages the individuals to strive for greater heights and synergise to create better outcomes.What is most important to me when I thinkabout equality in our current society is formingmeaningful partnerships. I see things progressing towardtheequalitymindsetevenmorerapidlynowthanitwas20–30yearsago.Itisveryassuring!Especially now, being a brand new grandpa to my little granddaughter, Emma!Photo: Contributor
Page 224
candid214Gender equality is a concern for us all: women, men, girls and boys. Not only is it a moral or legal obligation to promote equality and rights for women and girls, it is also a question of common sense – and smart economics."STEFAN LÖFVENPrime Minister of SwedenOn the 25th Anniversary of the Beijing Platform for Action1 October 2020 "
Page 225
100 Perspectives on Gender Equality215Walking the Talk
Page 226
candid216GLORIA NGOOIHR Director, Ikano RetailGoing Beyond Gender EqualityMyparentswerequicktodrilldowntheideaofequalitytotheirchildren–wewerevegirls and one boy. My older siblings were raisedinlate1970sSingapore.Iwasbroughtupinthe80swhenSingaporewasfastmodernisingwithin its patriarchal Asian values.Butmyparentsdidn'tsticktosocietalexpectationsorgendernorms–theboyandgirlsgotthesameplaytimes, same punishments and rewards, and the same opportunities for education. WhetherI was naïve or just optimistic, I went through my school days in Singapore, Hong Kong and the United States with the mindset that everyone deservestobetreatedfairlyandasequals.Early in my career, I saw that this was not the reality in many corporate environments. Behind grand company values and mottos, I saw a struggle to make words like "diversity" and "inclusivity" a reality. At times, I saw the unconscious bias of hiring managers recruiting people in their image. Then in 2010, I joined Ikano Retail, an IKEA franchisee, as an HR Business Partner and Head of Rewards. IKEA had long established itself in Singapore and Malaysia and was about to open in Thailand. OneoftherstthingsIencounteredwhenIjoinedwas IKEA's vision – to create a better everydaylife for people. Unlike some organisations where visions can get forgotten in the hustle and bustle of work, here was a company where we could actually walk the talk.When I rst arrived, despite the leadershipconsisting mainly of men, we implemented four months of maternity leave for our co-workersin 2011 – more than the International LabourOrganizationstandardof12weeks.THINKINGBEYONDGENDERAnditwasherethatIlearntthatgenderequalitycannot be addressed without a larger conversation on diversity, equity and inclusivity. That meansnding gaps in accessibility to resources, pay andbenets.So, in 2012, I introduced IKEA's Equal Work forEqualPayinitiative.Inatimewhenpart-timersinSingapore were earning an average salary lower
Page 227
100 Perspectives on Gender Equality217"...it was here that I learnt that gender equality cannot be addressed without a larger conversation on diversity, equity and inclusivity."
Page 228
218candid218than full-timers and with minimal benets, weequalisedourbenetsandadjustedcompensationto ensure they earn pay equivalent to that of afull-timer in the same position. Today, our part-timers across all our countries are paid on the same salary scale and with the same benets asfull-timers.Thatwasmyrsttasteofbeinginacompanythatthoughtofitselfasa"happyrebel"–trailblazingpositive change for people in our region before they were mandated.BEINGREBELLIOUSOver the years, the term "gender equality" didn'tgure much in what we were trying to achievebecause we were building an inclusive workplace whereallco-workers couldexpectfair treatmentregardless of ethnicity, nationality, religion, gender, sexual orientation, physical ability, age, or position in our company.In2017,whentheSingaporegovernmentmandateda two-week paternal leave for public and privatesector employees, IKEA upped the ante and added an additional two weeks for its employees around theregion.ThisbenettedfathersinThailandandMalaysia where there is no compulsory paternity leaveforprivate-sectoremployeesyet.WALKINGTHETALKWhile IKEA understands life at home for ourcustomers, my team and I wanted to understand howtomakelifeatworkbetterforourco-workers.We've set up rooms for breastfeeding mums topump, created successful campaigns to recruit women in traditionally male-dominated jobs (wesay yes to women operating forklifts at IKEA), pushedforage-inclusivehiringtoreemployolderco-workers who are beyond retirement age, andintroduced family-leave benets for co-workerswithout children but with ageing parents. If we are to continue walking the talk on gender equality at IKEA, my hope is that we continueholding ourselves to the highest standards. To do that,we'vesetupreal-timedigitaldashboardstomonitor our progress and establish transparency, we'regettingclosertoour50:50goalforgenderbalance, we're working with our Talent teamto tackle unconscious bias, and we're holdingbiannualreviewsongenderpayequityanalysis,areviewprocesswestartedin2019.I'mprofessionallyandpersonallyprivilegedtobeat the forefront of tackling difcult talent issuesin our industry, and people ask how my team and I tackle gender issues.
Page 229
219100 Perspectives on Gender Equality219I often go back to what my parents passed down to meandhowIKEArenedit–it'saboutfairnessandtogetherness, and putting into practise company visions that would otherwise sound pretentious. Men and women need to be allowed to move beyondtheirgenderroles,andweshouldn'trecruitfor the sake of meeting quotas or token goals.Ultimately,wecan'tachievegenderequalityifwedon't focus on having a diversity of voices withdifferent perspectives in our organisation. So, break the rules and social norms. Be unafraid to do things differently. Just like my mum and dad did....we can't achieve gender equality if we don't focus on having a diversity of voices with different perspectives in our organisation." "
Page 230
candid220JULIA FÄLDT WAHENGOSenior Adviser to the Nordic Council of Ministers for Gender EqualityFour Keys to Gender Equality at WorkGender equality, especially in the labour market, is ahallmark of the Nordic region. The story we like to tell isthatgenderequalityisinfactwhathasenabledourregion to become one of the most prosperous ones in the world. The Nordic region is currently the 11th strongest economy globally despite its comparatively tinypopulation. Policy promotinggender equality andwomen's participation on equal terms in the labourmarket has been the prerequisites for achieving thisposition. Those are actual facts. The share of women who work in the Nordic countries is larger than the globalaverage.Thisispartlytheresultoflong-standingcommitmentstogenderequalityintheworldofworkbutspecically,itislinkedtomakingsubsidisedchildcareavailable for all while also implementing generous parental leave policies.While the Nordic countries have come a long way intheirworktowardsgenderequality,thegoalhasnotyetbeen reached. Through legislation and policy measures promotinggenderequality,theregionhasmadegreatprogress, but real equality between women and men,boys and girls, in all their diversity, is yet to be achieved. There are still disparities and the countries are facing a number of challenges that must be addressed if Photo: Contributor
Page 231
the region is to achieve gender equality. Forexample, there are still signicant gender gapswith regard to wages, management positions and occupational sex segregation that must be closed toachieve genderequality inearnest. It requiresgreat will at all levels and tireless, active work to make progress. It seems for the Nordics, that the last mile towards reaching gender equality maywell be the longest. Despite these challenges, one can still identify what has worked based on the Nordic experience, or the Nordic model if you wish. There are four key areas fundamental to invest in for any company, organisation,orevencountrytoreapthebenetsof progress directly linked to gender equality atwork. Developing policies that guide your company or organisation within these four areas is not only the right thing to do, but it is the smart thing to do if you are looking for economic growth:• Subsidised, affordable and readily available qualitychildcare;• Shared and paid parental leave and recognizing the fact that parental leave is good for parents, good for children, and good for the economy; • Flexibleworkarrangementsthatenablework-life balance - for parents and individuals tobe able to combine paid work with family and personal life;• Gender balance in leadership and equalopportunities at work.Solutions for parental leave, childcare, exiblework arrangements and equal opportunities inthe workplace have not evolved organically in the Nordics. Rather, progress within these areas is the result of targeted policies by governments, backed up by well-organised civil societyorganisations and a private sector committed to being part of needed change. Committed leadership and active work at all levels are what leads to change.Wanttoknowmore?VisittheNordic Knowledge HubThere are four key areas fundamental to invest in for any company, organisation, or even country to rip the benets of progress directly linked to gender equality at work." "100 Perspectives on Gender Equality221
Page 232
candid222We All Have a Role to Play in Our Sphere of Inuence1Careworkandcarejobsforthefutureofdecentwork:Keyndingsandmessages,AsiaandthePacic.https://www.ilo.org/wcmsp5/groups/public/---dgreports/---dcomm/documents/publication/wcms_633305.pdfWhile national legal frameworks establishthe minimal standards and guidance at work, companiescan–andmanyare–steppinguptheirefforts toclose gender gaps and promote equalopportunity because it makes business sense. Since the private sector generates the bulk of employment,it has asignicant opportunityandresponsibility to ensure progress towards gender equality at work. This is not just about equalnumbers but rather about a more just, inclusive and efcient world of work. But we have foundthatprogresstowardsgenderequalityintheworldof work has stagnated, and in some places has reversedwithCOVID-19impacts.Sowhatarethelevers that can make progress happen and what canbedonebycompanies?InAsiaandthePacic,therearefourkey'levers'for advancing gender equality in the world ofwork.  These are 1) promoting work-familybalance; 2) preventing and addressing violence andharassmentatwork,includinggender-basedviolenceandharassment;3)promotingpayequityand; 4) ensuring diversity in leadership, voice and representation on all levels. In each of these areas there are practical actions that can be taken by companies to drive positive change. As for the rst lever, caring for family membersthrough unpaid care work isvitaltohumanwell-being and economies but remains largely invisible andunrecognized.TheILOhasfoundthatwomeninAsiaandthePacicperform80percentofallunpaid care1. On average, women in this regionundertake over four times as much unpaid care and household work as men. This disproportionate share of unpaid care duties impacts their opportunities, career paths and employment outcomes across their career and life cycle. It also contributes to a 30 per cent gender gap in labour JONI SIMPSONSenior Specialist Gender, Equality & Non-Discrimination, International Labour Organization (ILO)Photo: Contributor
Page 233
100 Perspectives on Gender Equality223force participation in the region. However, some ways by which companies can and are supporting workers with family responsibilities, in particular women,arebyestablishingexiblework,parentalleave, daycare and return to work programmes (after leave due to caring duties). Recognising that COVID-19hasaddedadditionalcareburdensandhas made it even harder for workers, in particular women, to manage work and family, companies can also advocate with Government2 for more investments in care infrastructures within the recovery efforts.2SeeILO5RFrameworkintheabove-mentionedreportThe second lever is addressing and preventing violence and harassment,includinggender-basedviolence and harassment at work. Employers, WorkersandGovernmentsalikeagreethatviolenceand harassment threaten equal opportunities, isunacceptable and incompatible with decent work and negatively impacts productivity. It also prevents persons, particularly women, from accessing, remaining and advancing in the labour market. Sexual harassment is the most widely known and documented form of gender-based violenceat work and it affects women disproportionately, In Asia and the Pacic, there are four key 'levers' for advancing gender equality in the world of work. These are 1) promoting work-family balance; 2) preventing and addressing violence and harassment at work, including gender-based violence and harassment; 3) promoting pay equity and; 4) ensuring diversity in leadership, voice and representation on all levels.""
Page 234
candid224in particular younger women, due to power relations, gender, cultural and social norms that may normalise certain unacceptable behaviours at work. Additionally, some persons face a higher risk due to multiple forms of discrimination based on disability status, LBBTI, ethnic minorities, etc. andthesepersonsmayexperiencespecicformsofviolenceandharassmentatwork.ILO'sViolenceand Harassment Convention (no. 190) calls oncompanies to establish prevention measures, such as to adopt and implement a workplace policy, in consultation with workers. Such a policy should include a no tolerance statement, dedicated prevention measures, while also clarifying the rights and responsibilities of employers and workers and include information on complaint and investigation mechanisms. Companies should include violence and harassment in their risk assessments to prevent and address violence and harassment in all its forms, including online violence and harassment, which has seen an increase with more people working online. Most victims would rather remain silent or even quitbefore speaking up about this issue. To ensure that more people speak up, companies can provide gender-sensitiveinformationandtraining,andsafe3https://www.ilo.org/global/topics/violence-harassment/lang--en/index.htm4Whenmenandwomenperformworkthatisdifferentincontent,responsibilities,skillsorqualications,andisperformedunderdifferentcondi-tions,butisoverallofequalvalue,theyshouldreceiveequalremuneration.and effective reporting and redress mechanisms that strive for a victim-centred approach. Moreinformation can be found on the ILO's Violenceand Harassment topic page3.The third lever is promoting pay equity. Womencontinue to be concentrated in a narrow range of sectors and jobs, and jobs held predominantly by womentendtobeundervalued.Whiletheconceptofequalpayforequalworkisbroadlyunderstood,equal pay for work of equal value is less so4. Women are often reluctant to negotiate forthemselves and therefore start their careers with a gap which they often carry across their entire career. This is where equitable pay packages,pay transparencyand gender-sensitive collectivebargaining can make a real impact. Other wayscompanies can address this are by undertaking gender-neutral job evaluations; gathering andmonitoring pay data and performing pay equityanalyses; tackling occupational segregation; promoting life-long learning policies that helpwomen move into higher-skilled and higher paidjobs and positions; ensuring that unconscious gender bias does not affect performance reviews and; providing exible working arrangements,
Page 235
100 Perspectives on Gender Equality225to name a few. More guidance, information and international good practices can be found at the EqualPayInternationalCoalition5, established by theILO,UNWomenandtheOECD,tosupporttheclosure of the gender pay gap and contribute to SDG8.The fourth and nal lever is promoting genderequality and diversity in leadership, voice and representation onalllevels.Intoday'sworldofwork,with the emerging challenges and opportunities, companies can't afford to miss out on theinnovation, skills and competencies that diversity can bring to their teams. However, globally, only 27.1percentofmanagersandleadersarewomenand this gure has barely budged in almostthree decades. Therefore, while we can enhance women'scapacityonallfronts,untiltheworldofwork around them is more enabling and inclusive, lasting change won't happen.  When leadershipat the top is committed and accountable to achievinggenderequality,mostmanagerswillgetbehind the effort. But this should cascade down, in particular recognising that middle management plays a key role in deciding who accesses training, meetings or gets recognition for results. Practical actions that can be taken include implementing 5https://www.equalpayinternationalcoalition.org/an equal opportunity and non-discriminationpolicy;promotingwork-familybalancemeasures;promoting mentoring and sponsorship schemes; using inclusive language and; ensuring fair and unbiased recruitment, promotion and career development. Finally,whatiswrittengetsdone.Genderequalityis often seen as a 'soft area' and in order togain broad buy-in and maintain the requiredmomentum, establishing clear and consulted guidance, targets, strategies and policies, as well as using individual performance measures can be means to ensure that progress is recognised andallteammembersseethecascadingbenetsof having a more inclusive and gender-sensitiveworkplace. In the end, each of us has a role to play inourrespectivespheres ofinuence.Togetherwecanmakegenderequalityintheworldofworka reality.
Page 236
candid226JUNIE FOOPresident, Singapore Council of Women's OrganisationsThe Most Powerful Actor Is UsMore than half of the Singapore population is female, and yet only a small percentage of the vast pool of well-educated and experiencedbusinesswomen are represented in the senior ranks of corporations. Across the globe, there is an increasing focus from the private and public sectors on how to attract, retain, develop, and promote female business talent within a meritocratic system.I faced my fair share of challenges in the predominantly male environment in banking and subsequently as the rst non-Japanese and therst female in the management of a Japanesenancialinstitution.ItwaswhereIlearntto"swimwith the sharks" which meant standing up for myself and what I thought was right.
Page 237
100 Perspectives on Gender Equality227When I co-founded BoardAgender 10 years ago,it was an initiative to create awareness on the economic benets of having more women onboards and the necessity of harnessing human capital through building a solid pipeline of senior women in leadership positions. Today, we are part ofaneco-systemoforganisationsthatadvocatefor more female representation on boards and run a mentorship programme for aspiring female directors. We need to walk the talk. The most powerfulandinvisibleactorisus.Whiletheorganisationsand governments can provide and enable more women to succeed, we are all unconsciously gender-biased and need to be more attuned togender intelligence. Treating everyone the same would appear to help eradicate bias, but it does notalways resultin genderequality. Weneed tounderstand and appreciate the natural talents that men and women bring to the table. SCWOwillcontinuetoengagewithbothmenandwomen to chart a progressive future together and work toward the ideal 'Equal Space, EqualVoiceandEqualWorth'forwomeninSingapore.Ibelieve men and women in Singapore should have equal space in the home, institution, workplaceand community. As men and women come to understand each other's ways of thinking andacting, they step up to a new and powerful level of conversation. They begin to include each other more condently and more willingly. Womenmust also have the right and opportunities to shapeourfutureandbeheard.Organisationsthatintentionally create opportunities for women to succeed are well placed for the future. I believe men and women in Singapore should have equal space in the home, institution, workplace and community.""
Page 238
candid228CLAUDIA VACCARONEInternational Gender Equality & Diversity Expert An Actionable Gender Equality Roadmap for LeadersCompanies and organisations have the means, the power and the responsibility to advance society anddrivepositivesocialimpact.Genderequalityis the imperative premise of the 21st century for a sustainable and purpose-driven future.  Thereare sufcient experiences, best practices anddata globally pointing to clear and concrete steps that can be taken to reach not only 50:50 but aharmonious balance.In my research with several companies across industriesgloballyovertheyears,Ihaveidentiedthe following practical steps that any organisation of any size and starting point can implement. The mostimportantis…tostart!1.LEADERSMUST'DOTHEWORK'Most leaders understand the value and importance ofgenderequalitybutwillendupdelegatingittoa Human Resources executive or a Diversity Lead, and treat it as a CSR check box exercise. The risk is that no real change happens and valuable female talent leave in frustration. Instead, it is imperative thatleaderstakethetimetoreectonwhygenderequalityis importantto thempersonally, whatistheir relationship with women in their personal and professional sphere, and to what extent they areawareoftheirpersonalbiases.Onlyfromanacuteself-awarenesscantheyleadandsteertheorganisationtowardarealcultureofequality.2.STARTWITHTHEDATAEach gender equality initiative starts withgathering and analysing workforce data on gender to understand the full picture. Only then will itbe possible to assess and formulate a specicdiagnosis. Quantitative data and insights from group-basedactivitieswillidentifypainpointsandreveal concrete ideas for solutions. A plan with objective metrics and deadlines will be easier to make and communicate if backed up by data. Photo: Romain Gaillard
Page 239
100 Perspectives on Gender Equality2293.ALLOCATEACCOUNTABILITYIn addition to senior leadership ownership and full support, the role of the Chief Diversity or ChiefEqualityOfcerisbecomingmorecommon.These are new professions and are the guardians of inclusive cultures, they are fully empowered to speaktruthtopower,reporttotheCEOandsitonthe Executive Committee. 4.ENGAGEEVERYBODY:MENANDWOMENGender-equality programmes tend to focus onempowering women. However, progress toward gender equality will not happen without the fullsupport and engagement of men. It is essential to create awareness among men in addition to women so that everyone understands the essential role they must play in changing mentalities and evolving toward a balanced society. 5.FOCUSONPOLICY:REVIEWRECRUITMENTANDPROMOTIONSPolicies provide the intent and the framework for organisational change. Transparent and inclusive processes in hiring and promotion can result in more women applying for jobs and accelerate gender parity in the workplace. Gender-neutraljob descriptions, alternative recruitment channels, quotasandcareermappingforfemaleemployeesare examples of successful tactics. 6.DEVELOPINGLEADERSTo achieve gender equality, not only doorganizations need to make a conscious effort in hiringmore womenormen inunder-representeddepartments and teams; they also need to capitalizeonanddevelopexistingin-housetalent,by creating a leadership pipeline and setting quotas, hiring/promoting the female candidatewhen candidates of different sex and equalqualications apply. Mentoring and role modelprogrammesalsoareveryefcient.7.FOCUSONCULTURE:THEVALUEOFINCLUSIONThe pre-existing culture of a company cansometimes hinder moving towards desirable change. Strategyand policy are not sufcient todrive change unless they are supported by a new, inclusive organisational culture where women are present at all levels, heard and respected and their daily experiences are coherent with the stated leadership policies and vision.8.WORK-LIFEBALANCEANDFLEXIBILITYThe 2020-2021 Covid pandemic has acceleratedorganisations implementations of these important considerations. In the future, those who will be abletoprovidethemaximumbreadthofexibilityto employees, and especially women, will be able to retain the best and effectively diverse talent.
Page 240
230candid9.ADDRESSINGSTEREOTYPES,SEXISMANDHARASSMENT Severalstudiespointtothedetrimenttowomen'scareers due to double standards, bias, and, often, toxic behaviours from male colleagues and managers. Creating awareness on the issues, dening clear policies and tolerancelevels,deningprocesses forreporting incidentsand following through with investigations and disciplinary actions are indispensable to create an equal level playing eld for women. Trainingmanagement and staff on unconscious bias and stereotypes is a minimal investment, but it will not change behaviours on its own.10.CLOSINGTHEGENDERPAYGAPANDGUARANTEEING EQUAL PAYPossibly the most impactful dimensions on women'scareers,thepaygapisstillareality.Someorganisationsnditmore efcientandobjectiveto rely on external auditors. An equal-salarycerticationisaprocessthatallowscompaniestoverify and communicate that they pay their female andmaleemployeesequallyforthesamejoborfor jobs of the same value.11.FUELHIGH-IMPACTCOMMUNICATIONSBringing the policies, goals, and programmes to life will require relentless staff communication.Internal communication will need to articulate why gender equality is important, set out thegoals and illustrate the desired culture. The role of leadership is crucial in articulating the strategic nature of these policies and how important they are, not once but regularly — communicating on progress using all the tools at their disposal. Newsletters, video messages, staff "town halls" and email campaigns are all effective channels for running an integrated campaign. Furthermore, communicating data as transparently as possible also helps to nurture trust with staff. 12.MEASUREPROGRESSREGULARLYGenderequalityisanongoing,longtermjourney.Theworkisnevernishedandrequiressignicantmuscle to sustain. Reaching parity takes time, and once achieved, maintaining it and nurturing an inclusive culture also requires an ongoingeffort. The regularity of measurement and metrics analysis and sharing is the capital needed to nourish the necessary cycles.Resources:Author:"AllThingsBeingEqual" (GenderEqualityGuidelinefrompublicServiceMedia,2019)
Page 241
231100 Perspectives on Gender Equality231Contributors
Page 242
candid2321. LarsRönnquist vi2. Lisa Ferraton viii3. Carolina Rodriguez viii4. JennieBorgström 25. NiclasKvarnström 46. Andrew Kwan 67. Piyush Gupta 88. Muhammad Zahid Zin 109. Magnus Ekbom 1410. Kaviraj Nadarajah 1811. Nick Marchand 1912. Robert Kraybill 2013. Alvin Yapp 2214. Pavan Mano 2415. VinayDixit 2616. Kester Tay & Kavitha Shekar 2817. Ardi S. Hardjoe 3018. Bryan Tan 3219. Asaru Rajbanshi 3420. Nadim Muzayyin 3621. DominiqueTouchaud 3822. Ludvig Landgren 3923. Kaushik Seal 4024. Sanjay Desai 4225. Farrand Hey 4426. Matteo Chiampo 4527. Ian John Evangelista 4628. HorstWasel 4829. EnriquePatrickson 5030. Neha Thakkar 52
Page 243
100 Perspectives on Gender Equality23331. Dingson Presbitero Balahadia 5432. Zoe Cheng 5633. AndrésMiñarro 5834. Mats Jonsson 6035. Siew Tin Lim 6236. Ruben Pang 6437. Jovice Ng 6638. Denis Edward 6839. Peter Moore 6940. Mikael Larsson 7041. SirMichaelCulme-SeymourBt 7242. Ricky Foo 7443. Marcus Kuusinen 7644. LeeSyaq 7845. Shashi Raj 8046. Nick Jonsson 8147. YC Choy 8248. Ali Halil 8549. Nur 'Aini Binte Mohamad Yasli 8650. Ryan Liu 9051. Corinna Lim 9252. Amy Amrita Daga 9253. Suv Mohapatra 9554. Gautam Gangaram 9655. Edwin Seah 9856. J. Jeyaseelan 10157. Jimmy Jigmo 10258. GöranSeifert 10459. Ashley Pereira 10760. Patrick Donaldson 108
Page 244
candid23461. Adrian Furstenburg 11062. Farhan Firdaus 11263. LarsBergström 11464. Johnathan Tan 11565. Magnus Gustavsson 11666. OldouzMirzaie 11867. Png Cheong Boon 12168. Anders Liss 12269. VictorMills 12470. Michael Buchanan 12671. VinodNarayanan 12872. Boudewijn Pesch 13073. Per Magnusson 13274. Mark Andrews 13475. Adam Cich 13676. Kenneth Choo 13977. Kok Khoon Lim 14178. Roger Yuen 14279. Naresh Kant 14480. Robin Chibba 14781. RaviVig 14882. EuniceOlsen 15183. Farhan Shah 15484. Thaddeus Lawrence 15685. Terry Mook 15886. Johan Egnell 15987. Prakash Uruthiramoorthy 16088. Mdm. Rubavathy 16089. MuhammedHaz 16290. Keith Kee 163
Page 245
100 Perspectives on Gender Equality23591. Marcus Teo 16492. Sanjeev Magotra 16693. Aminur Indra (Mino) 16894. DabiruVashisthRaman(Vash) 17095. Ganesh Raj 17296. ArunaWithane 17497. Prakash Hande 17698. Fero Loh 17899. Edward Anthony Joe Rajasingam 180100. Jeremy Lee 182101. Jerrica Chooi 188102. Terence Teoh 192103. Patrick Rona 194104. Muhd Azamuddin (Azam) 196105.Zachary Chooi 199106.Mohan Panicker 200107.Sang Shin 204108.ThomasWeller 207109.Luo Chen Jun 208110. Gerard Ee 210111. Emil Akander 212112. Tan Boon Keng 213113. Gloria Ngooi 216114. JuliaFäldtWahengo 220115.Joni Simpson 222116.Junie Foo 226117.ClaudiaVaccarone 228
Page 246
236candid236Acknowledgements
Page 247
237100 Perspectives on Gender Equality237Thanking everyone who made this project a reality...This book would not have been possible without the openness that each contributor brought to the table. By sharing their views with sincerity and often offering their personal stories up with great vulnerability, they have moved the needle together to create a rich document that will propel the conversation on gender equality for years tocome. Wethankourcorporatesponsorswhosesupporthas been indispensable. Thank you for believing in the need for this book and for dedicating time and resources to making it happen.In addition, we would like to thank everyone who offered advice, introduced us to their networks, and made invaluable suggestions on new ways to look at things.Thanks in particular to:Harald Fries and Jenny Egermark at the Embassy of Sweden in Singapore as well as Emil Akander at Business Sweden, thank you for all your support. Helen Duce, CEO at Include Consulting forintroducing us to representatives of the Singapore HeforShe chapter who volunteered their individual stories for this initiative.Angel Chan, CEO at the Singapore Council ofWomen's Organisations (SCWO) for supportingthis initiative. Jessica Axelsson for brainstorming with us when theideaforthisbookrstcameabout.Corinna Lim, Faye Sai, Eunice Olsen, FrancesChong, Clare Dally, Kim Torgius, Bibiana Díaz, Farhan Firdaus, Miriam Feiler, Christine Amour-Levar, Julia Fäldt Wahengo, Amber Pong, GöranSeifert, Mohan Panicker and Mohamed Mazlee Bin Abdul Malik, thank you for the introductions. DaniellaBoströmand CarolineForsgrenfortheirvaluable contribution to the digital strategy. Muhammed Haz and Eva-Marie Rönnquist forphotography.ZhangXinwan,LeandroWiernaandteam for the video. Behind the scenes, a special thanks to Nina Jessen, Jess Mould, Gokberk Tektek, Samar Refai, Joanna Bilewicz, Chelsea Phua, Anthea Ho, Terence Yong, Mou Hui Tim, Katarina Carlfalk, Samuel Koh, Choo Qi, Dias Nastasia, Yvette Wasel, Marie HélèneMansard, Elizabeth Thin, Lisa Chai, Marian Dang, Kane Cunico, Corinna Schuler, Em Farrer, CH Tan, Emma Hågemo, Robert Hewson, Ian Tan, Lynette Hooi, Vivian Loke, Audrey Cher, ChristophaneFoo, Kiat Loon Cheng, Eileen Poh, Laurel Melsom, StefaniePitchian,FarandNgoh,AnnaOdlén.Lim Geok Khoon and Andrew Chua for the amazingprintjobandsupport.AndLarsVoedischof PRecious Communications.Lastly, we would like to thank Carolina Rodriguez and the Dilucidar team for being the creative force that conceptualised and executed this project. Your inspiring leadership brought out the best in each of us, showing what true partnership can achieve.LISA FERRATONGeneral Manager, Swedish Chamber of Commerce Singapore
Page 248
candid238A special thanks to the following partners that championed this initiative: ilucidarD
Page 249
100 Perspectives on Gender Equality239
Page 250
candid240Project TeamCAROLINA RODRIGUEZDANIELLA BOSTRÖMFELICIA EDWARDJESSICA FAYERSLISA FERRATONCARINA JOHANSSONANNA LANDGRENCAROLINE FORSGRENSORELLE HENRICUSCore TeamKey Contributors
Page 251
100 Perspectives on Gender Equality241SwedCham, a non-prot and membership-nancedorganisationrepresentingtheSwedishbusiness community in Singapore, has been around for almost 40 years. Together with our big eet of Swedish MNCs, SMEs andstart-ups, we promote innovation, technology,sustainability, entrepreneurship and diversity in everything we do. With over 70 eventsa year,we are one of the most active international Chambers in Singapore.About SwedCham
Page 252
candid242To mark 2021, the Year of Celebrating SG Women,the Swedish Chamber of Commerce has embarked on a mission to collect 100 perspectives on gender balance in Singapore. Inspiring testimonials from across the community capture a myriad of stories on the important role of women in society and business. From success stories to overcoming challenges,personalaccountsofself-discoveryandshared journeys towards a more equal society, thiscompilation captures the many voices across society that need to chime in as we work together towards a moreequalandprosperousfuture.